Blogging for me is a lot like trying to lose weight. I have the best of intentions and then life gets in the way and it doesn't happen. 😞
In 2020, I started a productivity technique called "Time Blocking" and it's just about doubled my productivity. I schedule my to-do list for blocks of time throughout the week and stick to it as much as possible. I now have "Blogging" time blocked to Friday mornings, so let's see if that helps. 😉
For the first four Fridays of this new schedule, I'll be catching up by posting "Best of" photos for the different types of photography I do. In addition, I'm going to time block Tuesdays for sharing photos from my Equestrians of Color project and stories from 2020.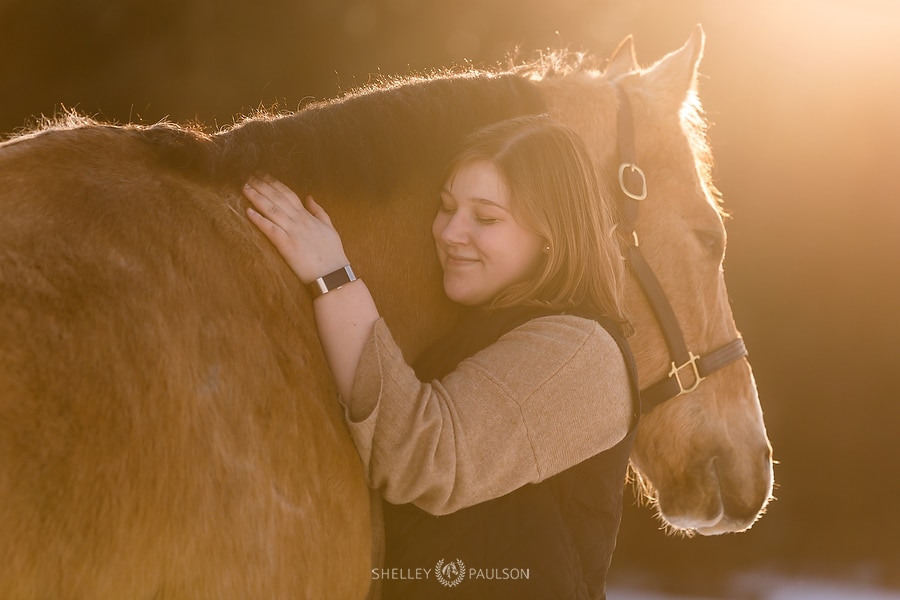 My first session of 2020 was a Remember Session with Claire and her horse Tucker. I did Claire's senior photos a number of years ago and she reached out to me because she was fairly certain Tucker was going to have to be put down because of serious leg issues. The good news is, with the right treatment, they were able to make him comfortable enough to stay with Claire awhile longer. ❤️ When Claire saw the photos, she shared, "These are so wonderful – I love every single one so much. You totally captured everything I wanted and it's so wonderful to see all his little quirks preserved forever." I will always make room in my schedule for Remember Sessions because we never know the true value of a moment until it becomes a memory.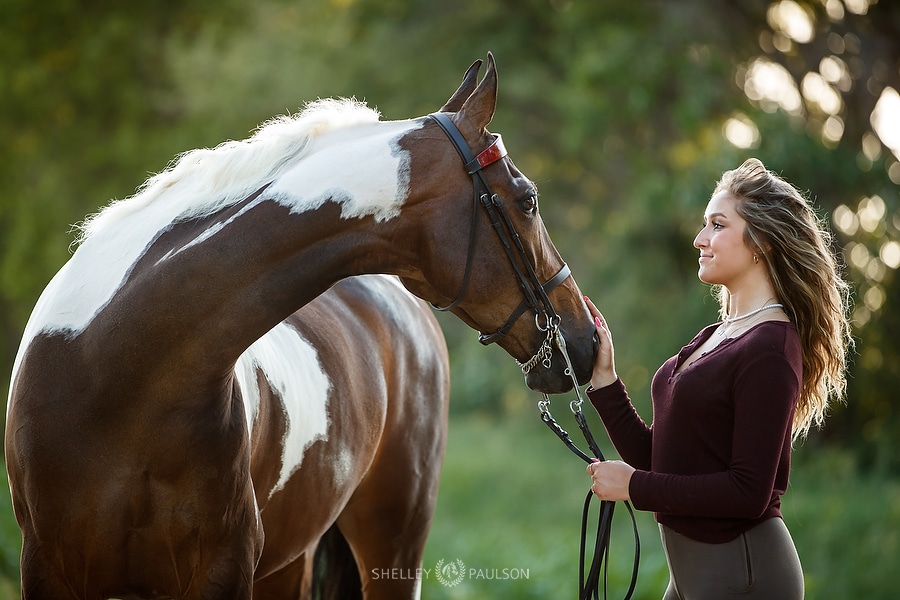 While I don't normally do a lot of sessions from March to May, 2020 made certain of that. I felt like a horse let out of its stall after months of stall rest when I finally got the green light to work again! My first session was a Senior Portrait Session with Mariah and her gorgeous Saddlebred, Louie! It was the start of a wonderful season of photography!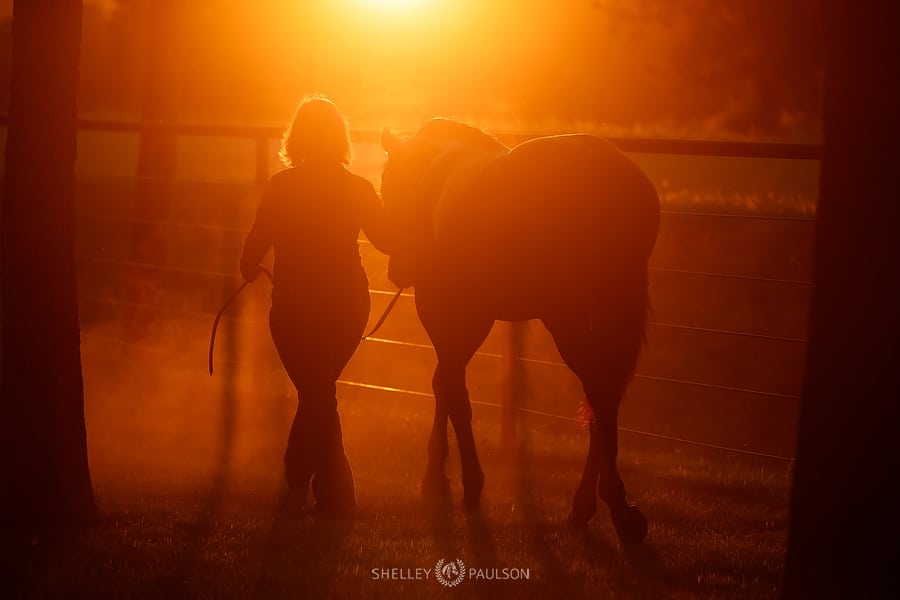 I shared a full blog post about my session with Ingrid, her Yearling Aria, and her senior horse Kaleidoscope. You can read all about it here!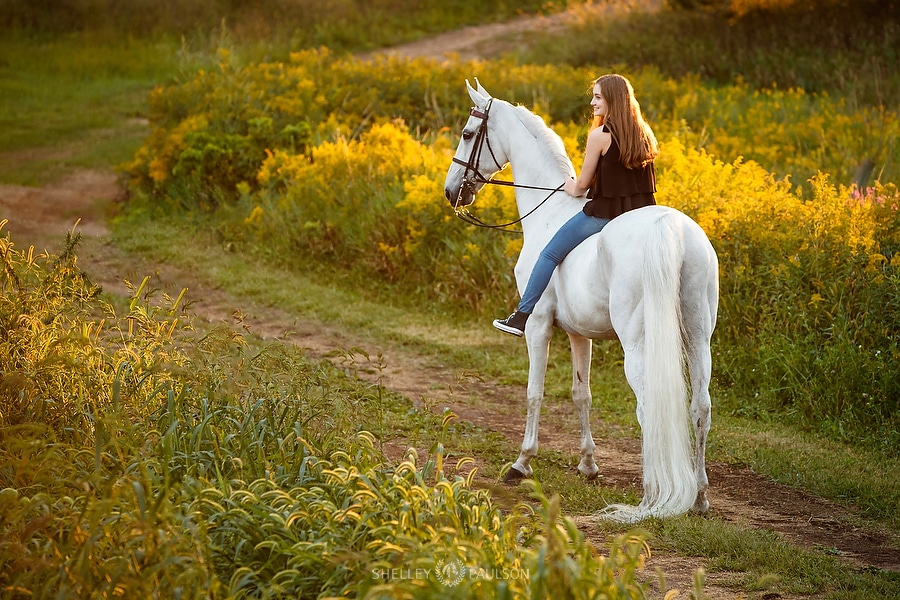 I also did a full blog post about Kylie and her saddlebred beauties!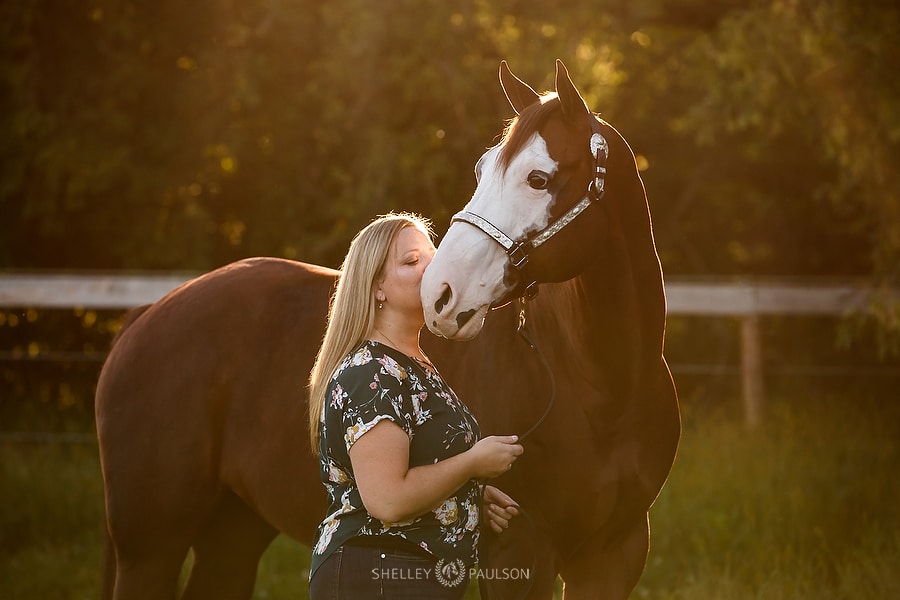 I've known Erin for many years and when she reached out about doing a Remember Session for her sweet gelding Tyson. Their situation was similar to Claire and Tucker's – Tyson was having leg issues and they were preparing to say goodbye. Two days after our session, a specialist was able to diagnose the problem and prescribe a last-ditch treatment for Tyson. He's currently doing well on the treatment and they are hopeful he still has some happy, healthy years ahead of him.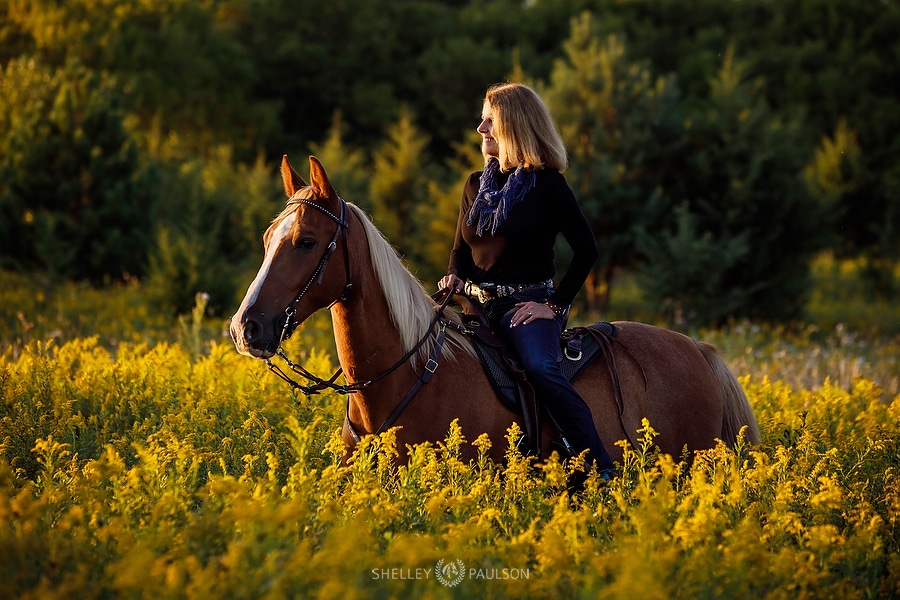 It's seriously one of my favorite things to get to work with past clients. Many years ago, I did Senior photos for Mary's son Patrick. I didn't even know Mary had gotten back into riding until she reached out about doing a session with her handsome rescue horse, Beau! She rides in this park often and I couldn't resist tucking them into this field of goldenrod. Surprisingly, I didn't die from my allergies after this!
Allyson and I boarded our horses together 18 years ago when they (and we!) were quite a bit younger! Not only was it a meaningful time of capturing the bond built through years together, but it was also a cherished time of renewing our friendship as well.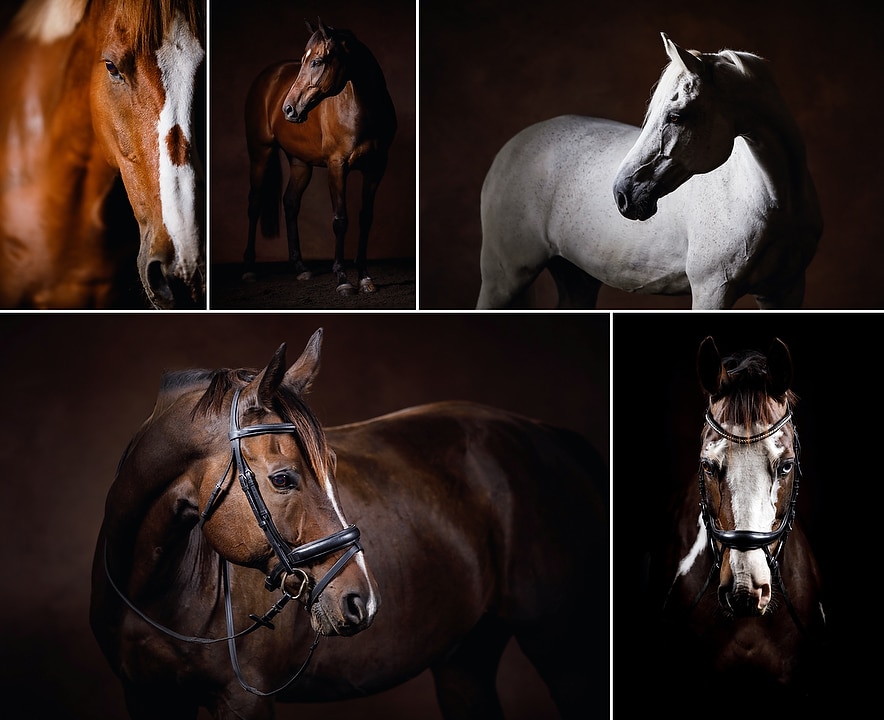 As a photographer, I like to constantly challenge myself, so this year I decided to start offering "Studio Sessions." For these sessions, I set up a backdrop and lighting in a barn and create unique "Old Masters" style portraits of horses. I was only able to squeeze in one last year, but it was at one of my favorite barns in my area – Copeland Farms. I look forward to offering more of these this year!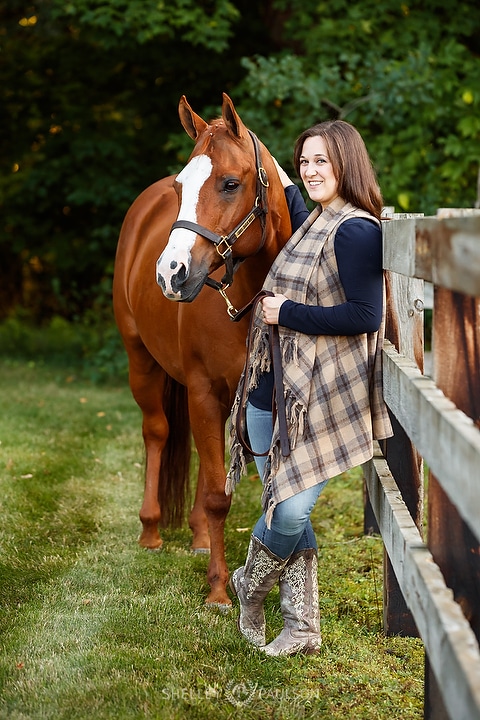 As we rounded the corner into fall, I spent a perfect evening with Katie and old show horse Charlie. Katie started out as my dog's groomer, but now she's a dear friend. I loved every minute of this session!
This was truly a special season of doing sessions for friends with aging horses. Maaaaany years ago, Nicole and I became friends through an online forum (this was social media BEFORE Facebook, Instagram, etc.) and I photographed her wedding back when I did that type of photography. Her horse Louie is now in his golden years and Nicole didn't want to miss the opportunity to have photos with him. She shared this with me after she has received her album and the many canvases she ordered for her walls: "I cannot tell you how much the pictures of Louie and I mean to me. I am still tearing up on random photos. You definitely nailed the 'contentment' I was hoping for but there's just so much more there that I can't put into words. Just from start to finish, all the extras, the cards, the boxes, etc. just truly made the whole experience one I won't forget and one I'll treasure."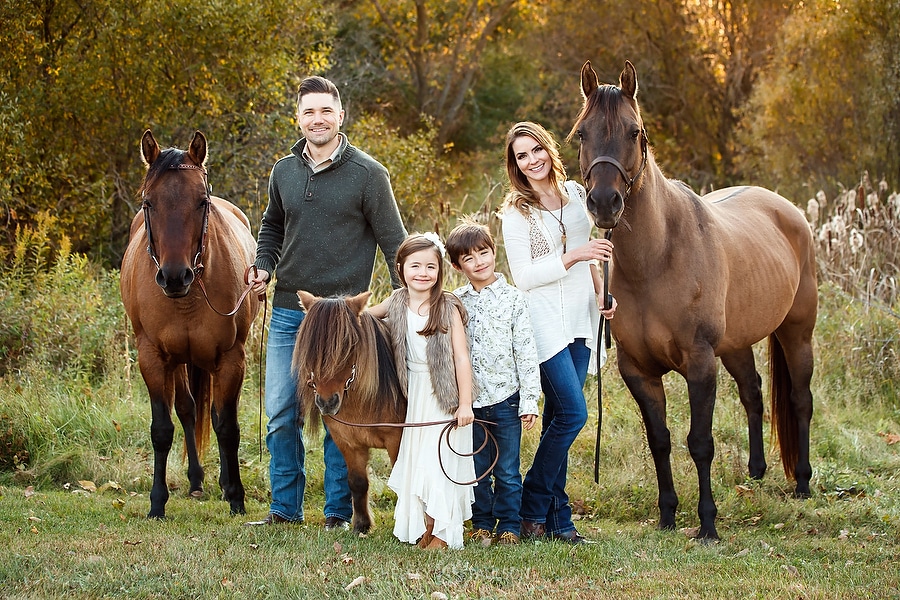 Guess what? These are also my friends! I photographed Clint and Kandace's wedding and over the years we've developed a warm friendship I treasure. Their twins are growing up so fast, we make sure to fit in a session almost every year. It's not easy to get a group photo like this, but I'm proud to say that there was not a single head-swap for this one! 😁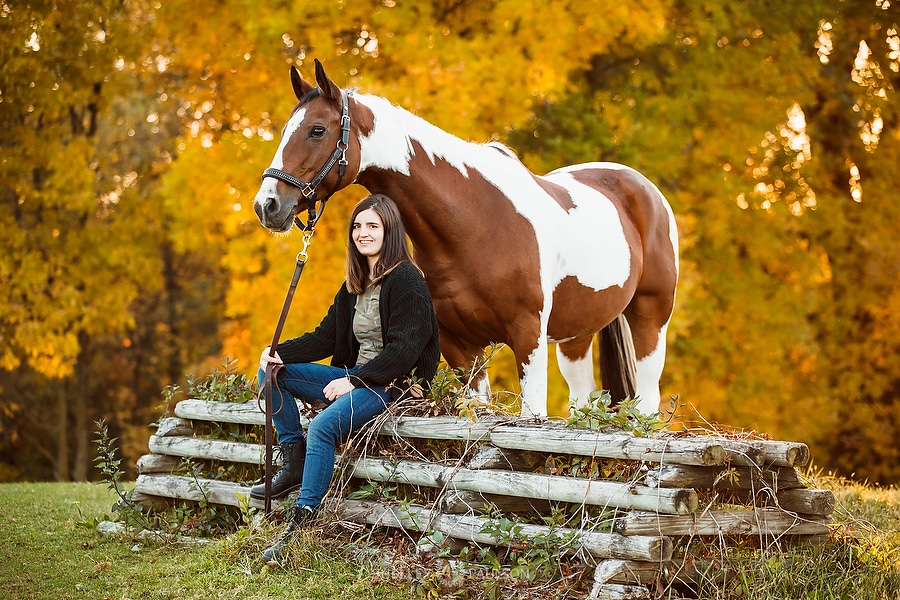 We had the most spectacular autumn I can ever remember. The colors were almost UNREAL in their vibrancy. Caroline's senior session was probably my favorite portrait session of the year – from the gorgeous color to the beautiful horses to Caroline's ability to take everything in stride and just be herself – it was just perfect.
Shannon's horse Dodge 28 now and she knows that means their days together are growing shorter. She had a scare with him last summer and realized she would regret not having photos with him. This is exactly why I offer these special "Remember Sessions" for horse owners – because when these horses we love so much are gone, we will have memories in the form of photographs to remember them by.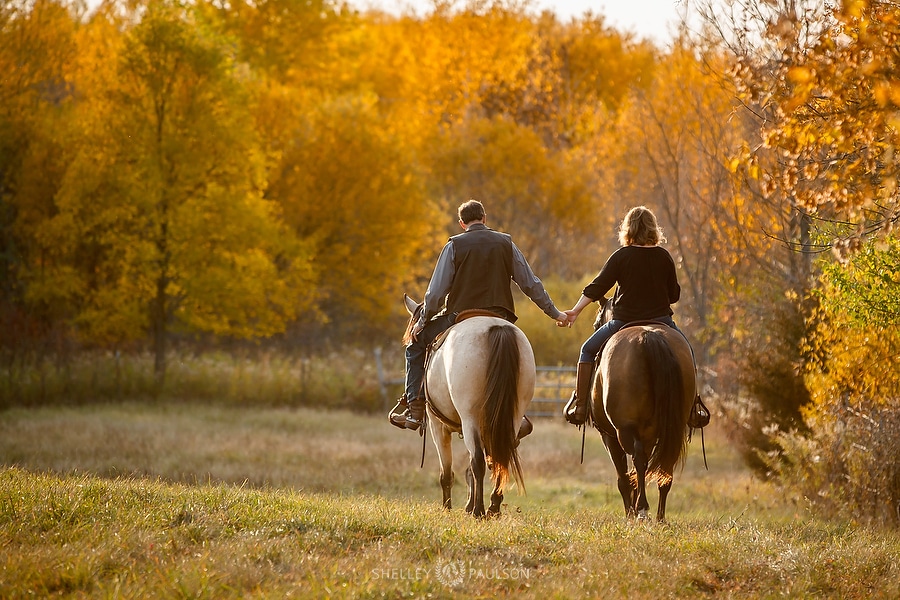 I did a session with Lynette and her horse Mijo 10 years ago! Since that time, she met and married Tom and moved to a beautiful horse property. It was so fun catching up with her and getting to know this wonderful man who captured her heart. It just about made me melt into a puddle when they were riding away from me and he reached out for her hand. ❤️😍😍❤️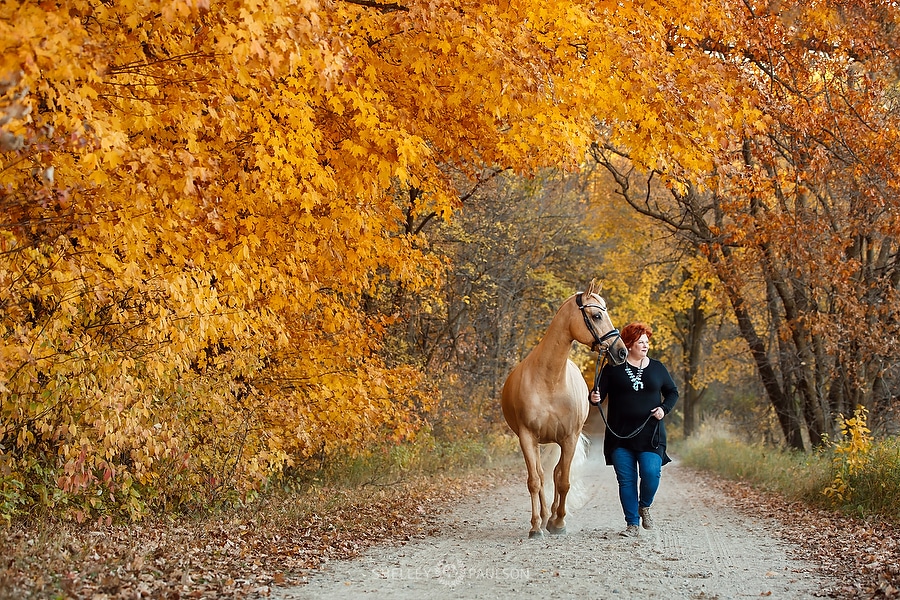 I think Darci's horse James Blond may go down as one of my favorite horses to photograph EVER (besides my own)! This session happened at the absolute peak of fall glory at Crow Hassan Park. When I did a little scouting and saw this gorgeous tunnel of golden leaves, I envisioned this photo. James helped, of course, by looking toward the light.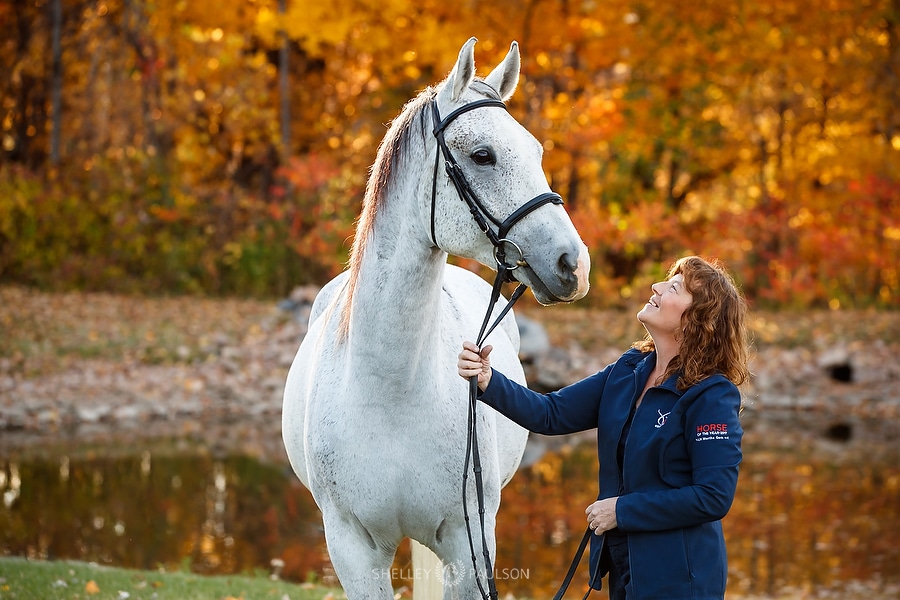 I was able to squeeze in one last fall session before a giant windstorm came and ripped the leaves from the trees. My friend Amy is an accomplished dressage rider and trainer. The farm she manages is one of my favorite fall locations because it is nestled in a hardwood forest with lots of beautiful colors. I'll be sharing more from this session in my next post "Best of 2020 – Horses"!
So the next question is, will you and your horse be in my "Best Portraits of 2021" blog post? To learn more, visit my Equestrian Portrait Photography page to learn more!