"Let me photograph you in this light
In case it is the last time
That we might be exactly like we were." ~Adele
The bond you share with your horse is like no other, and it's a feeling you will always want to remember. The touch of their soft nose, the way they make you laugh, how it feels to ride together through golden fields at sunset…
Now imagine yourself with your horse in beautiful, meaningful photographs that capture that feeling.
As a fellow horse lover, I understand what it's like to love a horse dearly and to want to freeze this moment forever. We never know how much time we have left to enjoy our beloved animals. Investing in beautiful, high-quality photographs is the best way to remember the joy of being together, exactly like you are.
Equestrian Portrait Session
For horse owners who love their horses like family and want authentic, captivating photographs that show the beauty of their horse and the remarkable bond they share.
Remember Session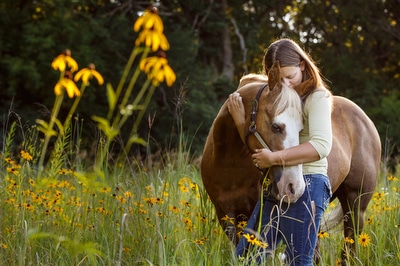 We never know the true value of a moment until it becomes a memory so I offer a special discounted session for people whose horse is over age 24 or is terminally ill.
Shelley Paulson Photography is a Full-Service Equestrian Photography Studio, meaning I personally guide you through each step of your photography experience until you have beautiful, finished art to hang on your walls and a custom-designed album to share with friends and family. Learn more about the difference between Full Service Photography Studios vs Shoot and Burn Photographers.
In addition to a personalized photography session resulting in beautiful, meaningful photos, Equestrian Portrait Sessions include:
A stress-free ordering session where I personally walk you through image and product selection.
A custom-designed photo album so you can experience and share all your favorite images.
A generous print credit, so you can decorate your walls with the images you love most.
A flash drive of digital files for sharing your images online and making gift prints.
Equestrian Portrait Collections start at $1450. Remember Sessions start at $625. For detailed pricing, please fill out my Inquiry Form and tell me a little about you and your horse and what you're looking for in your photo session.
Shelley does amazing work and can take beautiful images just about anywhere. Our photo session was fun and relaxed and the pictures turned out wonderful. We now live in Alabama, but for our next photoshoot with horses, Shelley will be getting a plane ticket - I can't imagine anyone else doing a better job.

Katja R

"Shelley Paulson is by far the most amazing equine specific photographer I have ever met! I had never had pictures taken of my horse and I, and was more than a little nervous and unsure of how they would turn out. Shelley created some memories, little snapshots of time, that I can hold on to forever. Without a doubt, I can recommend Shelley Paulson for any type of photography you may have in mind! I honestly can not wait until I get another opportunity to use Shelley's services!"

Meg J

"Absolutely wonderful photographer and so talented!!! Shelley is professional, warm, caring and brings the best out of her subjects!!! She is so easy to work with and has great ideas to really give your photos that special touch. I highly recommend Shelley!!!!"

Sherri O.

"The pictures get more perfect and beautiful every time I see them. My mom and I looked through them together and we were both just bawling over how priceless, timeless and beautiful the photos are. Your sincerity, warmth, genuine caring, and everything you've done helped me with healing the heartache of losing Jetta. I'll never be able to repay you or thank you enough."

Ashley C

"Words are inadequate to thank you for the beautiful job you have done on Keara and Harley's pictures. The album is so beautiful and will be a lovely reminder of this time in Keara's life. We are so impressed too with the beautiful way you present everything - no detail goes unheeded. Thank you again, with all our hearts..."

Aine M

"I have worked with Shelley two times. My senior pictures with my first horse were amazing and my second session with both of my horses was even more wonderful! Shelley is able to capture the bond you have with your horse in a beautiful manner. The images have brought me to tears. Shelley is an amazing photographer with a huge warm heart! I am so glad she captured the pure joy and love I feel for my animals, as well as the silly moments I shared with them. I cannot thank her enough for being so kind, welcoming, and genuine. I recommend her 100%!"

Sarah B.

"Shelley is an amazing photographer with a special eye for glorious lighting. She sees right into personalities and relationships and her photos reflect the true nature of her subjects. She truly has a gift. Every photo she takes is a work of art. Not to mention that she is professional, personable, and makes you feel like you are her only client."

Ingrid H.

"The images from our photo session not only will always capture memories and will be artwork for a lifetime in our home. As our 5-year-old daughter transitioned from her miniature horse to big horses you captured her heart and spirit with such beauty behind the lens."

Teresa P.

"I still remember the first photo Shelley sent to me, and how I caught my breath at the beauty she captured, but even more, how she was able to capture the relationship between my daughter and her horse. These photos are lifetime mementos that we will treasure always."

Marie H
Frequently Asked Questions
How far in advance should I book?
1 month ahead for spring and summer, 2-3 months for autumn, anytime in the winter!
What do I wear? How do I prepare?
Once your session is booked, I will send you detailed information on how to prepare both yourself and your horse to make the most of our fun time together.
Where do sessions take place?
Most sessions take place where the horse lives and is most comfortable. Don't worry if you think it's not a beautiful place, I am good at finding the beauty most anywhere! You can also trailer to a nice park if you feel that's a better option for you and your horse.
What time of day do sessions take place?
Because I love the warm, soft, golden light found in the last two hours of the day, that's when I schedule my sessions.
How many photos will you take?
This varies from session to session. Usually, I present 75-100 photos for one session. I only present my best work!
What if it rains on the day of my session?
I leave dates open each week for rescheduling.
What if I don't have a fancy halter for my horse?
I always bring a nice leather halter and lead rope. If it doesn't fit your horse or is not the look you would like, we can also use your horse's bridle.
What if my horse won't stand still or is naughty?
It's a good idea to brush up on your groundwork in the weeks leading up to your session. Make sure your horse can stand quietly at your side for more than a few seconds. I'll work with you at the session to keep your horse happy and make sure the photos are great!
Do you photograph horse shows?
Not in the traditional style where the photographer's goal is to photograph each rider as they compete. Instead, I enjoy working with private clients at shows where I photograph candids and creative imagery in the horse show context.
Do you photograph extended families/babies/weddings/real estate/etc.?
I stick to photographing people and their horses. The only exception is if a nuclear family wants photos with their horses.
If you feel a connection to my photography and would like to learn more or book a session…
Or you can always email me at [email protected].