If you and I are friends on Facebook, you may have heard me refer to a "Special Project" I've been working on. Or you may have seen a few quotes from me about struggling through the creative process. Well, I'm ready to share what I've been working on.
I think. (I have butterflies just writing this)
I've gone back and forth for months on when to share and how to share, and just thinking about it now wears me out, so here we go.
I'm learning DSLR Filmmaking.
Yep, video with my photography cameras.
And not just video, but storytelling. Short films.
Whew. Glad that's finally out there. 🙂
It started sometime last year, when a friend showed me a short film another photographer/videographer made of her beautiful little family. I had the passing thought, "That would be really neat to do for horse owners." I tucked that thought away and didn't think much of it until last February, when I spent just one day at WPPI, a yearly convention for photographers. I didn't work for Zenfolio this year because I was still suffering the effects of last year's concussion. After just an hour just wandering around the trade show, I knew I had made the right choice not to spend three long days in that environment. I quickly felt overwhelmed and decided to sit down at the Canon booth and listen to some speakers.
First up was Scott Kelby. He was hilarious! Or, at least I thought he was. I laughed at all his jokes, but I seemed to be the only one. Haha! Anyway, after Scott, Bruce Dorn got up. His topic was DSLR video and, what do you know, he had some really great equestrian work in his examples.
As I listened and watched, my heart beat in such a way, I knew in that moment, a new leg of my journey as an artist had just begun.
I was not home from the conference for more than a week, when I learned of a workshop coming to Minneapolis called "Storytelling with Heart" by an innovative company I was already familiar with called stillmotion. I signed up immediately and was at the workshop just a week later. I sat in the back, just soaking in all the goodness of a full day of inspirational teaching on how to tell heartfelt stories through video. The instructors shared with such passion and clarity, that I knew I was on the right path. I was SO EXCITED to become a filmmaker!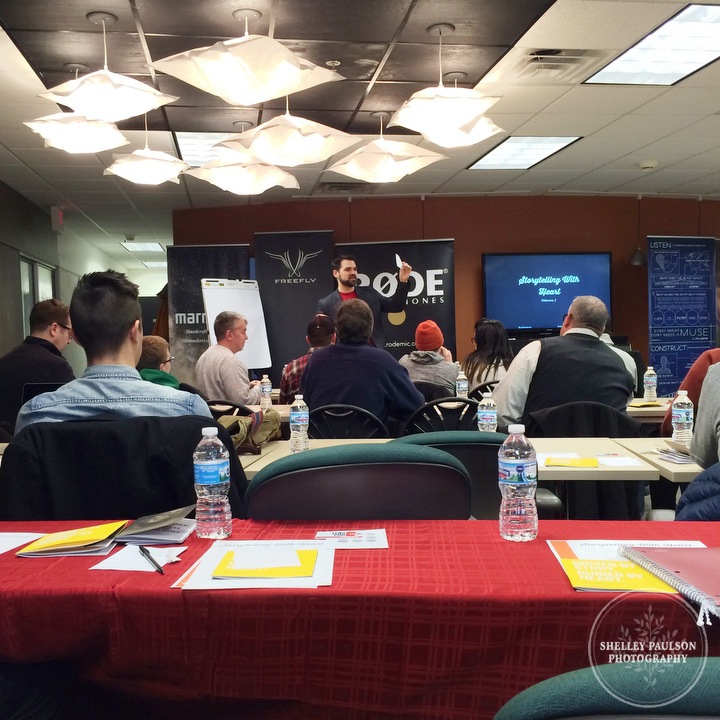 Here I sat, like a sponge, learning all I could from the workshop. See all the women there? Haha – I think there were about 8 of us out of 40+ participants.
I was on a creative high after that workshop, but at that point, I had not shot a second of video.
This is where it got hard.
Super hard.
So hard I have wanted to quit. (Which is why I didn't share about this publicly at first. I wanted to be sure I was going to stick with it.)
You see, I really love being a photographer. I have achieved a level of mastery that is very comfortable and I like that.
I like being excellent at something.
What I didn't expect when I started this journey was the self-doubt, frustration, hard days, pain, struggle and heartache.
Then this phrase came to me – just because something is hard, doesn't mean it's not right.
Deep down, I have this passion growing. I want to tell authentic, heartfelt stories of people who love horses. The process of learning a new craft, one that is highly technical and requires a wider variety of skills and gear than I have, almost buried that passion.
But I took a deep breath, pulled myself up by my bootstraps, and I just kept trying. I started to embrace that I'm a beginner at something; that what I make isn't going to be excellent at the beginning, but I have to go through this process in order to become excellent. I get to make mistakes, have do-overs, and work very hard to put in the time it takes to close the gap between where I am and where I want to be. (This is great empathy training for myself as a photography mentor, right?)
Here's the cool thing. My very first film, "Megan & Justin", was found online by a few blogs, Horse Collaborative in particular, and it's been seen over 6000 times. Not only that, but there were thousands of shares and amazing comments on Facebook that blew me away. The best part of that is why – it touched people's hearts. I see imperfections and things I wish I had done differently, and 2 separate trips, over an hour each way, to get enough usable footage to make the film…and others just experienced Megan's story and her love for her horse. That's what matters.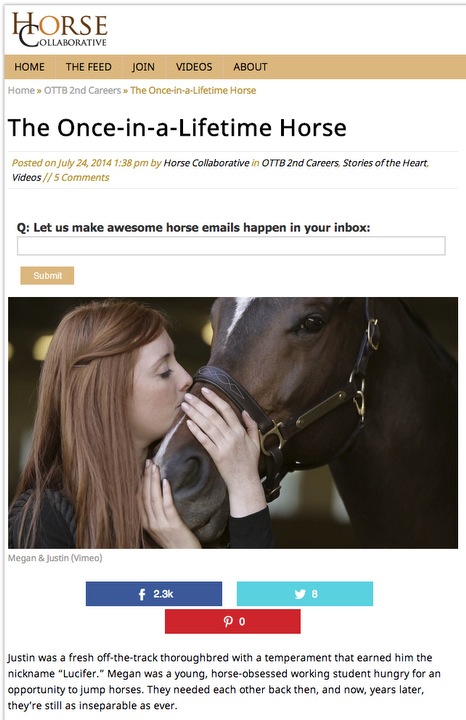 Here's the link to their blog post and the film: http://www.horsecollaborative.com/once-in-a-lifetime-horse/
And the Facebook post with gobs of comments: https://www.facebook.com/HorseCollaborative/posts/693844450701447
The film on Vimeo: https://vimeo.com/101017075
"Photographer and filmmaker Shelley Paulson wonderfully captures the honest love and trust shared by a girl and her horse…"
Photographer and filmmaker. This just got real!
So I've spent my spare time this summer and fall making films. This is just practice and all at my own expense. I learn best by doing, so I'm doing as much as I can fit in right now.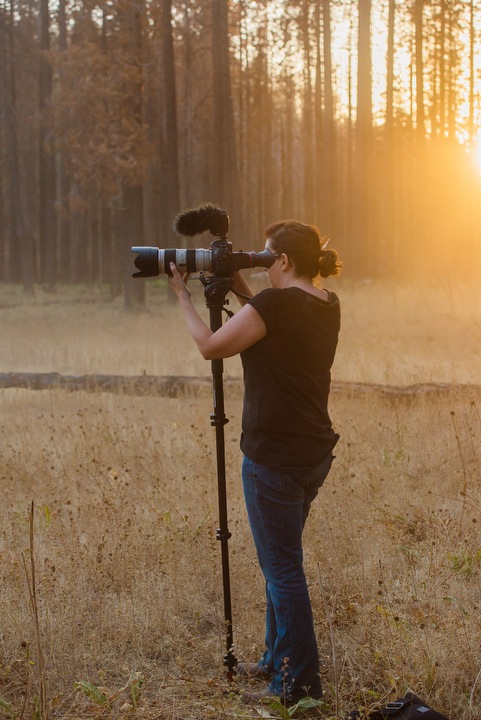 I went back to my friend's mountain ranch that almost burned in California's Rim Fire last year, and made a film about the impacts of that fire on their life and business. I should have it ready to share in November or December. Photo by Andra Erickson.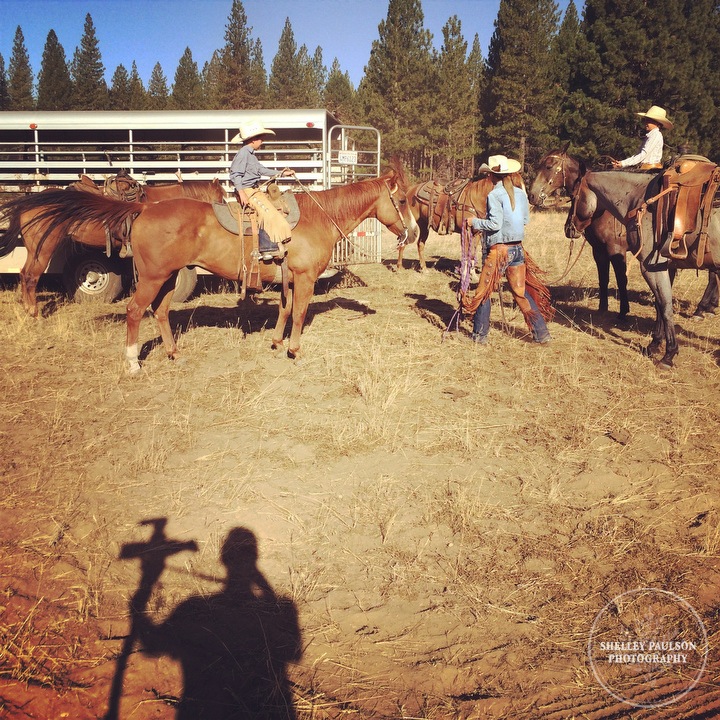 Filmmaker shadow selfie 😉
I have found an amazing mentor, Maribeth Romslo of
Hello Sunshine Films
. She's a talented woman who I had met years ago at a wedding photographer get-together. We reconnected at the Storytelling with Heart workshop, which she helped coordinate. I also got to spend some time doing behind-the-scenes photography for the feature film "
Dragonfly
" that she and two other amazing women made in the Twin Cities this summer. Maribeth and I collaborated on a horse-related film for the
Storytelling Parade
, which should be ready to share within the next few weeks. (And by collaborate, I mean, I assisted and learned so much from watching her work, my head almost exploded!) She is a true inspiration for me – fearless and creative and fun! I am so, so grateful to have a mentor!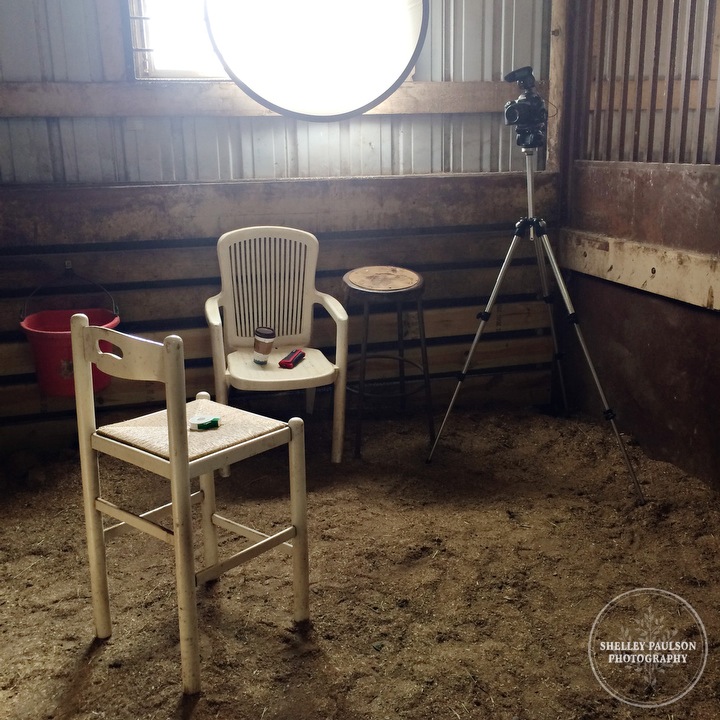 The interview setup for the film Maribeth and I are making. Yes, that's a horse stall. 😉
At this point, you might have some questions. I will do my best to answer them…
1. Are you quitting photography?
Absolutely NOT! I LOVE BEING A PHOTOGRAPHER! As this part of my business develops, I will be changing up the mix of how much of certain types of photography I continue to do, but that's really up in the air at the moment. My plate is really full now, so something will have to give. Hint: it won't be anything with horses. 😉
2. Are you going to film weddings?
I have zero interest in making wedding films.
3. You're calling yourself a filmmaker, so are you going to make feature-length hollywood- or Indie-style films?
Nope. The goal is to tell short stories for businesses and individuals. Most will be 2-6 minutes in length.
4. Will you only tell equestrian stories?
I'm not sure. I would like to focus primarily on horses, but I am open to making films outside of that realm if there is a good story to be told that interests me.
5. Will you make stallion promotion or horse sale videos?
Only if you have a good story about the stallion or the horse you are selling. 🙂
6. Will you teach me to make films?
Not for quite awhile, but my love for teaching and mentoring will surely mean that once I feel I have enough knowledge and experience, I will want to pass it on.
7. When can I hire you to make a film for me and what will it cost?
These are questions that will take at least until next spring to answer.
I have one more completed film and a few more in the works, so watch this space and my social networks for more!