As I write this, I'm flying high above the plains, on my way home from a working trip to Kansas City. This is my second trip in three weeks. I love to travel and fly frequently for both photography and photography instruction, so I thought it might be helpful to others for me to share some of the things I've learned about low-stress traveling with my camera gear.
My primary purpose for this trip was to photograph the Senior Dance Recital for the daughter of dear friends of ours. In addition, I set up several mentoring sessions, one with a hands-on element, and also wanted to photograph my friend's twin babies while staying at her home. I needed gear for a low light theatre photography (which was mainly my 70-200 2.8 L IS II and 35mm 1.4) and a few portrait sessions, which was mainly my 50mm 1.2, 85mm 1.2 and 135 f2. I also wanted to teach off camera flash at the hands-on mentoring session, so I needed to bring one flash and my Stratto II trigger set to fire the flash.
Planning My Trip
I would have made a great travel agent. I love searching for flights and getting a great deal on travel! I have found that it's true that the best travel prices are on Tuesdays and Wednesdays. A TSA agent told me today that the airports are the least busy on Tuesdays as well. About 45 days before a trip, I start to watch the prices on flights. They can fluctuate quite a bit, and I like to watch them for a week or two to see if it looks like they are going to drop more. I decided only three weeks ago to fly to Kansas City for this trip instead of drive, and that was a good call. There were snow storms I would have had to contend with, possible on both legs of the trip! When I started watching prices they were around $210 for a round trip ticket. That's a great deal! But I waited for Tuesday to roll around and they dropped to $193. Even better!
I also had to rent a car for this trip, so I did a bunch of research because I was finding that any well-reviewed car rental company at the KCI airport was going to run me close to $200 for an economy size car. I read that Travelocity had the best car rental rates, so I went there a scored a car for $137. That's a pretty great savings! I almost couldn't have driven down here for $330 (I drive a Jeep with a v8 Hemi. That equals poor fuel economy.)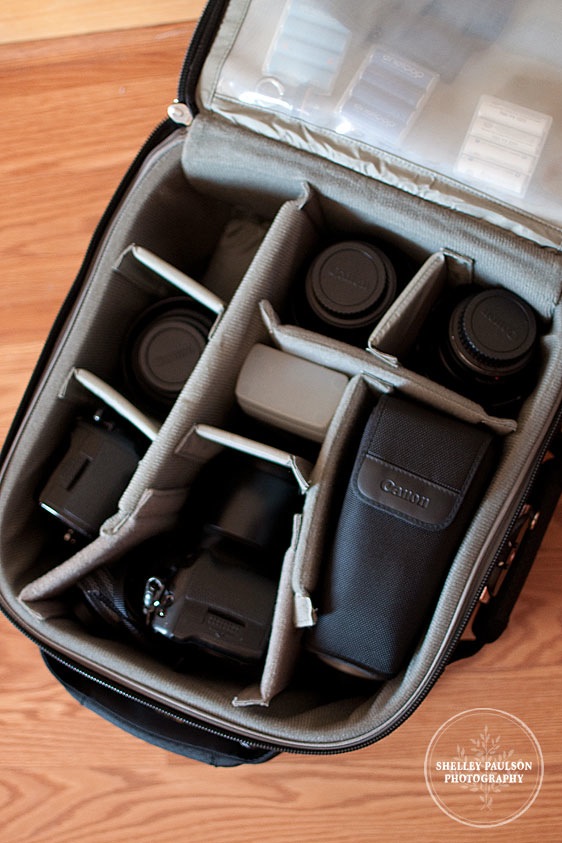 Packing My Camera Bag
I carry all my camera gear in the Think Tank Airport International Rolling Camera Bag. I love this bag because it's roomy, rolls great, locks both to things and locks the contents of the bag, but most of all, I love that it will fit under the seat in pretty much any commercial airplane. I prefer to put it in the overhead bin, but there are times when I'm on a very small regional jet and it won't fit in the overhead. I've been in situations where they wanted to gate check my bag and I absolutely will NOT check my camera gear. I don't want it out of my sight for theft reasons and I don't want it thrown around by baggage handlers.
Above you see a photo of how I packed the bag for this trip. I have two camera bodies in there, one with a lens and one without. I have my 70-200 tucked under my flash, and some flash accessories in that smaller compartment in the middle. I didn't need to fill the bag for this trip, so I do have one empty compartment, that I sometimes threw my wallet into.
I also brought my Shootsac, a monopod, and a small soft box for my flash. I packed those in my big suitcase, as I wasn't worried about damaging them.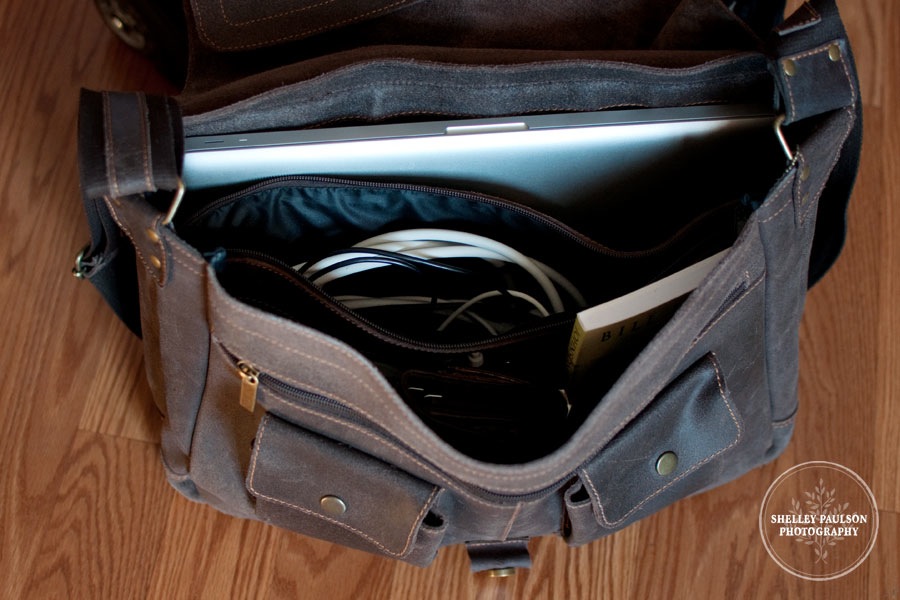 Packing My Carry-On Bag
My carry-on contains my laptop, accessories, wallet, book, snacks (always bring snacks! I pack nuts and Mojo bars) and a super handy water bottle with a built in filter (they sell them at Target). I hate paying $4 for water at the airport, so I just keep the bottle empty until I'm past security, then just fill it from any tap.
I always leave a pair of ear buds, a flash drive, pens, a note pad, and other small things like Truvia for my coffee an extra memory card reader in this bag so I don't have to pack it every time I travel. I throw a small purse in my suitcase so I don't have to lug this bag when going out to dinner or shopping.
When I travel for weddings, I bring a backpack for my carry-on instead of my laptop bag, so I can fill it with my lighting gear and put more lenses in my camera bag. My backpack has space for a laptop, so it's works well.
The Airport
I try to arrive at the airport two hours before my flight. You can cut it a lot closer than that, but I don't want to be stressed when I travel, so I get there early. If the lines are long, I can just breathe and people watch, instead of freak out that I'm going to miss my flight. Getting there early also gives me time to get coffee. An essential element to easy travel. 😉
I am old school and still like to carry a paper boarding pass. I've done the phone pass thing, and it's just not a easy as paper. I'm constantly having to unlock my phone, reopen the Delta app (if I was on, say, Facebook for the hundredth time). Paper is just easy to pull out of my pocket.
When I go through security, I always put my shoes through first and my gear through last. If my camera bag gets inspected, I don't want it whisked away while I stand there waiting for my shoes. I purposely wear comfy shoes that are easy to get on and off, shirts with no embellishments and pants that don't require a belt. Travel is not a fashion show for me, and this gets me through security quickly and painlessly.
If my bag does get pulled for inspection (which happens very infrequently for me), I just smile and practice patience. Oh, and I don't make small talk about bombs. Not that I'm speaking from experience or anything. 😉
I also smile and greet any TSA person or Ticketing/Gate Agent I make eye contact with. It takes almost no effort to be kind and I think it just makes the experience better.
Boarding the Plane
Minneapolis is a Delta hub, so I try to always fly Delta. I'm a SkyMiles member, which means I pay a fee to have a credit card through them and I get to board right after first class. The reason this is important is that if I board last on a full flight, I could end up with a situation where there's no room for my bag overhead. I can put it under your seat, but then my carry-on will have to find room overhead. It's possible I could get separated from one of my bags and I don't want to take that chance, so I board as early as I can.
With my SkyMiles membership, I also get my first bag free. Because I fly with a camera bag on almost every trip, I have to check a bag, so this easily pays for the membership in the first two trips of the year.
I personally like the aisle seat, so I don't have to climb over people to get to the bathroom. I also like to put my bag in the bin right over my seat, so I can get it down without worrying about hitting someone on the head.
Once I'm in the air I sit back, write blog posts, and enjoy the ride. I today, the flight isn't full, so I moved over to the window seat and have enjoyed looking out the window a few times and marveling at the snow-covered earth below.