In June, I spent ten days in Iceland photographing the Icelandic horses in some of the most beautiful scenery I've ever encountered!
The trip, organized by fellow photographer Phyllis Burchett, was ten days long. We had six different equine photo shoot setups, along with visiting some beautiful sights such as the Glacial Lagoon and Diamond Ice beach.
We stayed at a farm called Skalakot. They have a luxury hotel and a big herd of gorgeous Icelandic horses they use for taking people on short and long-term riding expeditions. A team of four talented horsewomen would move the herds or individual horses to the locations.
Here are some interesting facts about Icelandic horses:
They are the only breed of horse on the island. No horses are allowed in. They export Icelandic horses for people to enjoy in other countries, but they are not allowed to be brought back once exported.
They aren't wild. Horses around the Island are owned by individuals or companies offering riding tours. You won't find horses hanging out by waterfalls and rivers.
On a personal level, Iceland lefts its mark on my heart. The beauty of the country is unlike anything I've ever beheld with my own eyes. I've told people that it felt like I was inside a screensaver because I saw unreal beauty everywhere I looked. I am eager to return and see more of the country.
These images will be featured in Horse Illustrated Magazine in 2023!
I made a video for my YouTube Channel with "Behind the Lens" footage where I talk more about the experience, and how I packed for it, and show video footage of the breathtaking Icelandic scenery.
My 2023 Calendar "Horses of Iceland" Calendar is now Available! 
The photos from my time in Iceland were so well-received online that I decided to devote my yearly calendar to the photos I created there. Order your calendar here.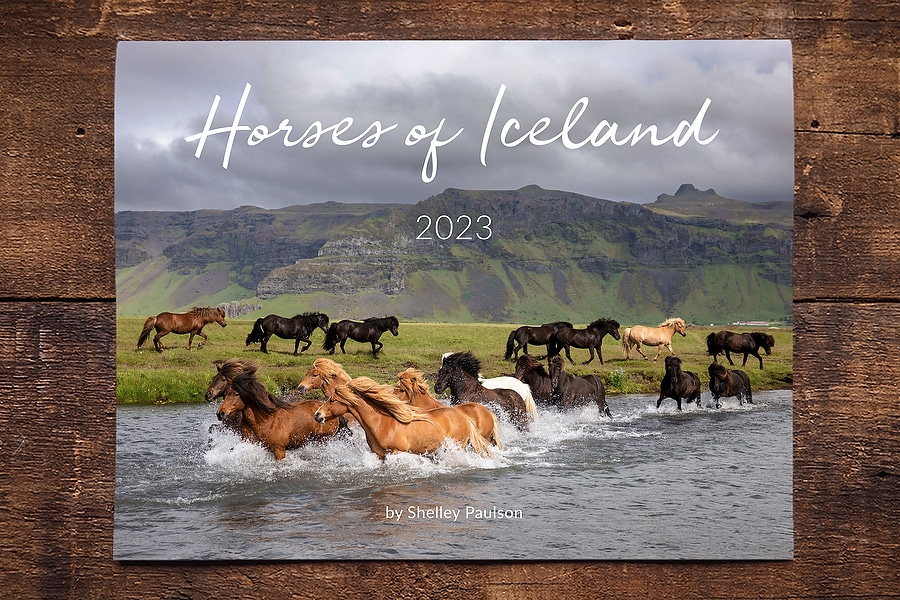 Finally, I made a travel video featuring the beauty of Iceland and posted it on my Facebook page. 
Okay, on to some of my favorite images…including quite a few I haven't shared before.
If you are interested in ordering prints of images from Iceland, visit this Gallery. If there is an image you've seen and would like a print of and you don't find it in the gallery, just let me know and I'll add it!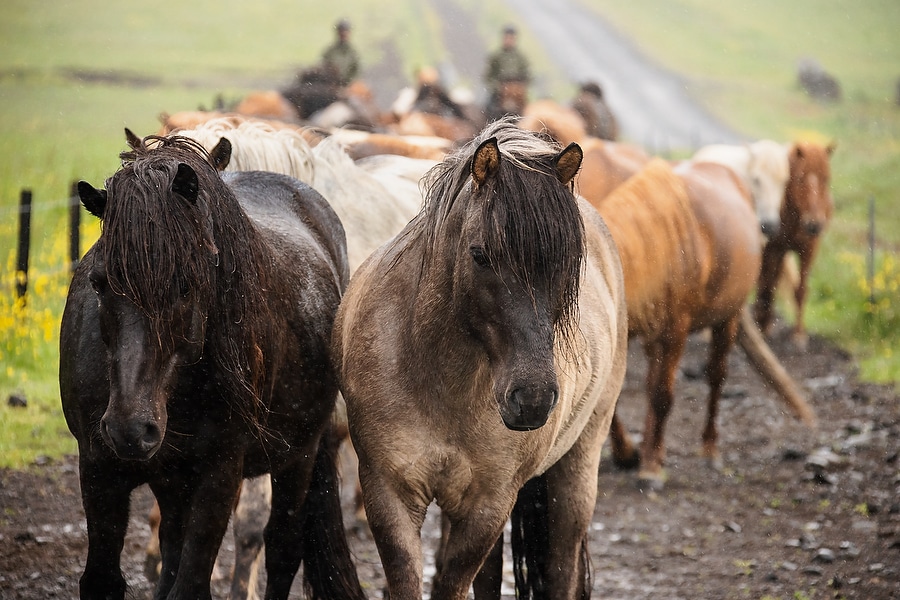 Bringing the horses in from the pasture.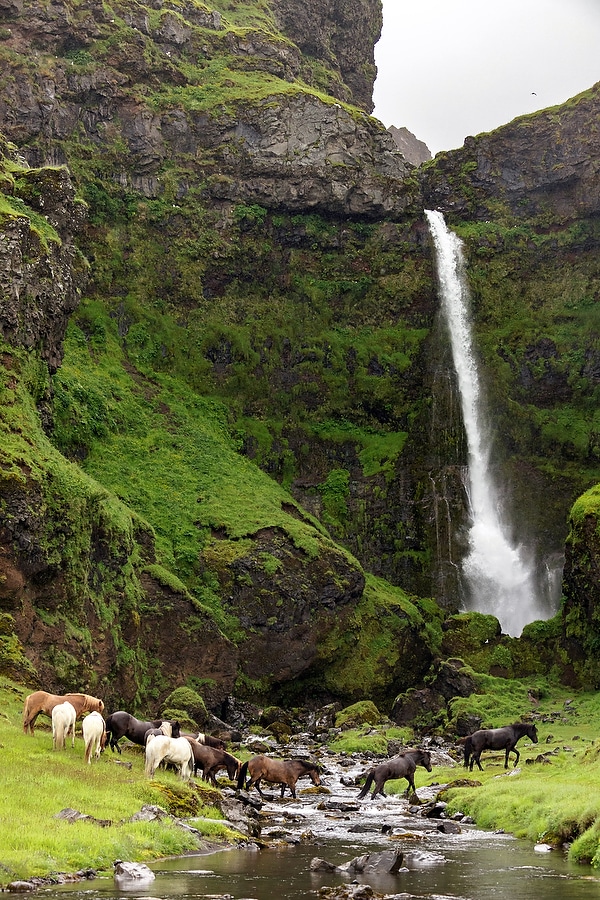 Our first shoot was at a waterfall near the farm. The horses are used to rough terrain and were very good at picking their way through the rocky stream.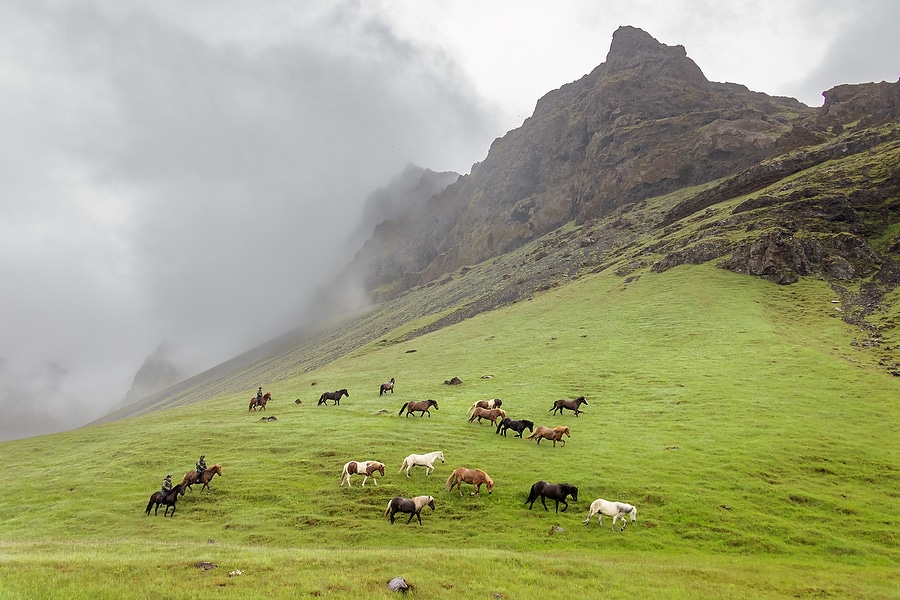 They originally just used the lower part of this hillside to turn the horses back to cross the waterfall, but when I saw this scene, I asked if they could try moving the horses up the hill more. This is personally one of my most favorite images!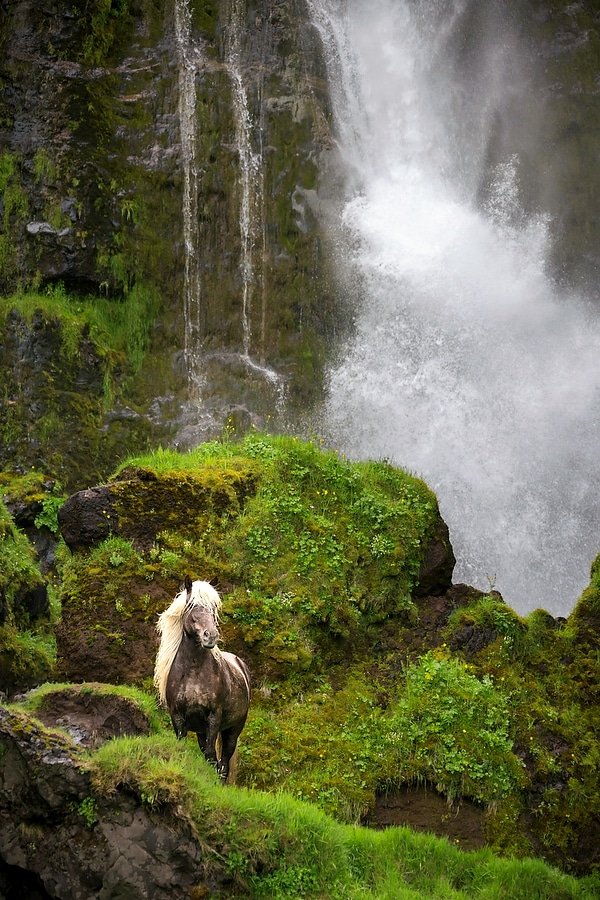 You will see "Vinter" in many photos because he was one of the most striking horses and very good at posing.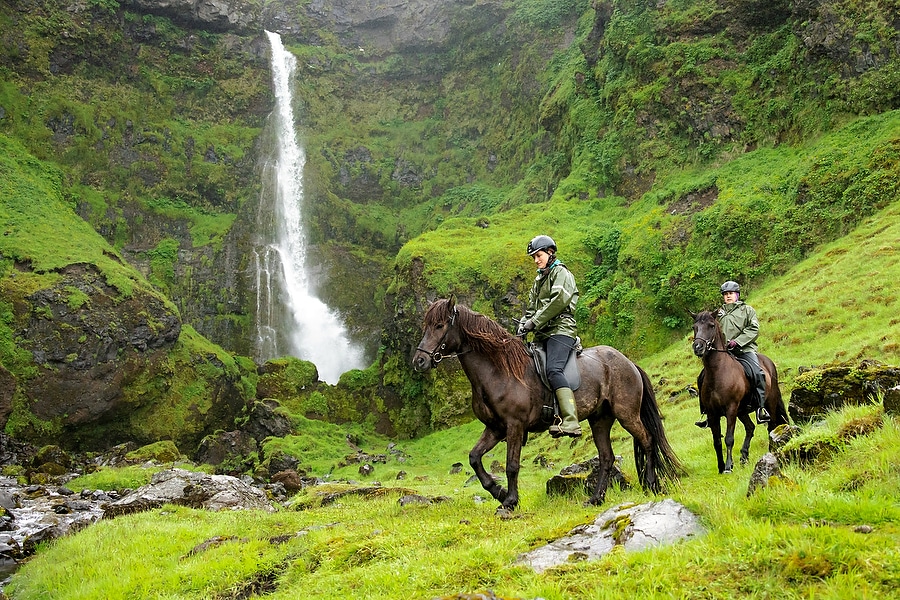 I couldn't help but also do a little storytelling with images of the riders.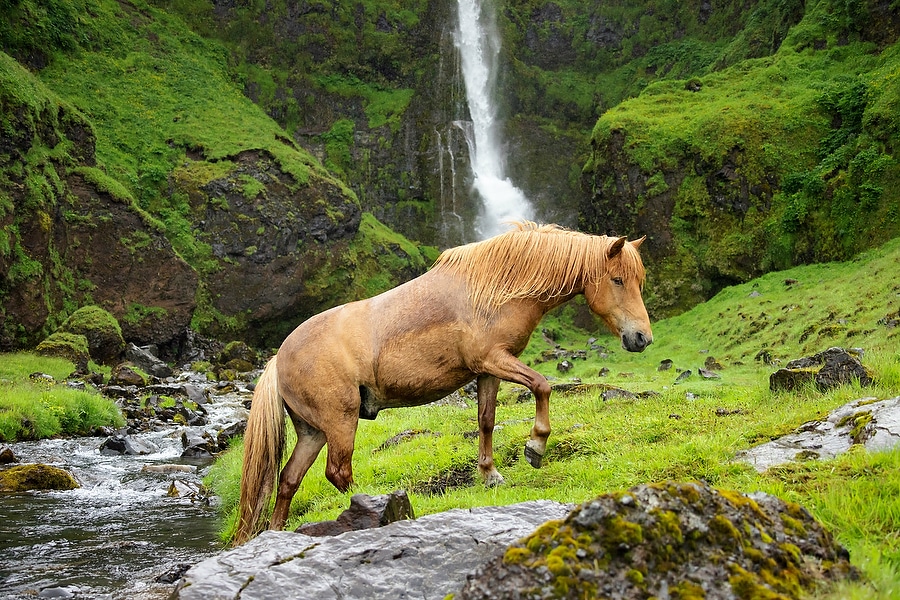 It was raining quite hard this first day. We were all pretty soaked!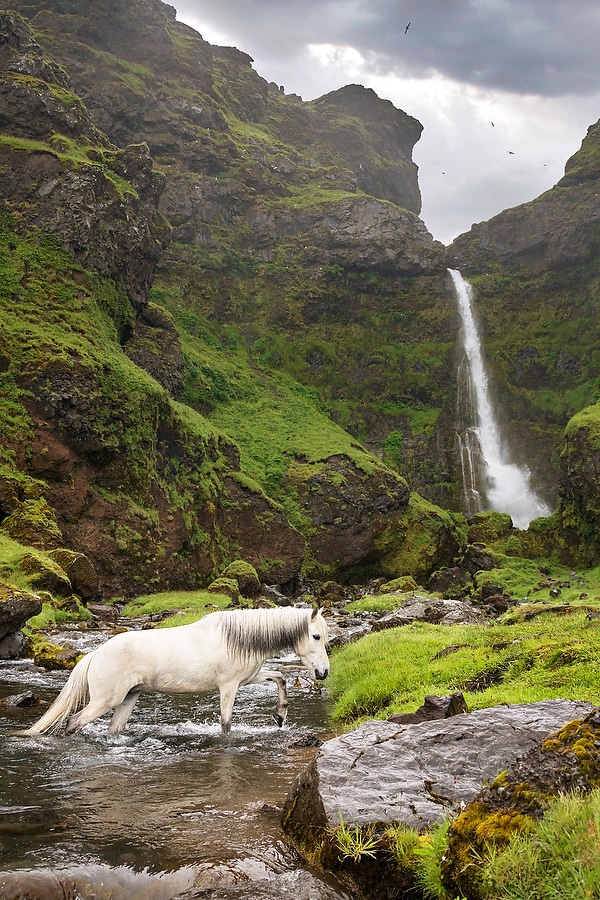 Waterfalls are abundant in Iceland! When you drive down the main road around the Island, you see them all along the cliffs!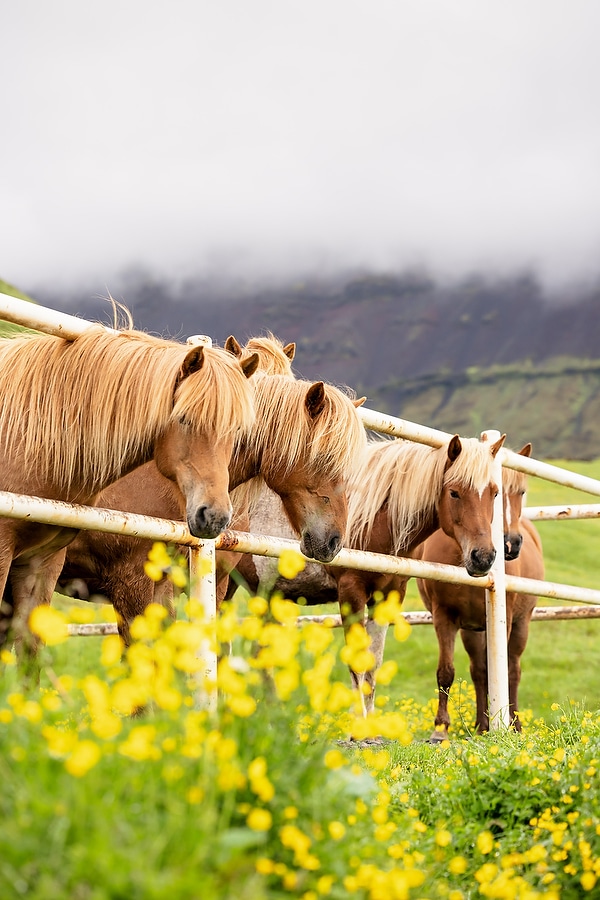 Icelandic horses are so cute!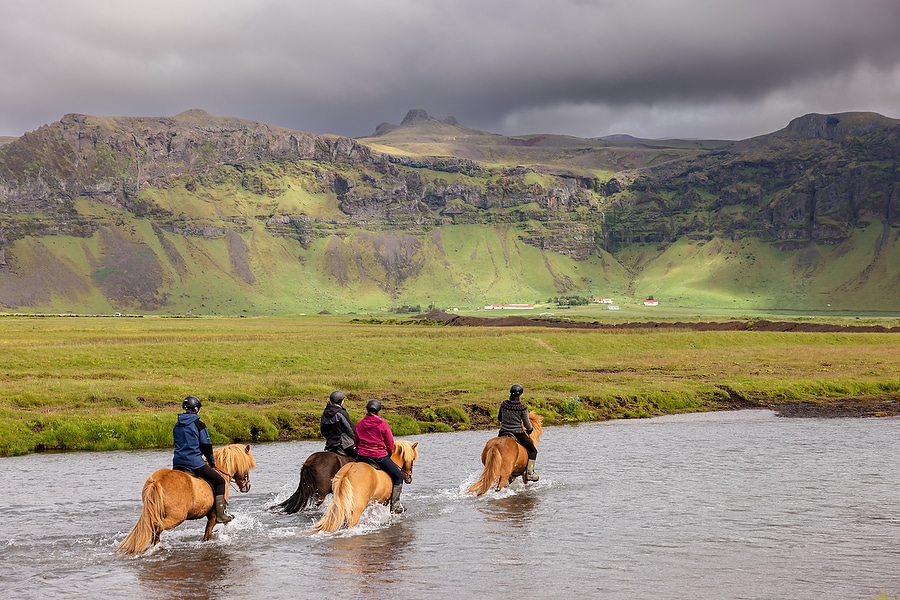 Our second shoot was at a river near the farm. They brought a large herd to cross the river. Here the riders are heading out to round up the herd for us.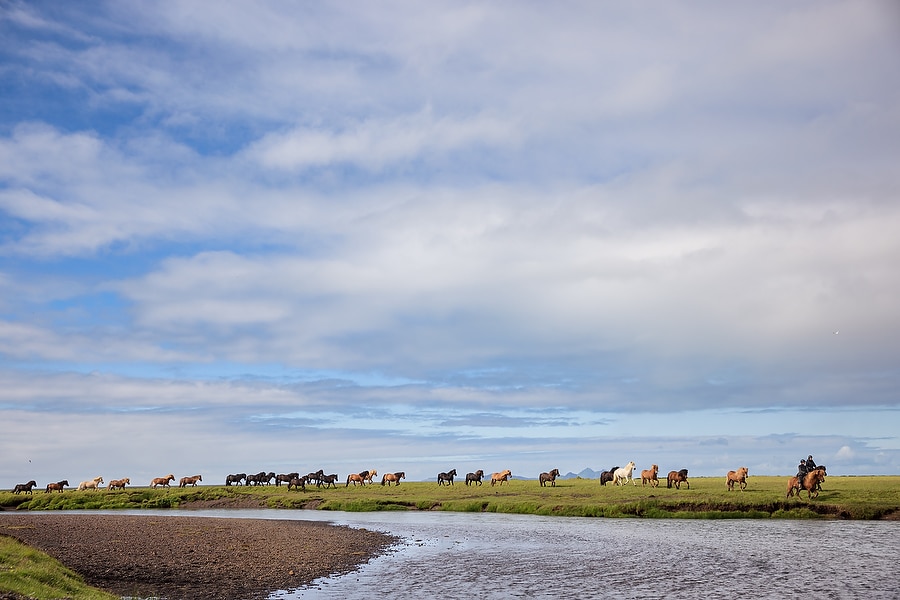 There were more horses than I could fit in my frame!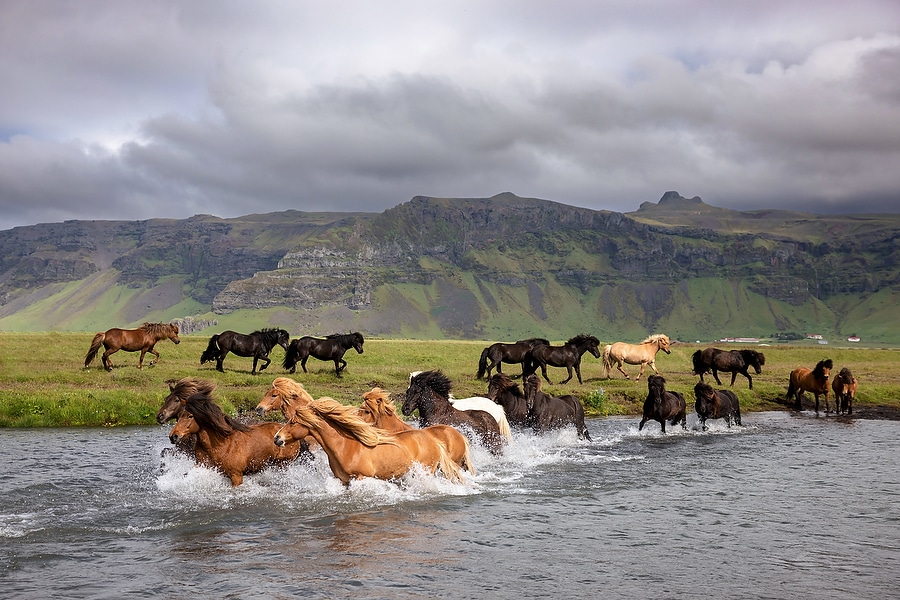 This is my very favorite image from the trip, which is why it's also the cover of my calendar!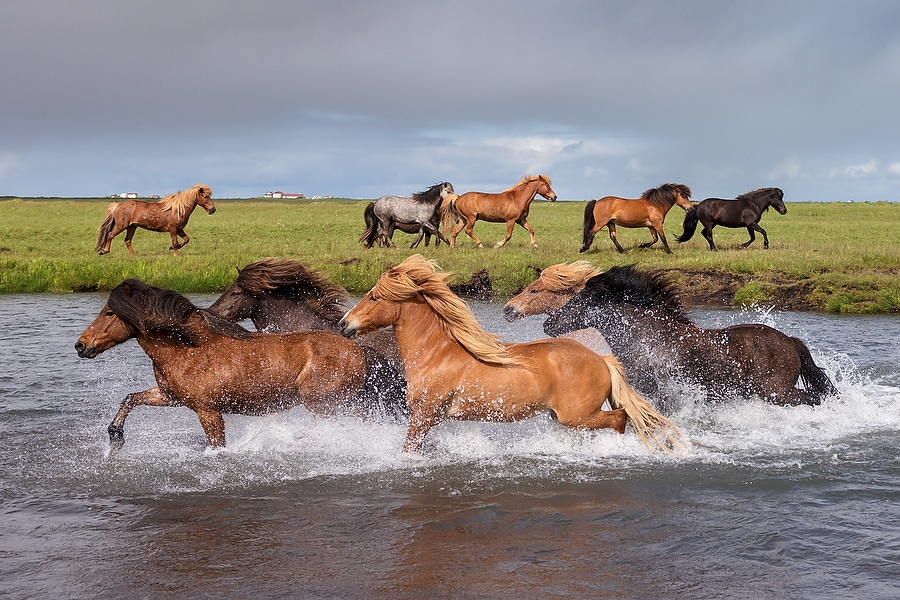 We sat on the river bank and clicked away!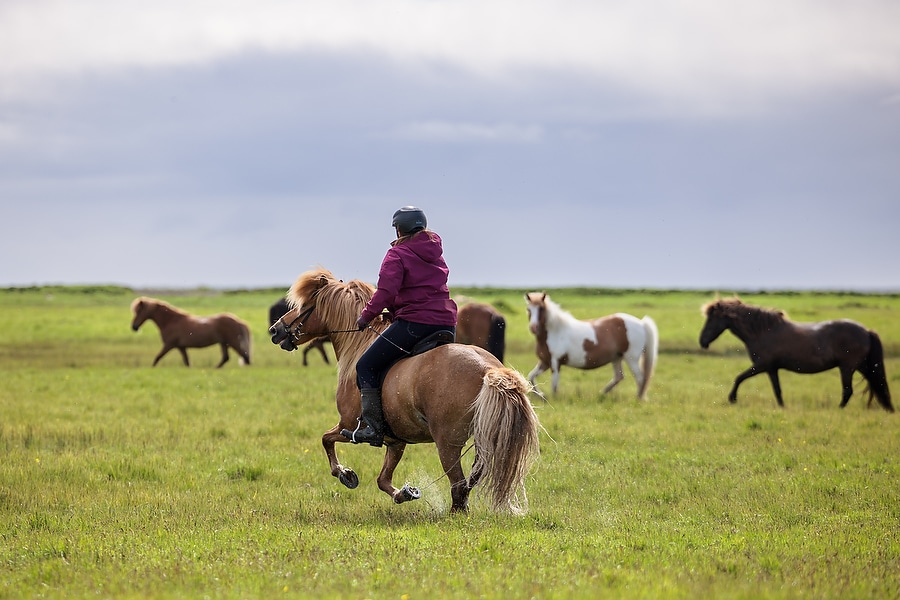 The horses were reluctant to cross the river, so the riders had to work hard to try and get them back to the water.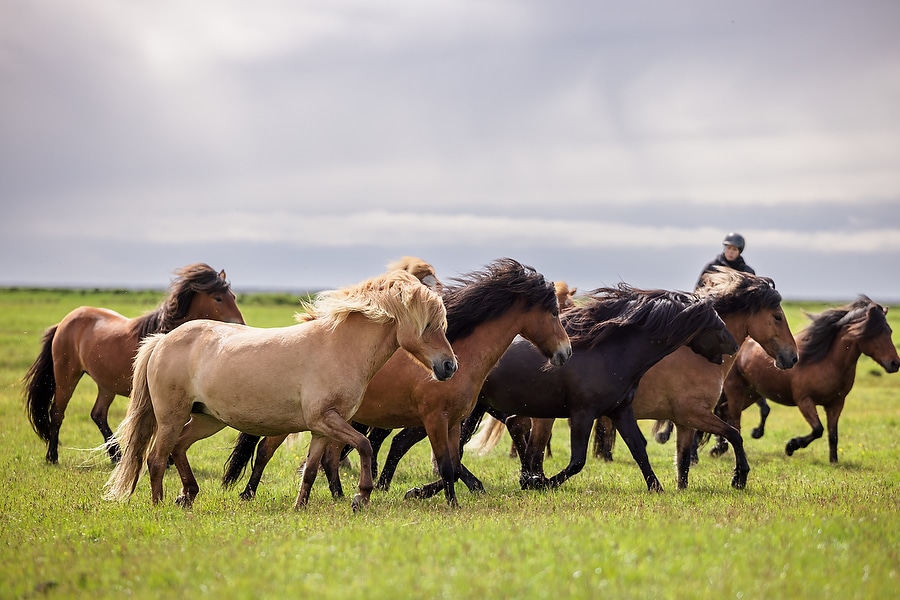 This looks promising…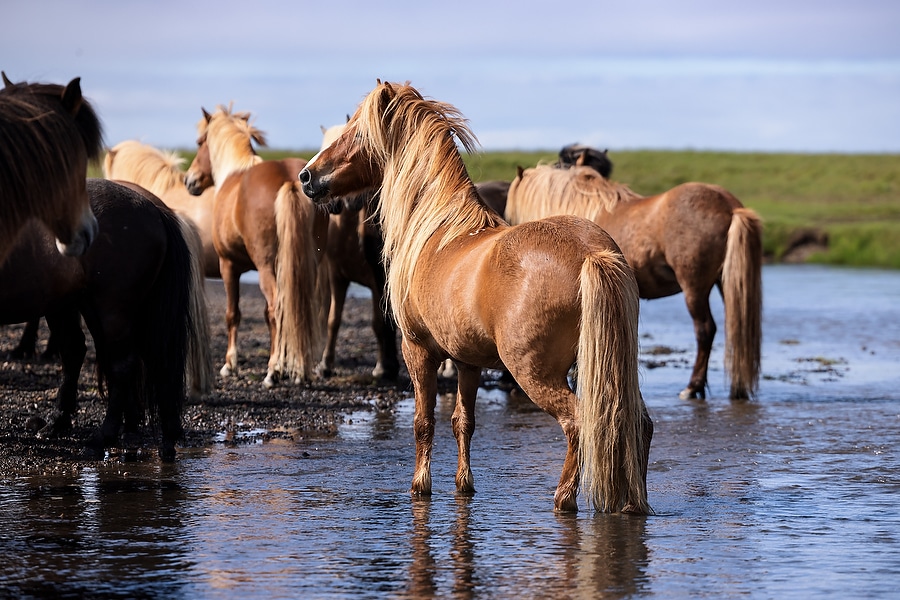 Nope, not gonna…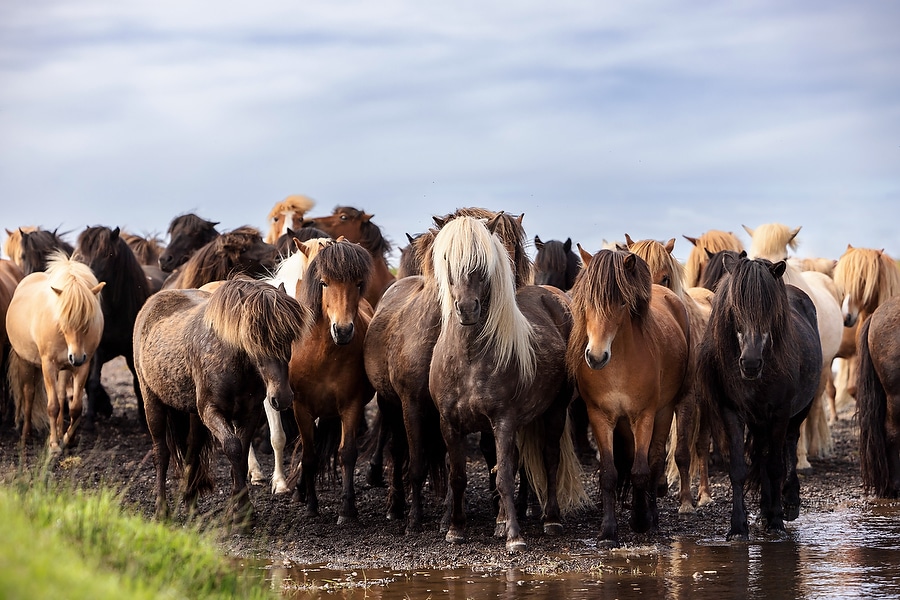 Vinter wasn't helping…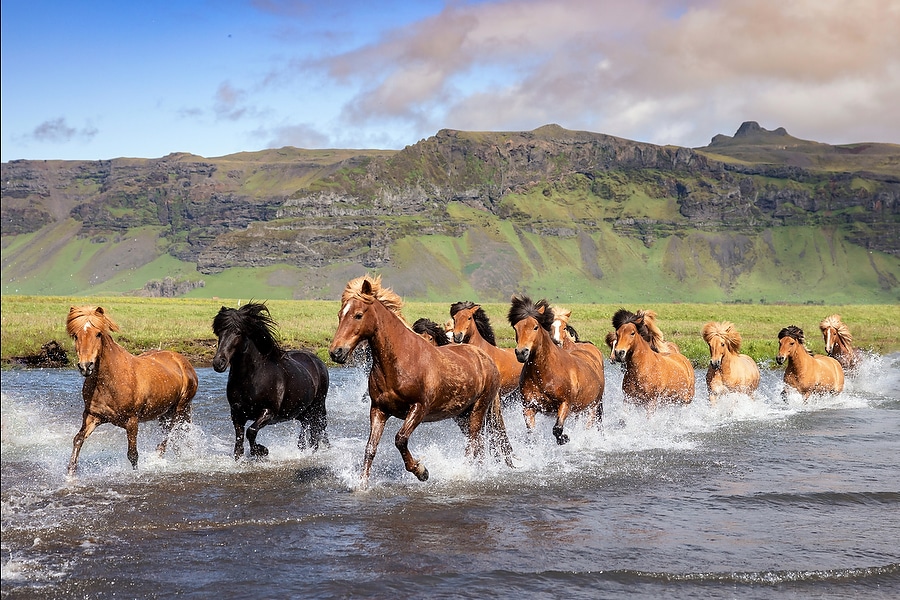 Then they finally got them back in!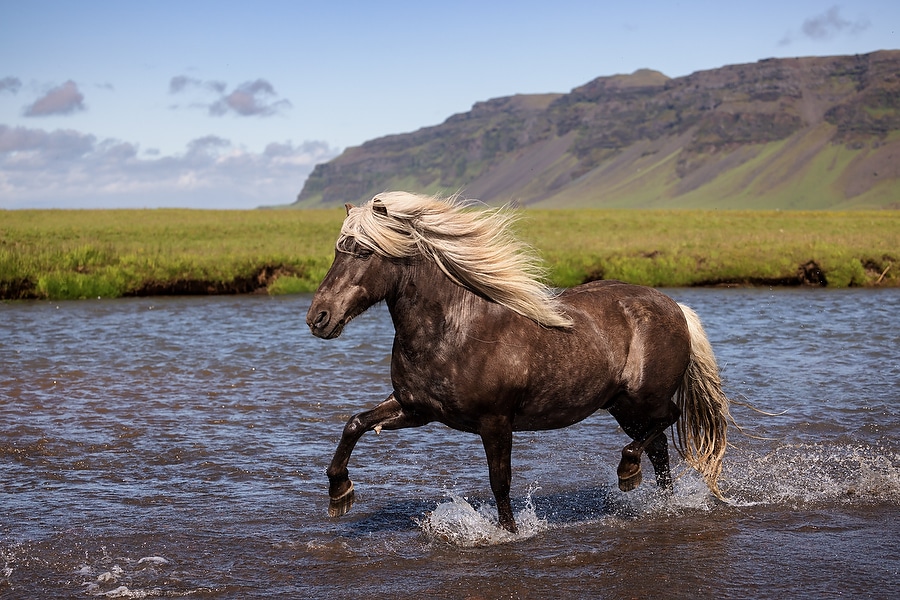 He's just so stunning!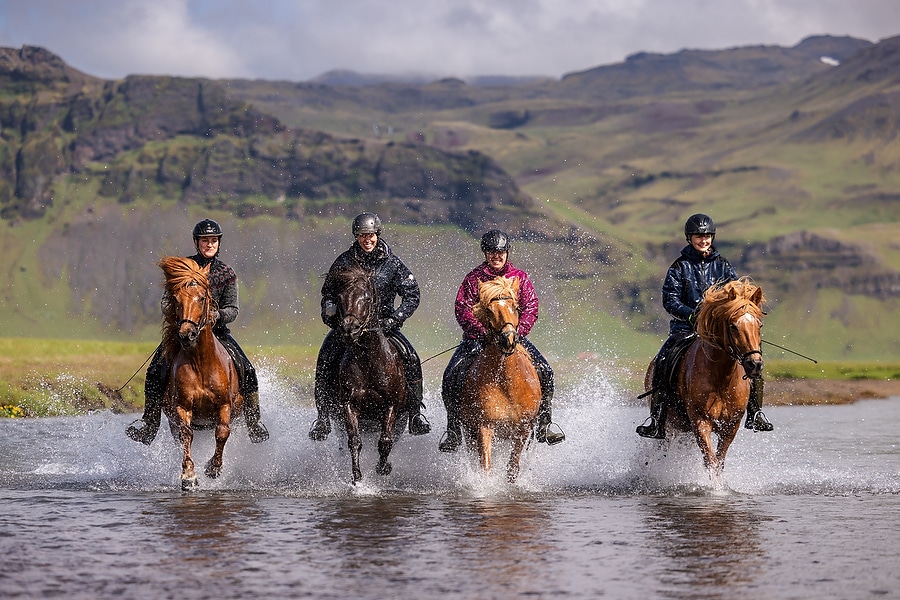 We asked the riders to gallop toward us in the water! They loved it despite being soaked by the end!
After the river, we spent some time with mares and foals. It was so peaceful.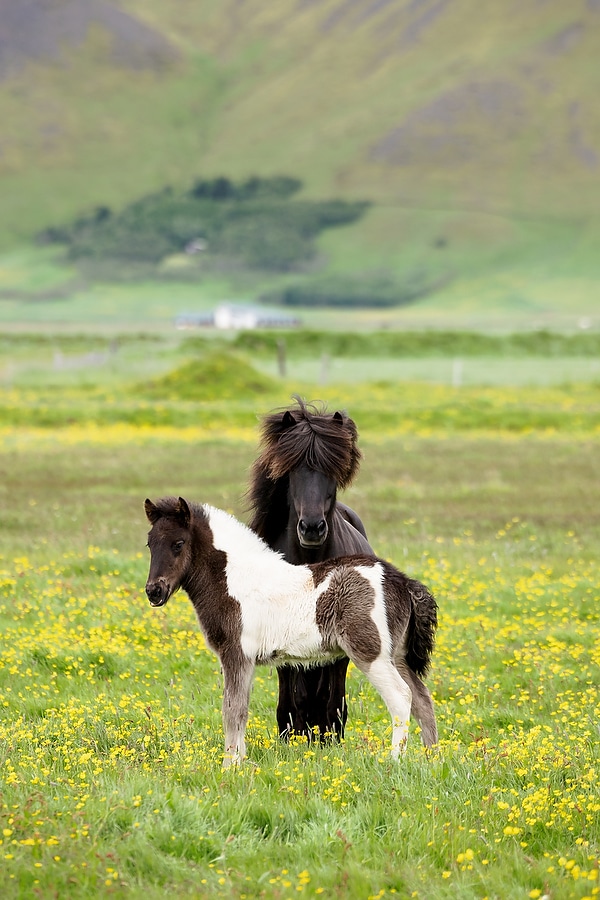 They are so fluffy!!!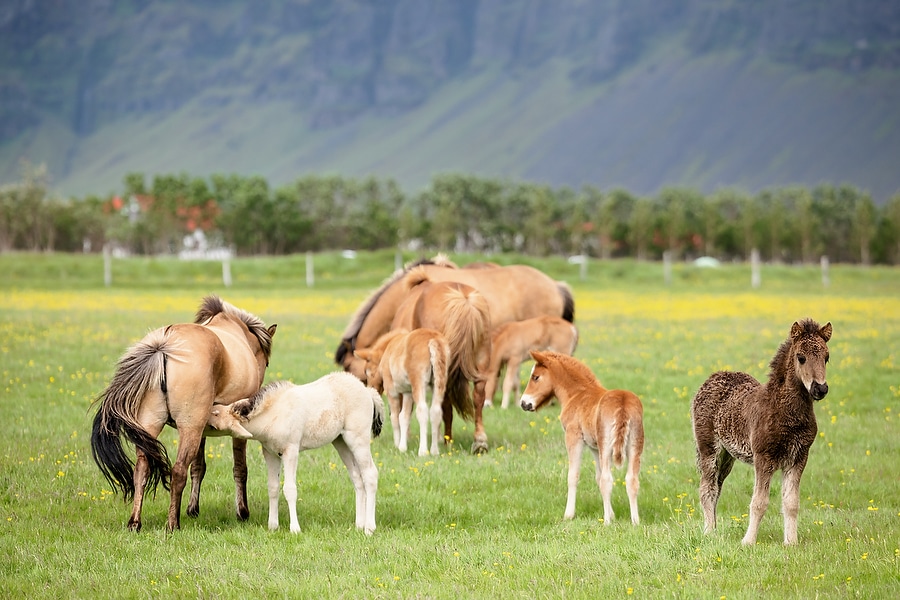 Look at the fluffball on the right!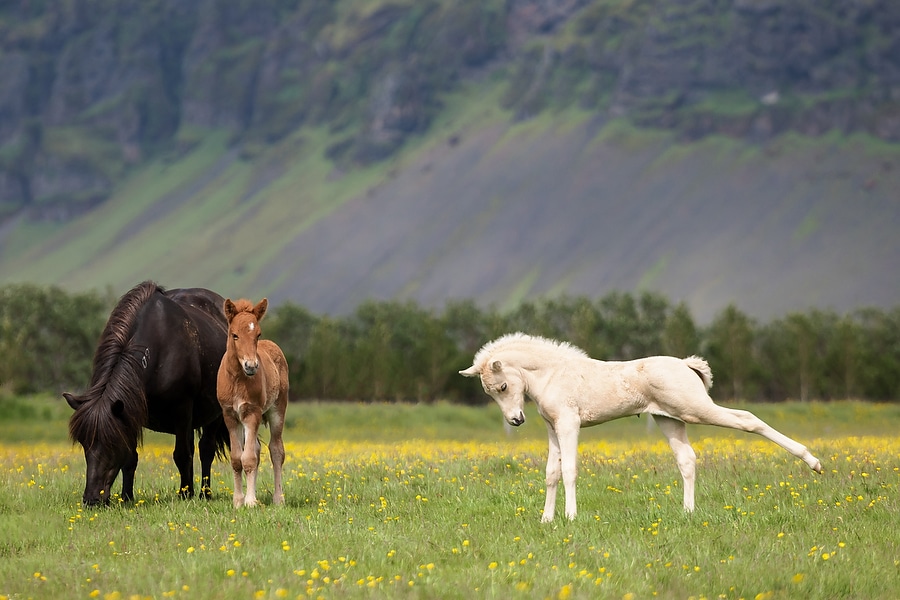 Streeeeetch!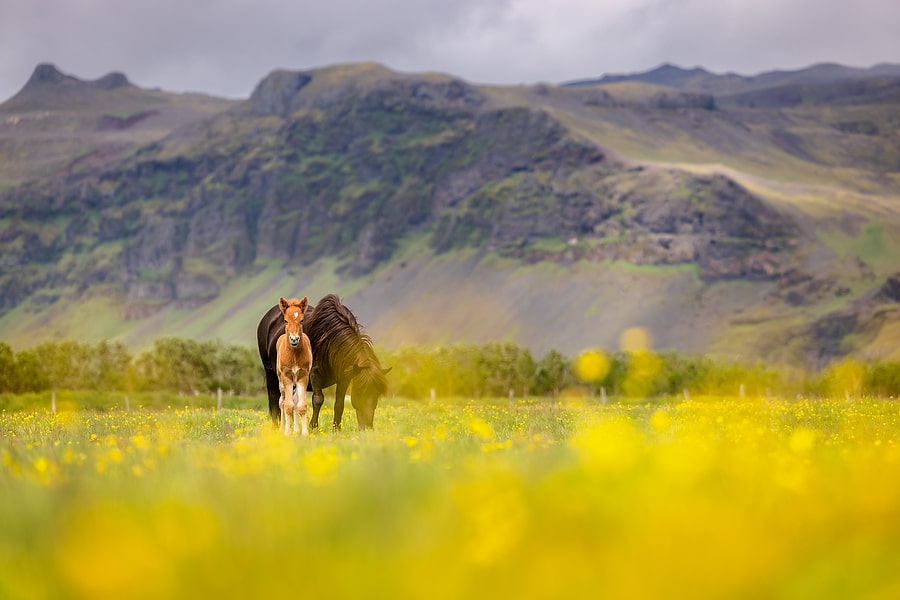 It's hard to take a bad photo in Iceland. 😊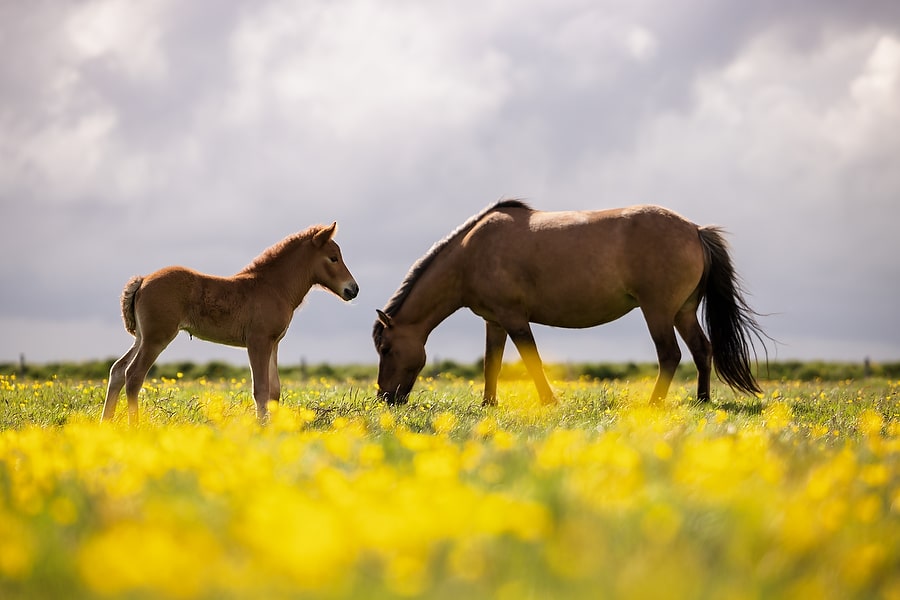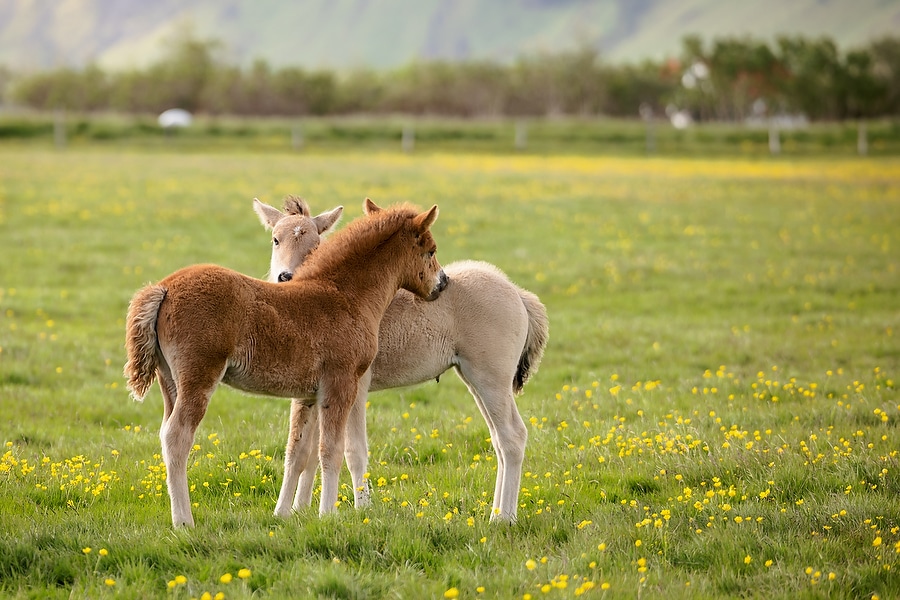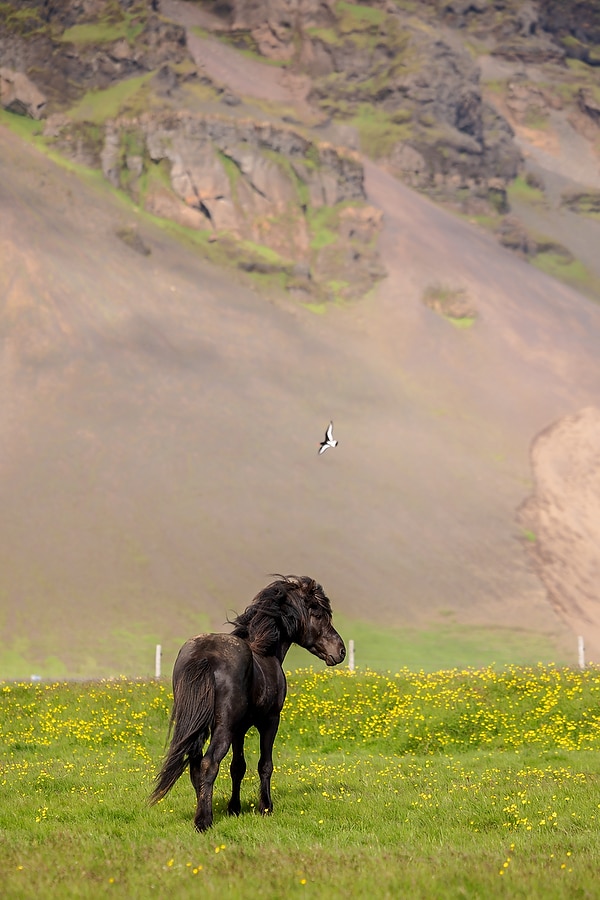 This was the stallion whose mares and foals we were photographing.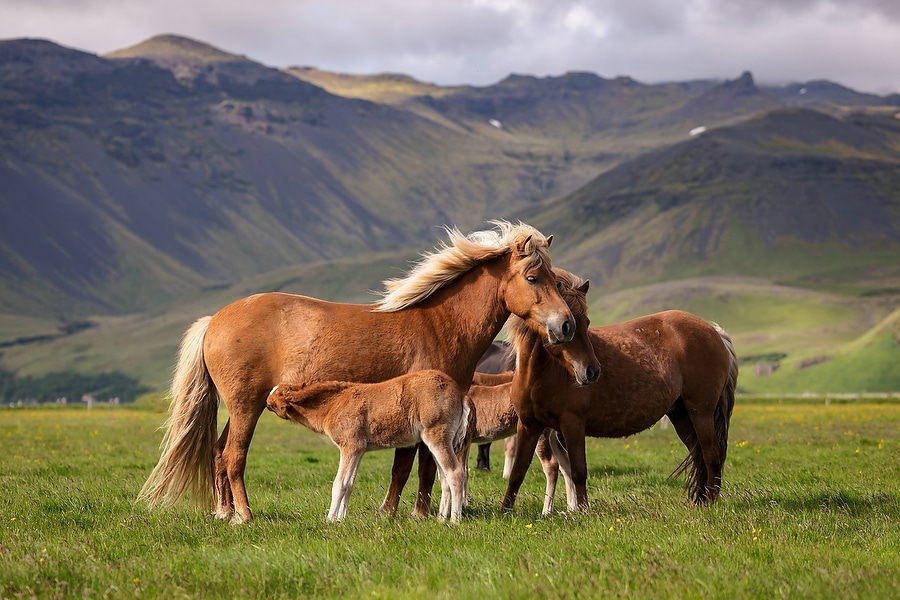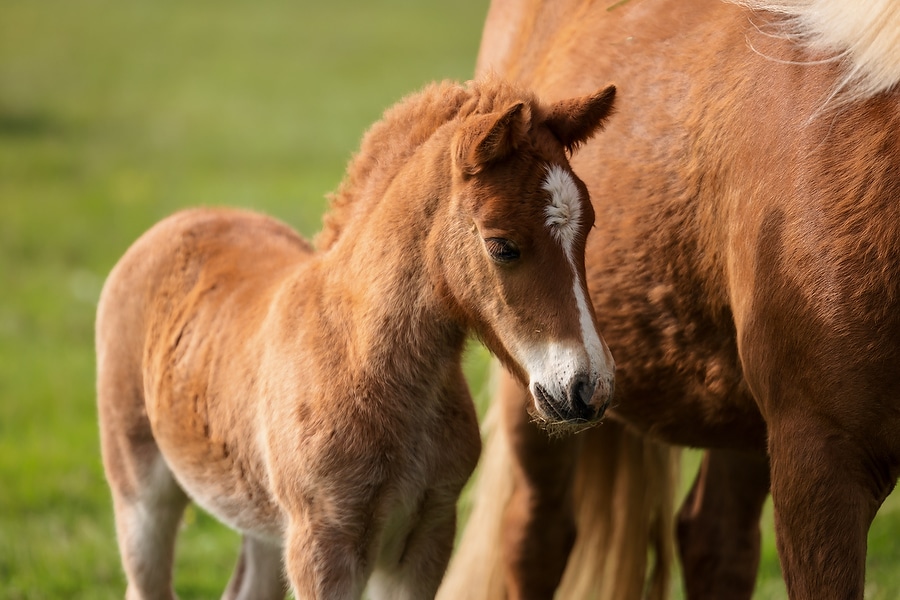 Our next shoot was at a shorter waterfall where the horses could cross the top.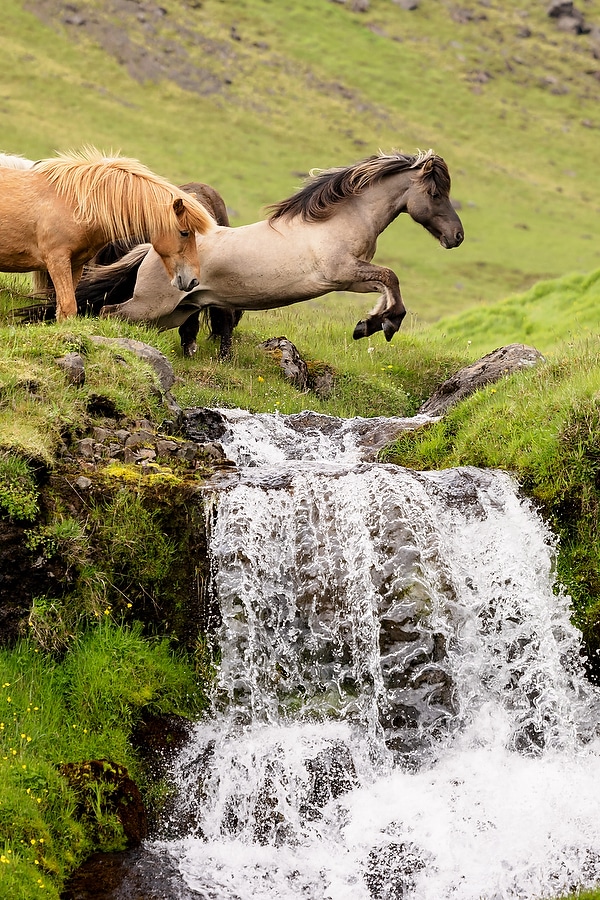 Some felt the need to jump over the water.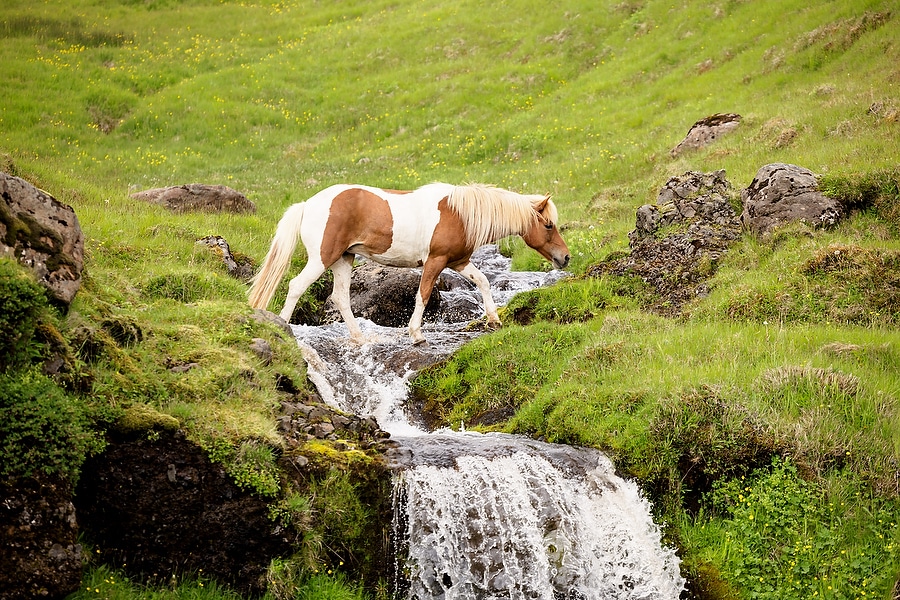 And some ambled through.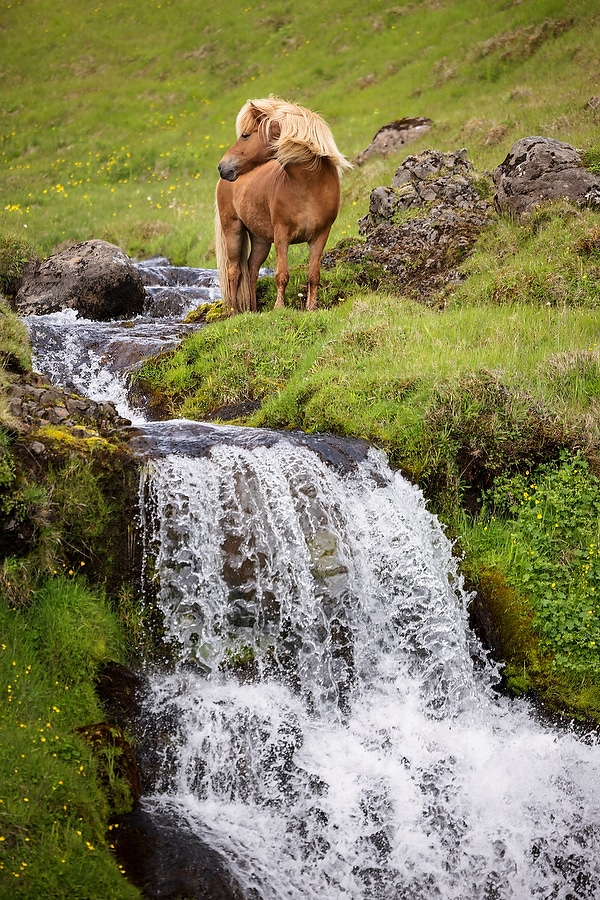 How are they so beautiful? 😍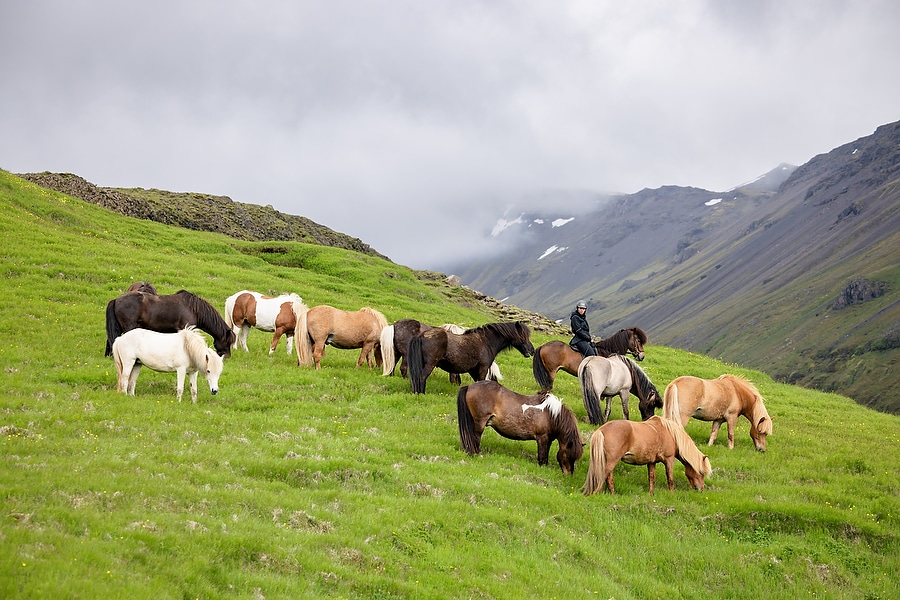 I couldn't have imagined how much I would love this place.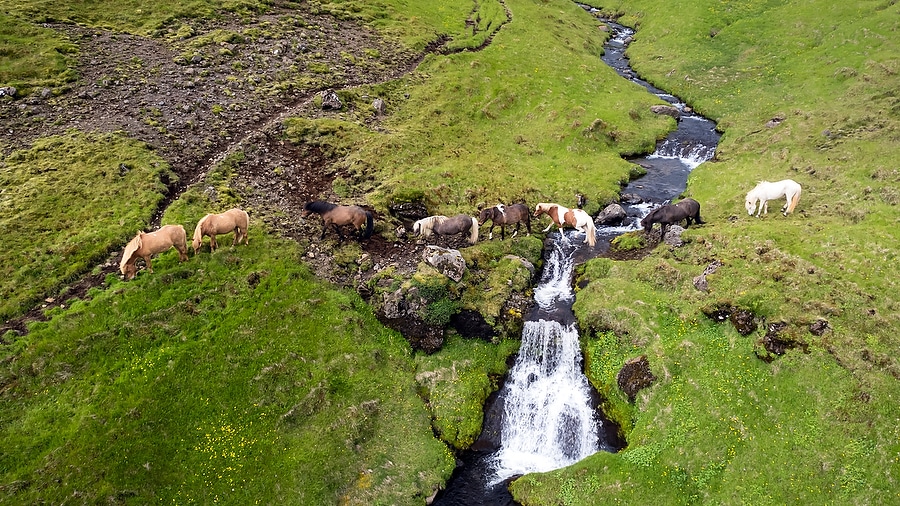 I mostly filmed from my drone but also took some photos.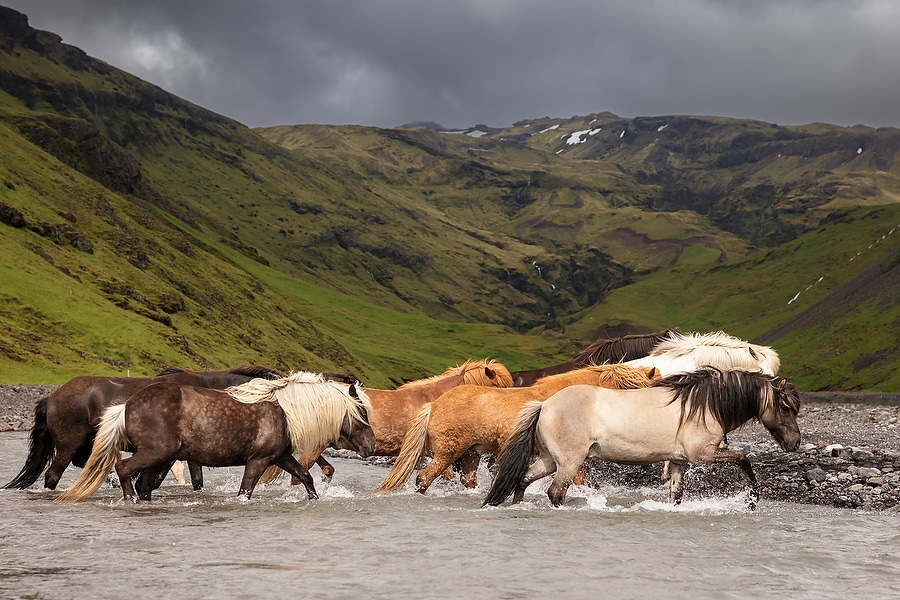 The next location was a canyon river crossing. We had some sun in this spot, making for some dramatic scenes!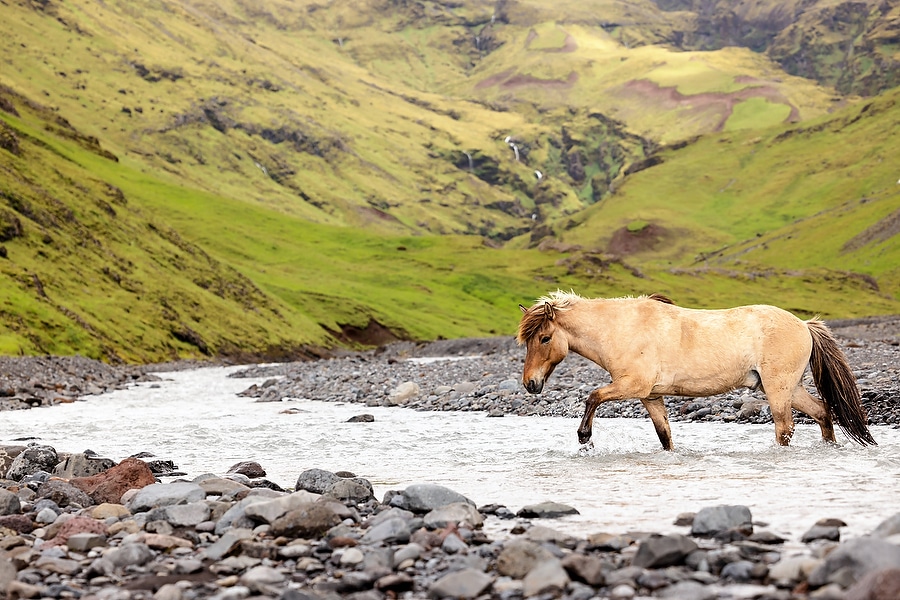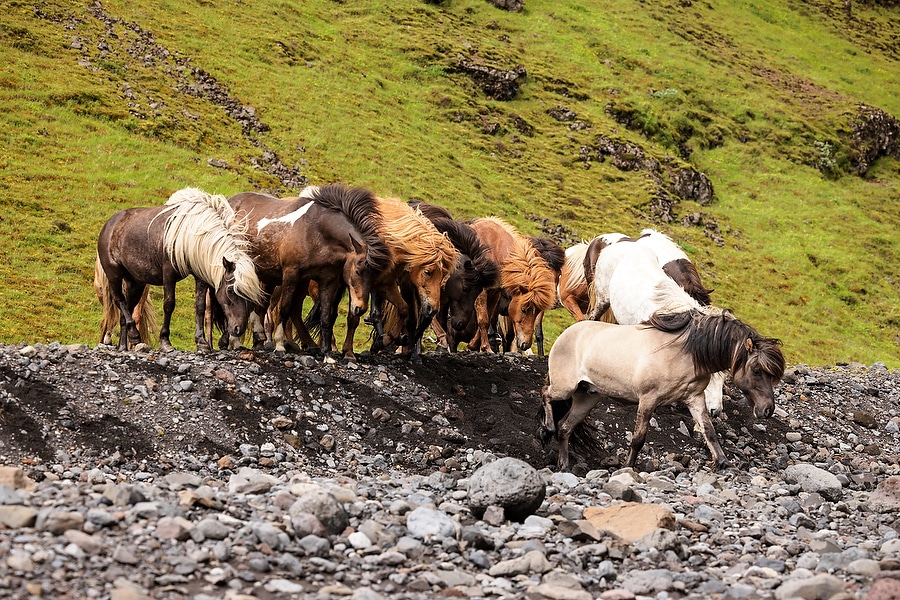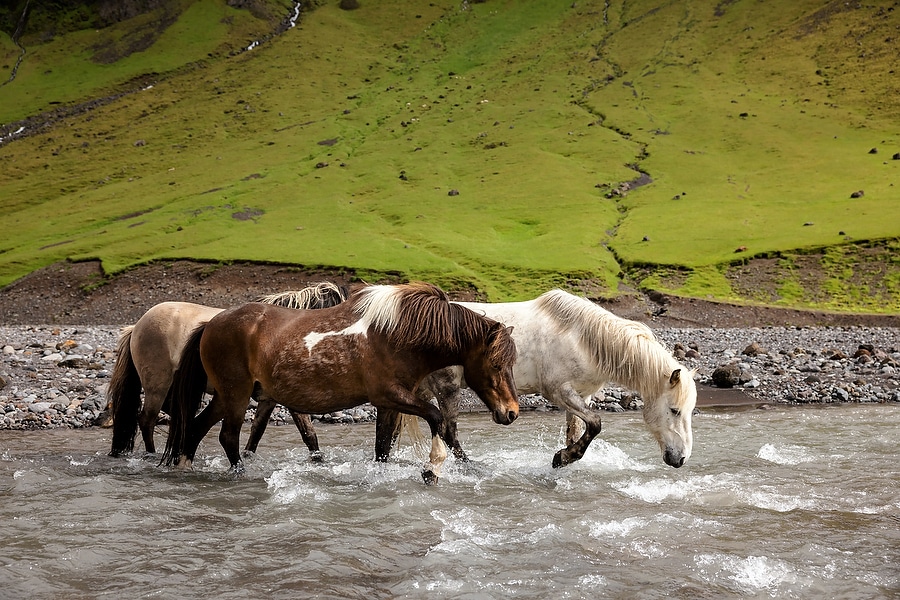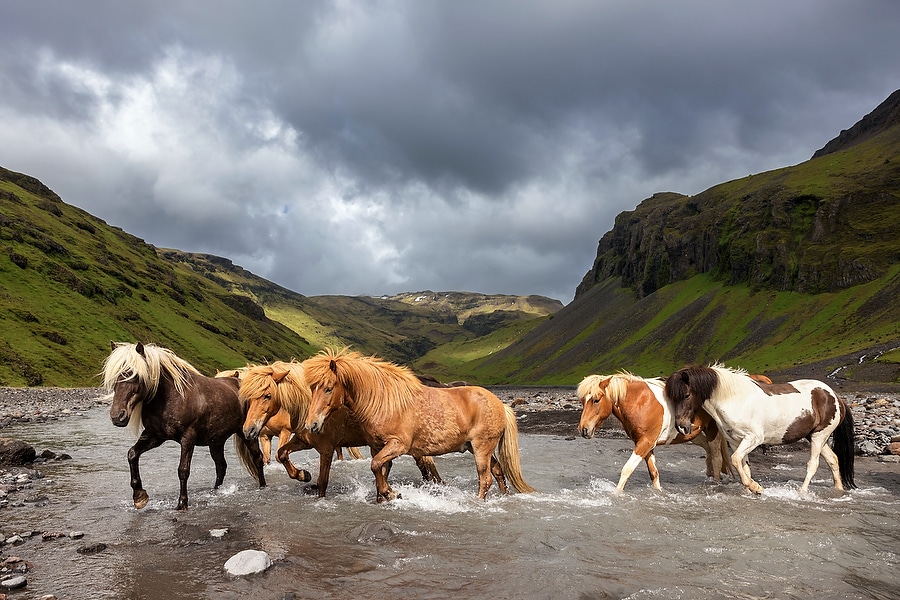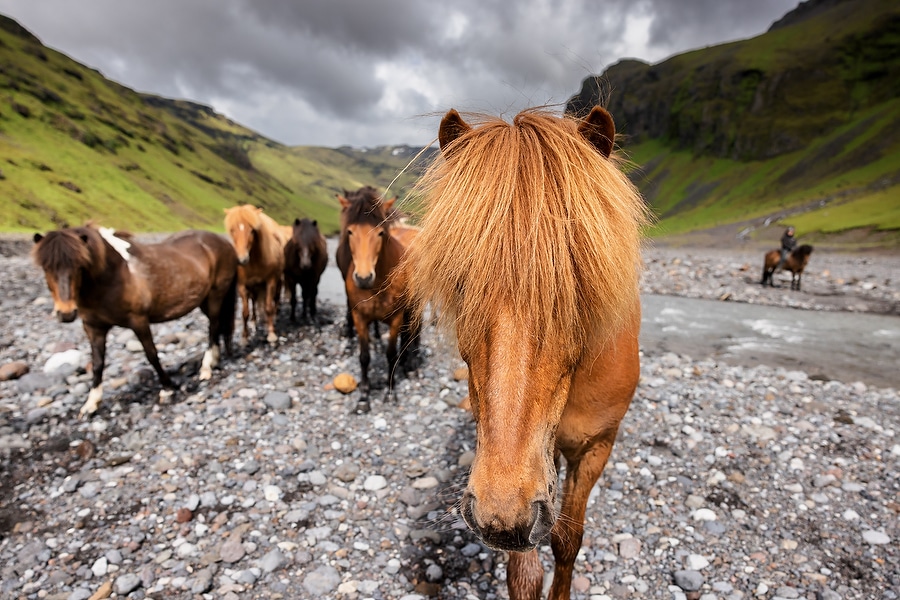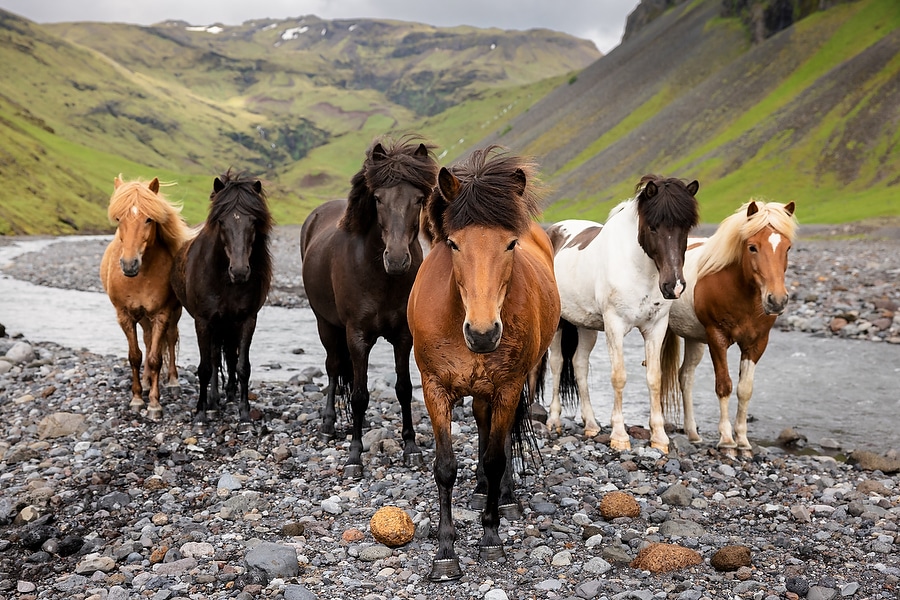 The boy band cover shot…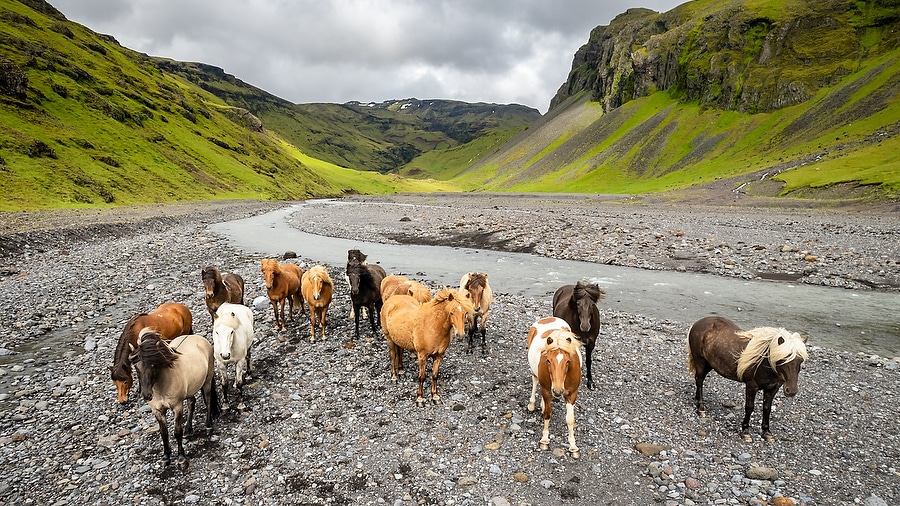 Horses are curious about my drone, but not scared. I just always take off and land away from them.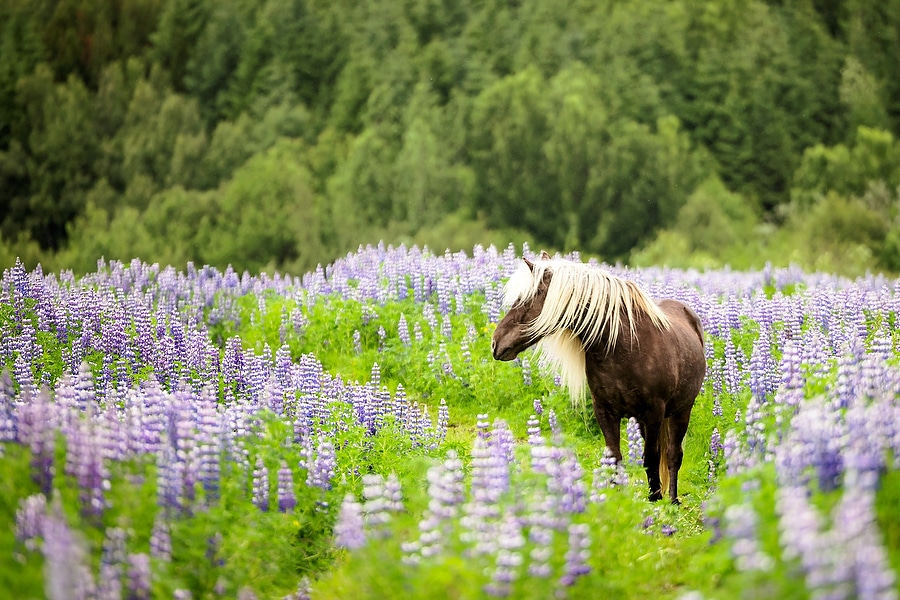 Our second to last shoot was in a field of Lupine flowers, ubiquitous in Iceland in June. Of course Vinter was a featured model. 😁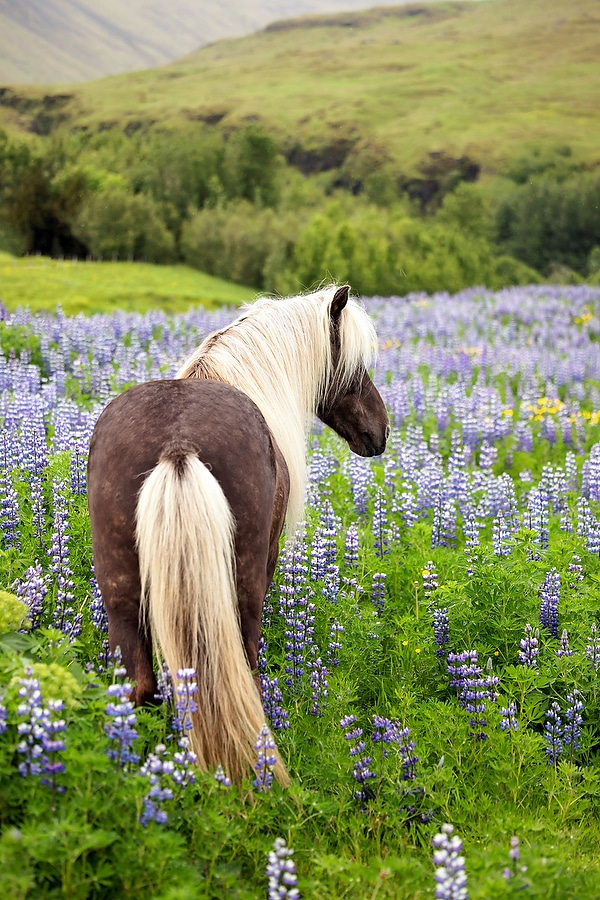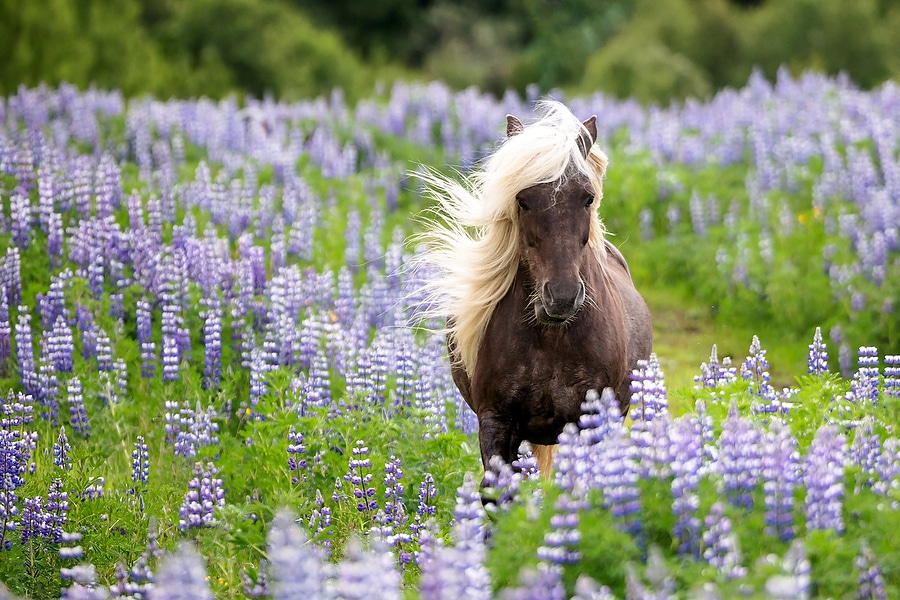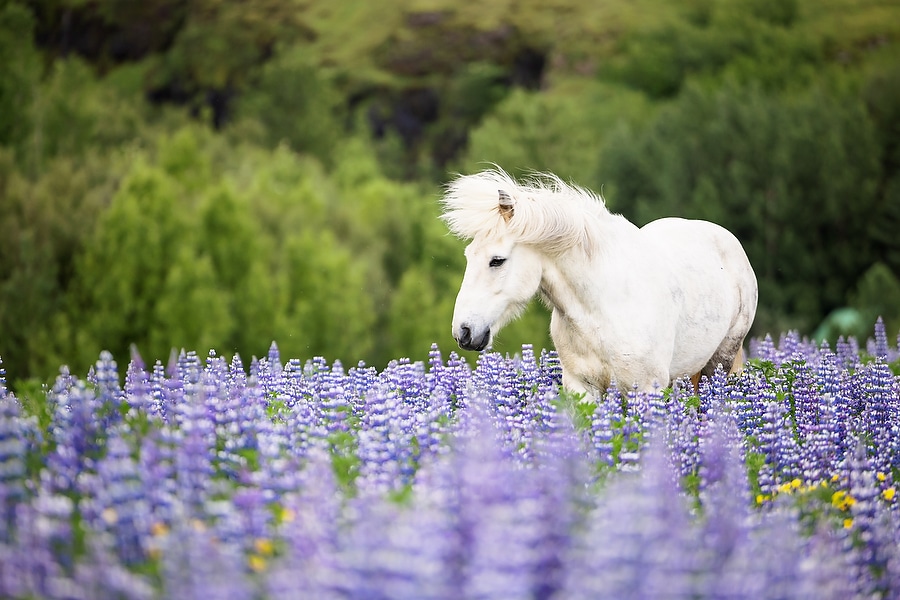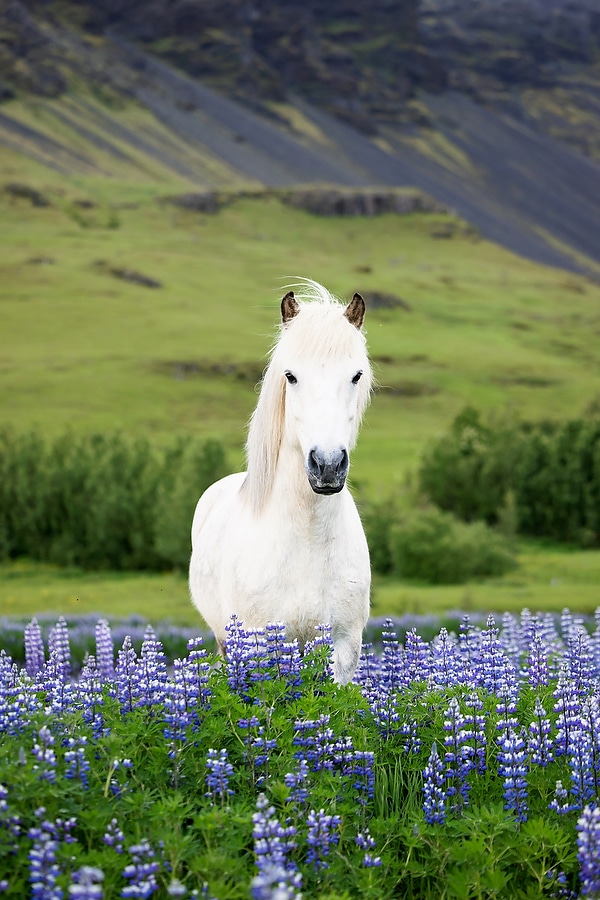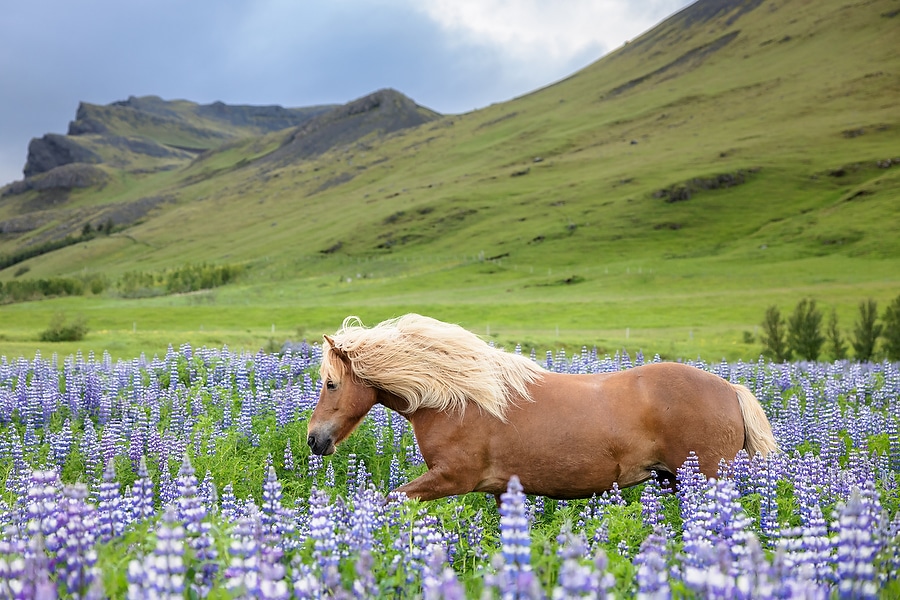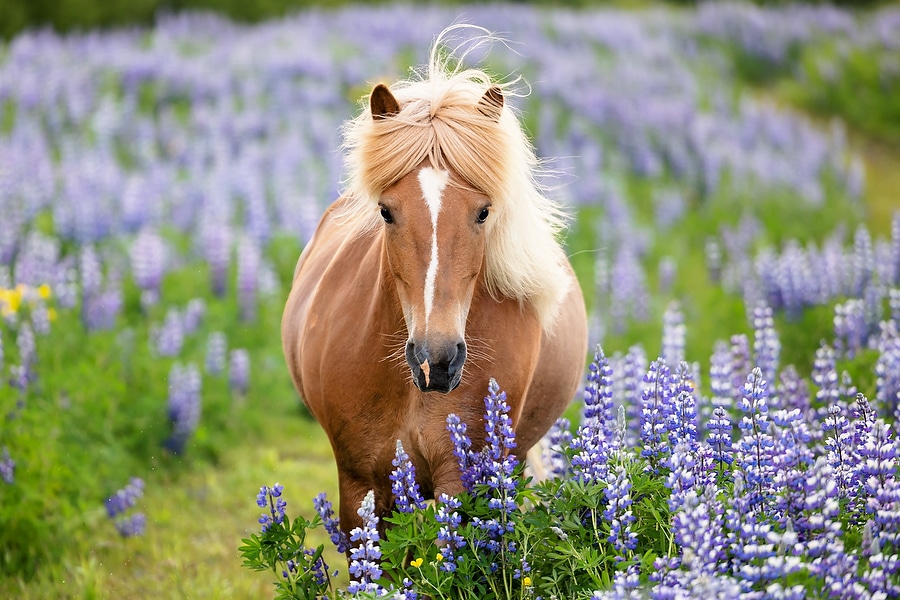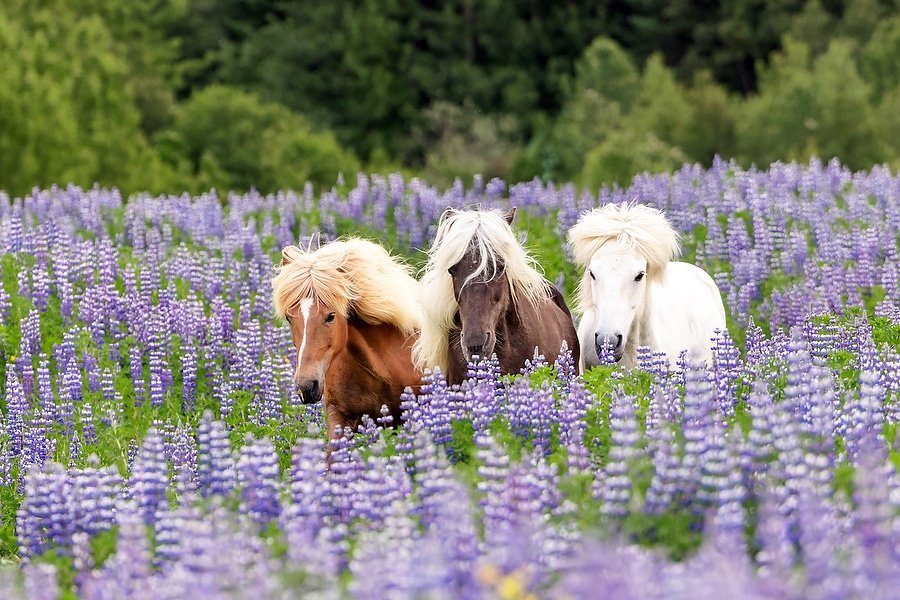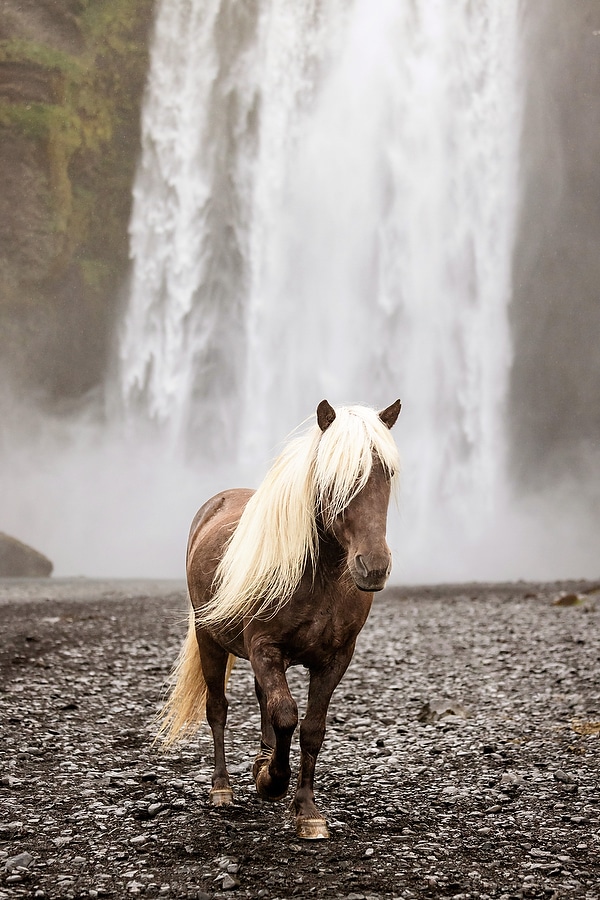 Our final shoot was at the iconic Skógafoss waterfall. We got up super early to be there before the crowds. It's light in Iceland in June 24/7, so it didn't matter if we were shooting at 5am!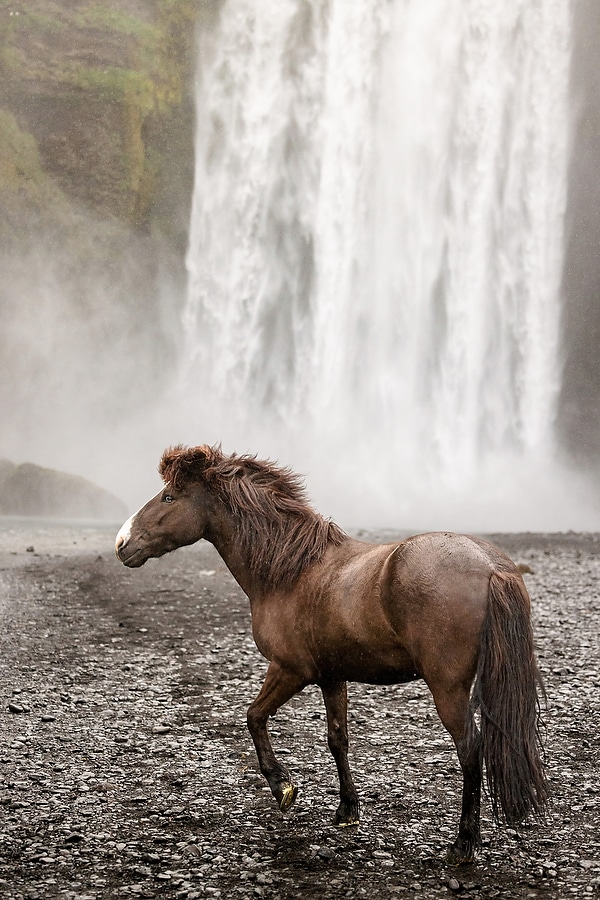 This mare caught my eye, and I asked to have her as a model here!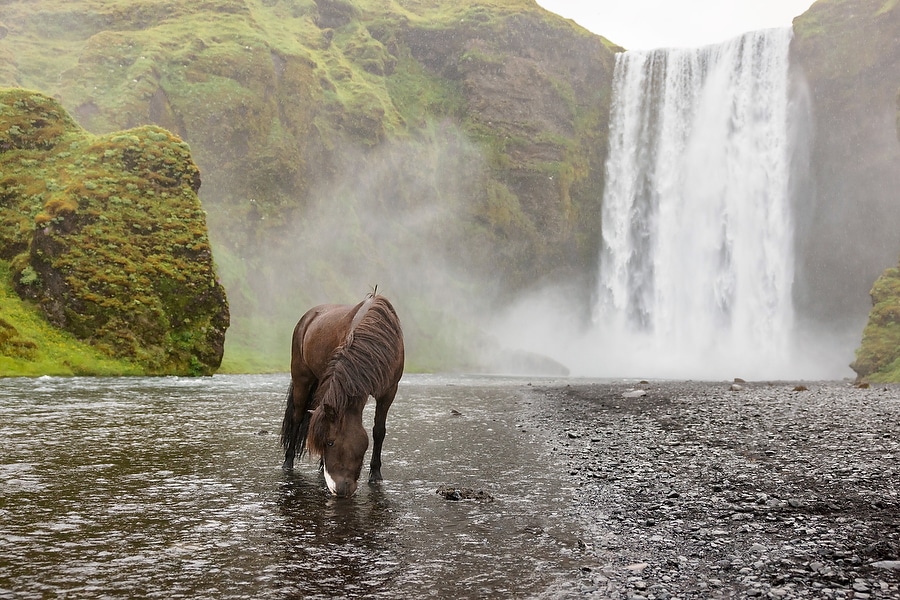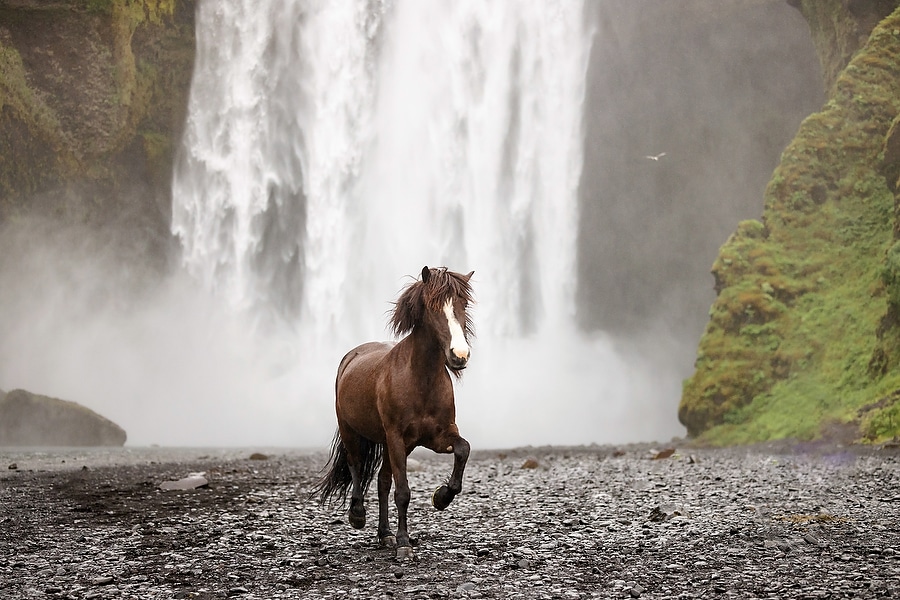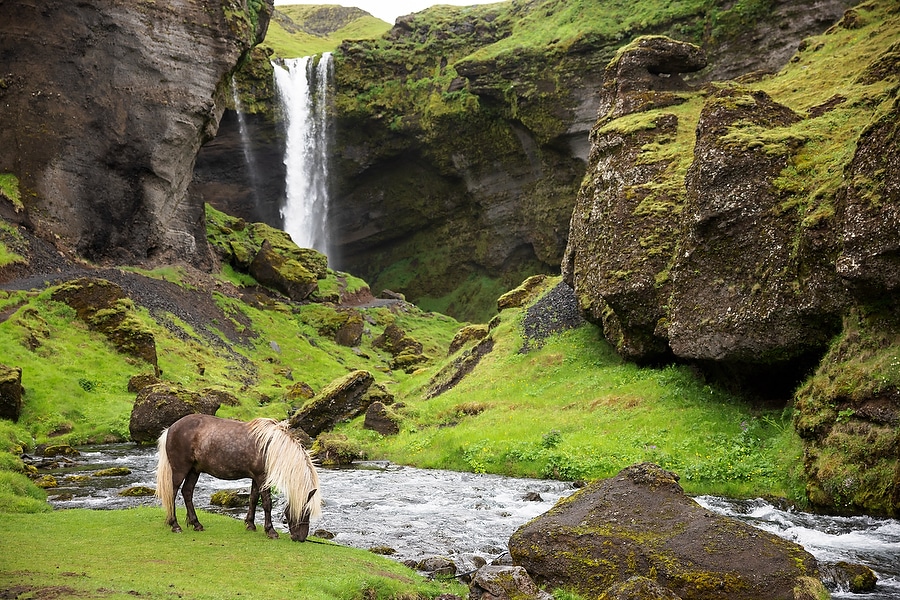 There was another waterfall just a little ways down from Skógafoss with a beautiful setting, so we brought the horses over there for a few last photos.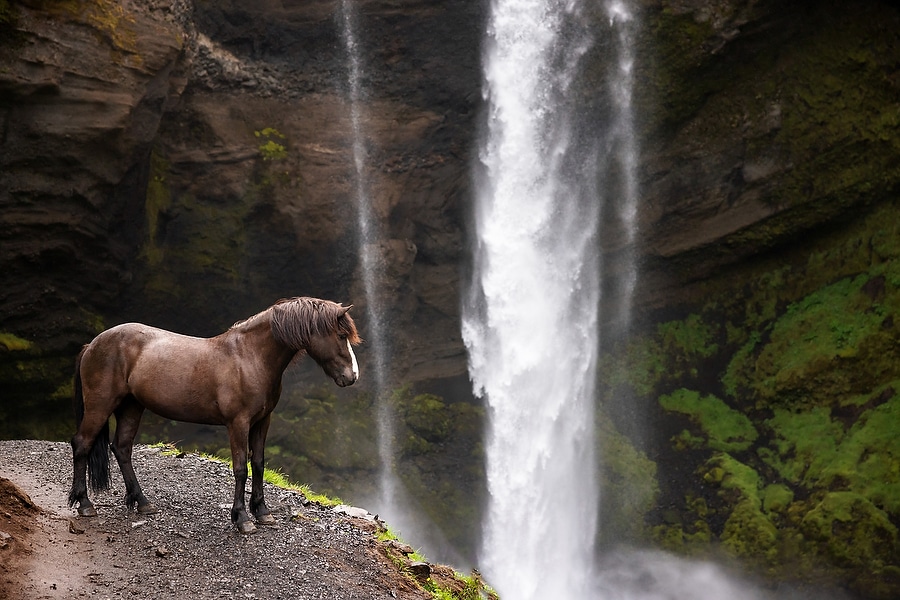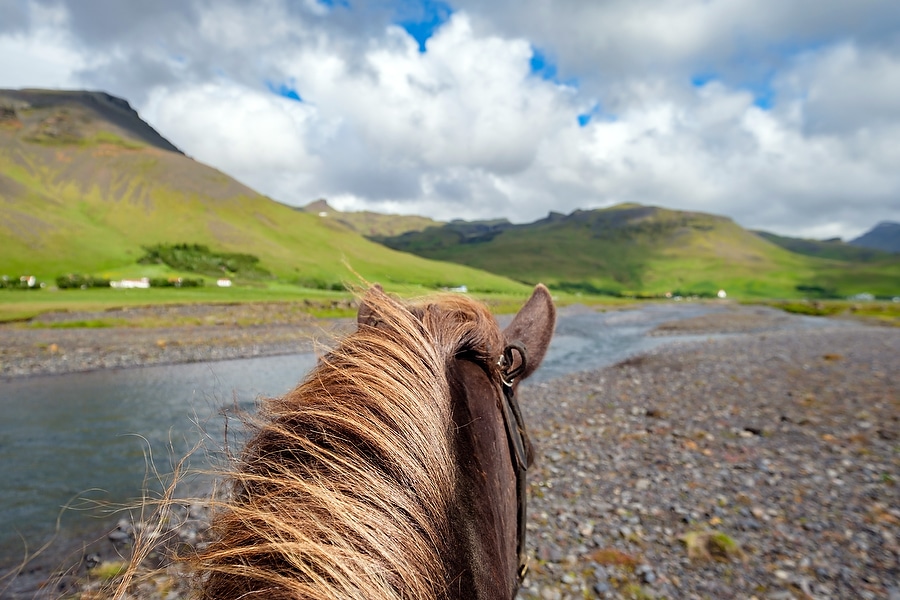 We did take a quick ride on one of the last days. I would love to go back and do more riding!