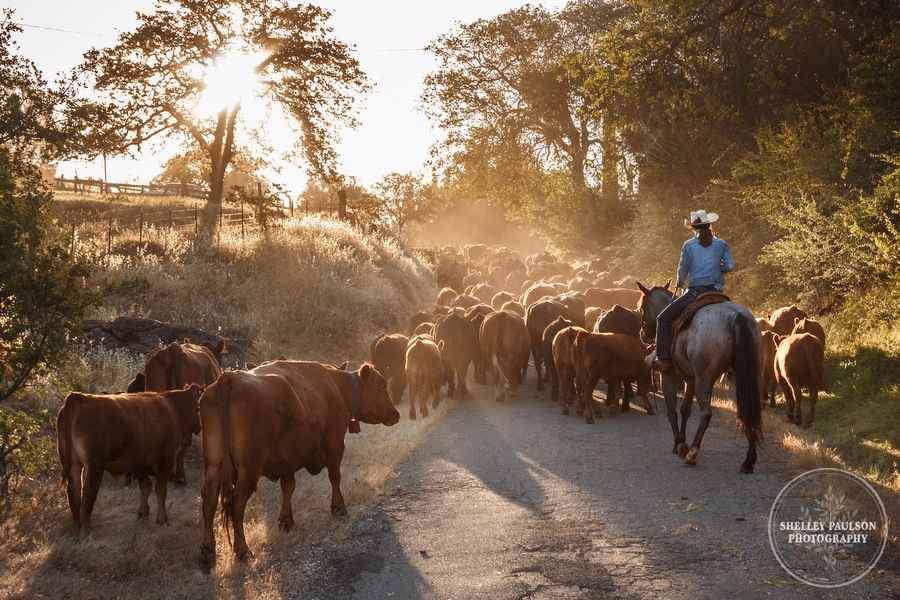 When I was a little girl, I was pretty much obsessed with all things horses. When we would go on family vacations and hike in the mountains, I would often pretend to be a horse trotting down the trail. I was pretty sure I would grow up, marry a farmer or a cowboy, and live on a ranch in the country. Those childhood dreams didn't happen exactly as I imagined, but life is even better than I could have dreamed. And as a bonus, I still get to live the life of a cowgirl once in awhile, and trot down trails through breathtaking landscapes. 🙂
My Dear Friend Andra
I met Andra Erickson about 4 years ago when I taught a portrait workshop in Sacramento, CA. Andra had learned of me because of a magazine ad I was featured in for Mpix.com, where of I was standing next to a pretty buckskin horse. Over time, Andra and I have grown a close friendship and each time I visit her, saying goodbye gets more and more difficult. I may just have to move in with them someday. 😉 Andra has also developed into a skilled photographer and has a web site full of gorgeous ranching and western lifestyle images. I'm incredibly proud of her!
"Beauty for Ashes"
You may recognize Andra and her family from the short documentary I made about them last year called "Beauty for Ashes." The film was about the destructive California Rim fire that nearly destroyed their mountain ranch and put into question the future of grazing their cattle grazing mountains. The great news is that they were able to bring their whole herd up this year!
Cattle Drive History
The Erickson Cattle Company has been around since the late 1800s and has a rich history of ranching in this area. In the winter, the cattle graze in the San Joaquin Valley, but in the summer, the feed in the valley dries up so they move the cattle up to the Sierra Nevada Mountains, just outside of Yosemite. They move the cattle by horseback because it is less expensive than trucking the cattle up to their summer grazing grounds. It's also fun and a lot of friends and family join in to take part in this century old tradition.
Drive Stats
The drive took place over four days (though I missed day one). We moved 300 cows and 300 calves about 60 miles total (as the crow flies). The days I was involved we moved them about 50 miles. The cattle start out at an elevation of 256 and end end around 2900.
How it Works
They would saddle and load up the horses before dawn and drive to the holding pen where the cattle had been left the day before. We would gather up the cattle and get them moving down the road. A group at the front called "The Lead" called the cattle to follow. A group at the back called "The Drag" would make sure no cow or calf was left behind. There were riders spread out throughout the herd to keep it moving forward. Once we arrived at the holding pen where the cattle would spend the night, we would put out a nice lunch for everyone, sit around and listen to great cowboy stories, then load up the horses and head back to the Erickson Ranch for an afternoon Siesta. Pretty much a perfect day!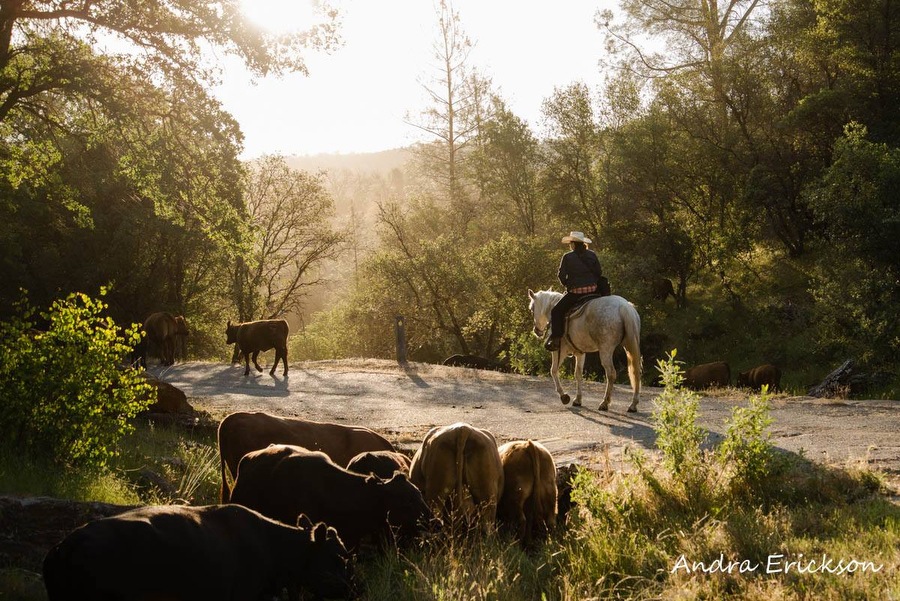 Andra shared this photo of me riding "Jules" the second day of the drive.
Riding and Working Cows
I didn't expect to get to do so much cow work, but I LOVED it! We were driving the cattle from their comfy pastures, mostly uphill, so they needed a LOT of encouragement. They were frequently tempted by lush, green grass, and often distracted by getting separated from their calves. Our job was to keep the herd focused on moving forward. Some of the areas we moved the cattle through were populated, so I also would help protect mailboxes and lawns by positioning myself and my horse in front of them.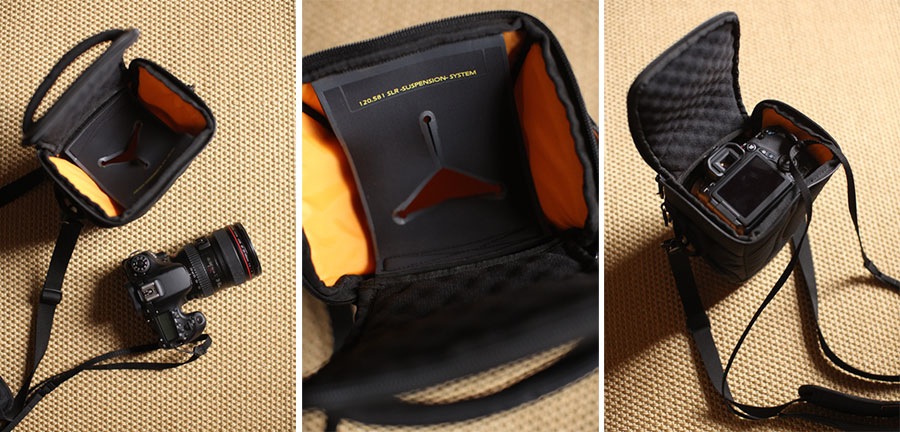 Photography from Horseback
I spent a LOT of time before the trip trying to come up with the right solution for doing photography from horseback. Here were the factors I was considering:
I have to be careful about putting too much stress on my neck because of the head and neck injury I suffered a few years ago, so I needed to travel light.
I wanted to be able to protect my gear when the environment got too dusty.
I needed to be able to ride well, and not feel bogged down with too much gear.
I didn't want to spend a lot of extra money, so renting smaller camera setup was out of the question.
My solution:
For a camera body, I chose the 70D which I bought last year for video purposes. It's lighter and smaller than my 5D mk 3 cameras and this was primarily a fun trip, so the quality of the photos wasn't paramount to me (though I am amazed at how nicely the photos turned out!).
For a lens, I chose the Canon 24-105 f4 L. This lens is obviously very versatile and I could deal with the f4 limitation in order to have that kind of zoom range available to me. It is also image stabilized, which helped me get crisper photos while sitting atop a moving horse.
For a bag, after MUCH research, I landed on the Case Logic SLR Zoom Holster. It's light (just 12oz!), has a nice cross-body strap, and the best part is that there is a hammock system that my camera would sit in, to keep it suspended near the top of the bag, making it easy to grab my camera quickly.
Most of the time while I rode, it sat on my right hip, and I didn't notice the weight at all, even on the last day of the drive, which was 7 hours of riding. I also put the small cross-body strap from my Fuji x100s on the camera as a safety measure, in case I lost my grip on it while shooting. When I didn't have the camera in the bag, I usually just held it in one hand and reined the horse with the other.
A few things I did differently than I expected.
I set my camera to Av (Aperture Priority) mode. The reason is that when things would happen that I wanted to photograph, I often didn't have time or dexterity (one hand was usually on the reins) to make a lot of camera setting changes. I was amazed at how accurately the camera metered even very backlit scenes. I set my exposure compensation down a bit, because I like my images to be a little underexposed in camera, especially when I am not setting the exposure manually.
I needed a shutter speed of at least 1/200 to get a sharp photo. Even with my very steady mounts, there was enough movement that I had a lot of blurry photos if I didn't keep my ISO set high enough so that my camera chose a shutter speed above 1/200.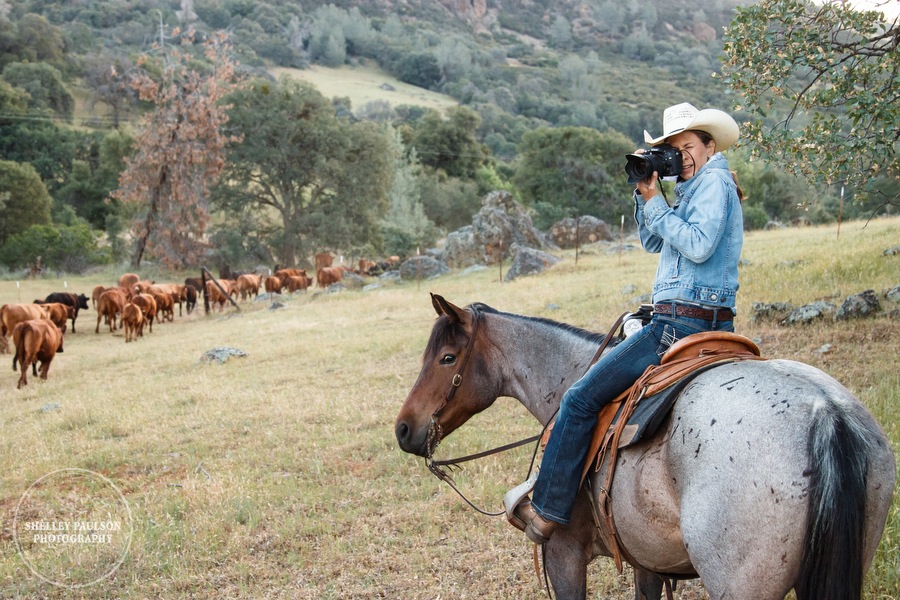 Here is Andra on her horse "Miss Kitty." She's been photographing cattle drives from horseback for years, and does real cow work with a camera in one hand. Pretty amazing!
Video
I shot a little bit of video here and there. My primary focus was on photography, but I knew I wanted to be able to capture the movement of the cows, the beautiful scenery, and the incredible sound that a herd of cattle can make!
Okay, now on to the photos…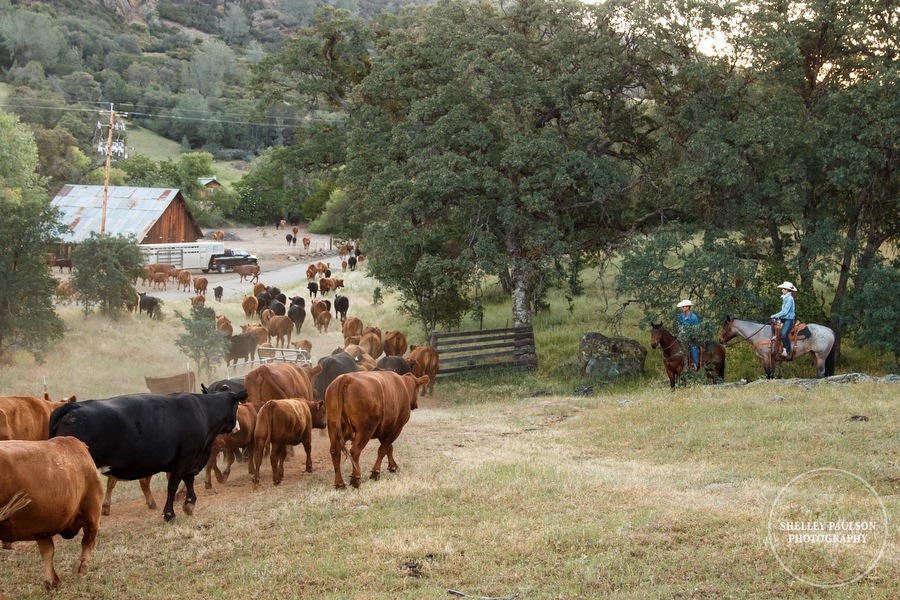 This was the first morning I rode. The cows are moving from their holding pen out to the road we will drive them down.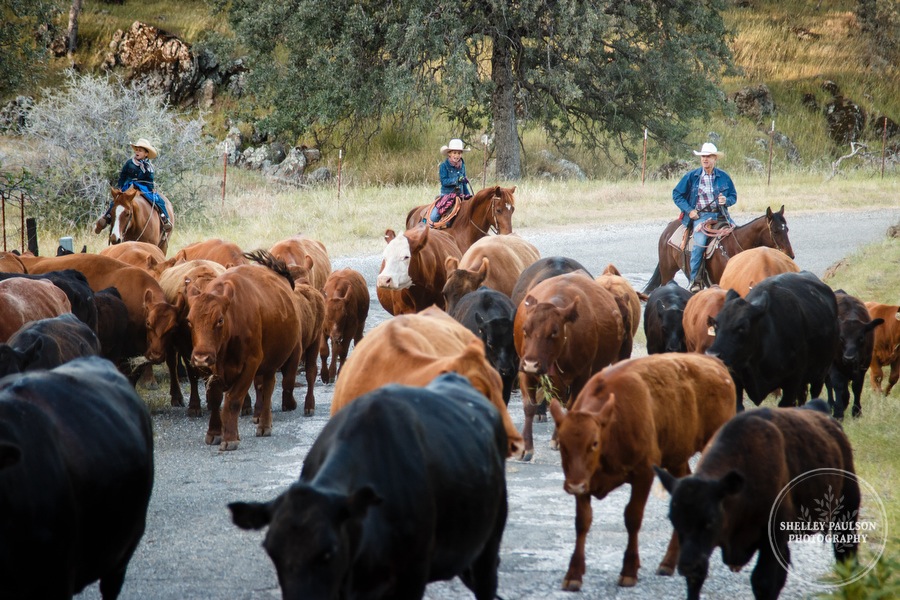 Andra and Dan's kids, who are 6 and 9 years old, rode with us each day. These kids have grown up on horseback and are already fantastic riders. On the right is their grandpa, Tim Erickson. He and Dan run the ranching operation together.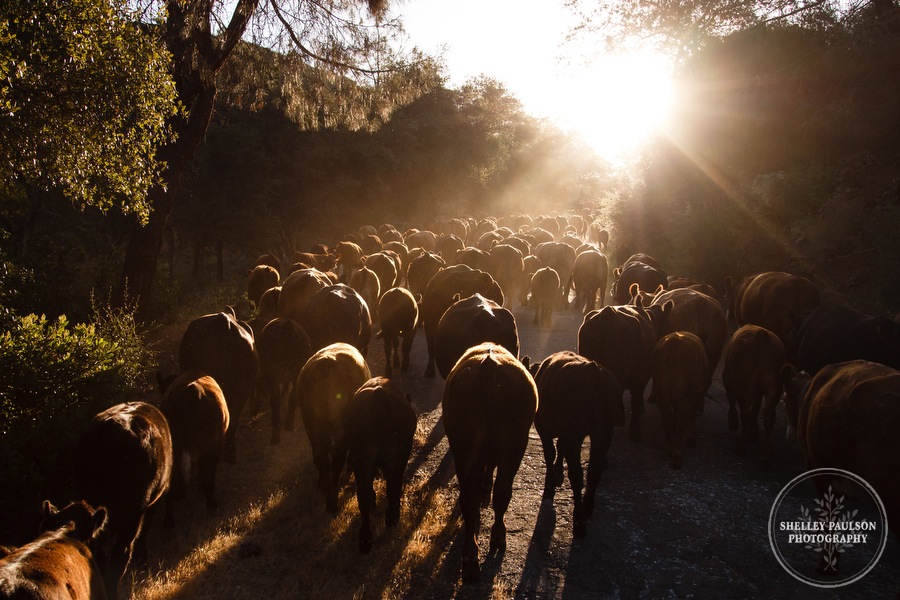 This moment when we broke into sunlight took my breath away!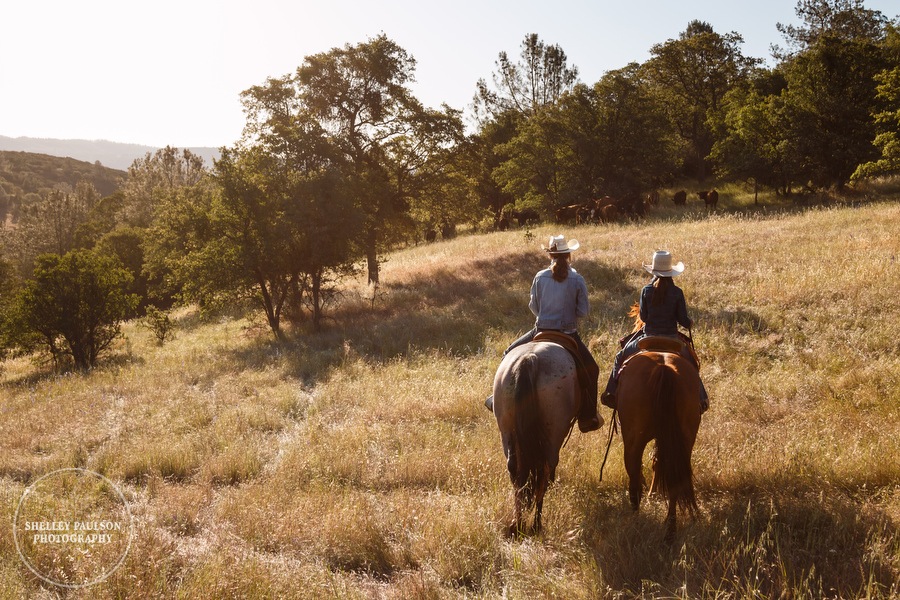 Andra and her daughter, and beautiful scenery…when I was editing the photos, this one made me tear up. I love these people very much.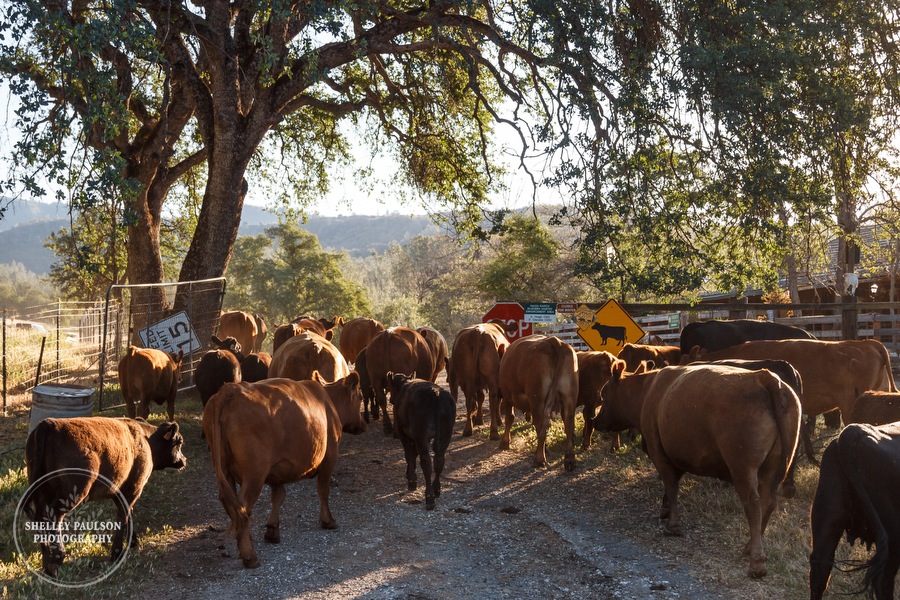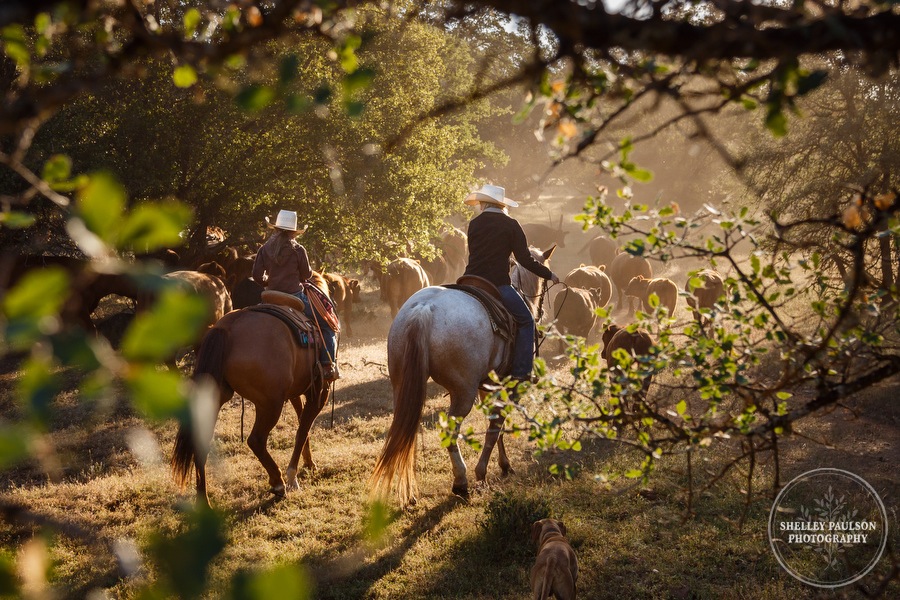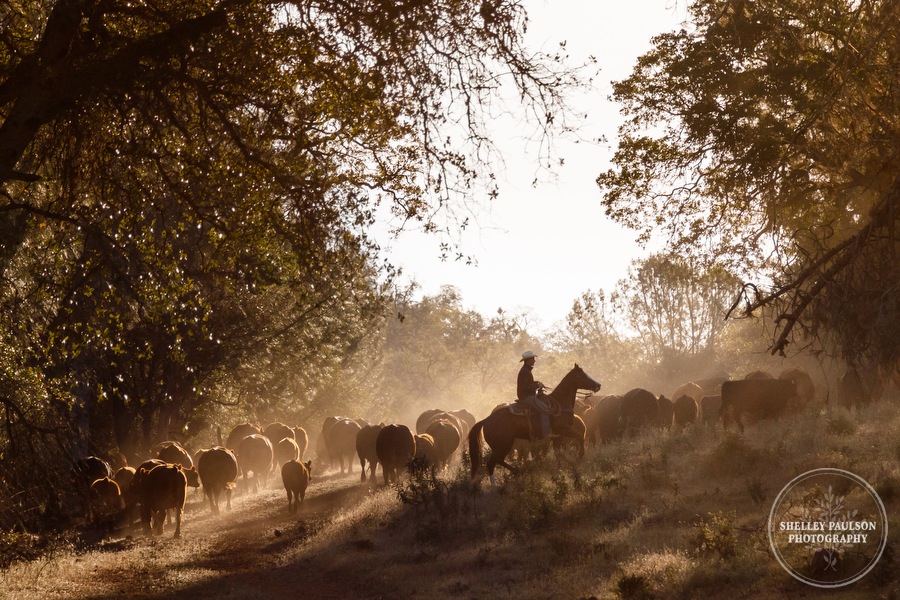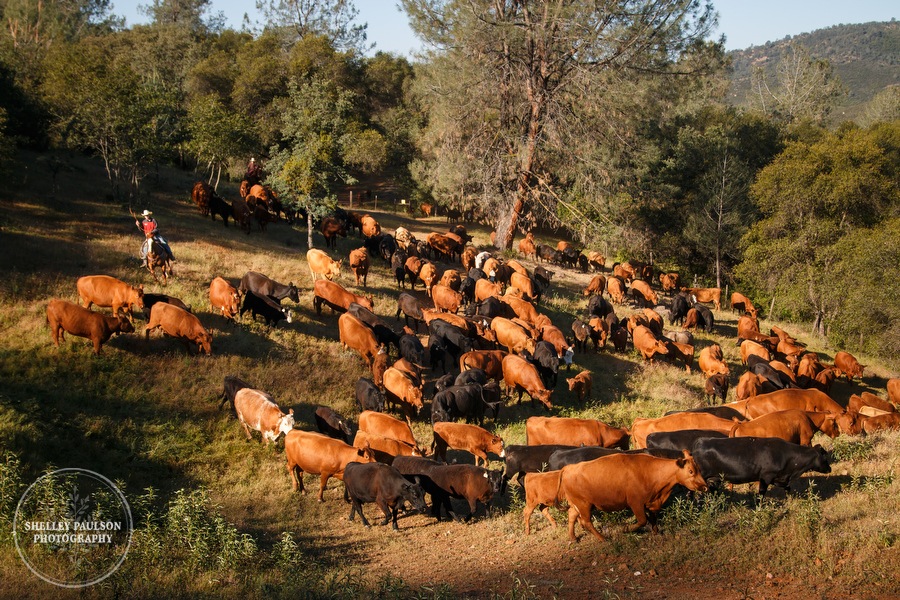 This was a tricky area to move the cattle through because they wanted to stop and graze. Travis has worked for the Ericksons for several years and is very skilled at getting the cattle moving!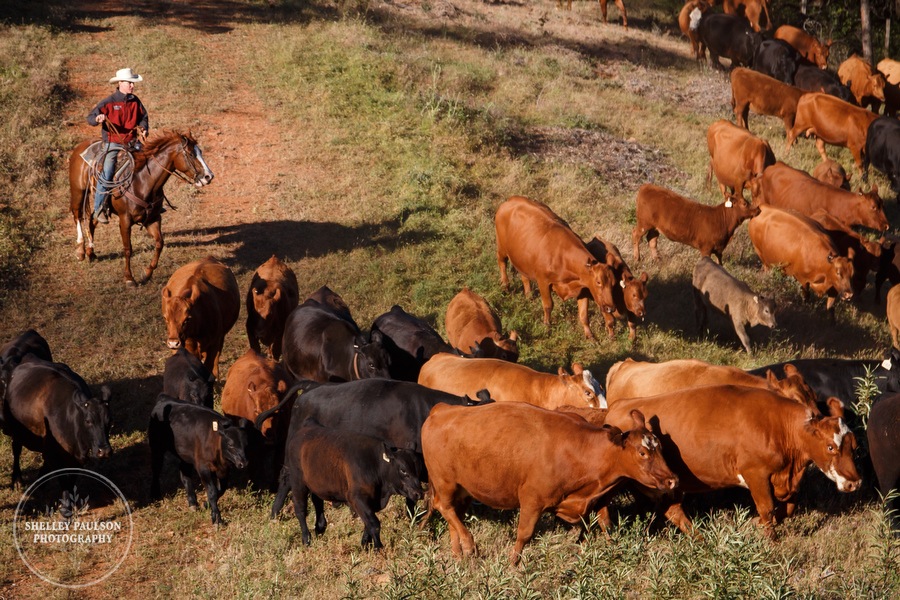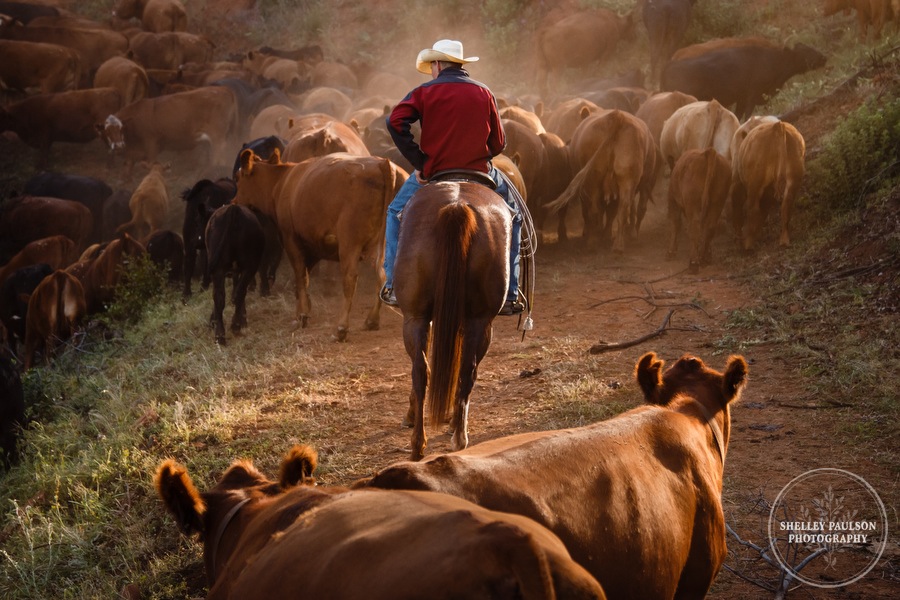 This might by my favorite image from the drive…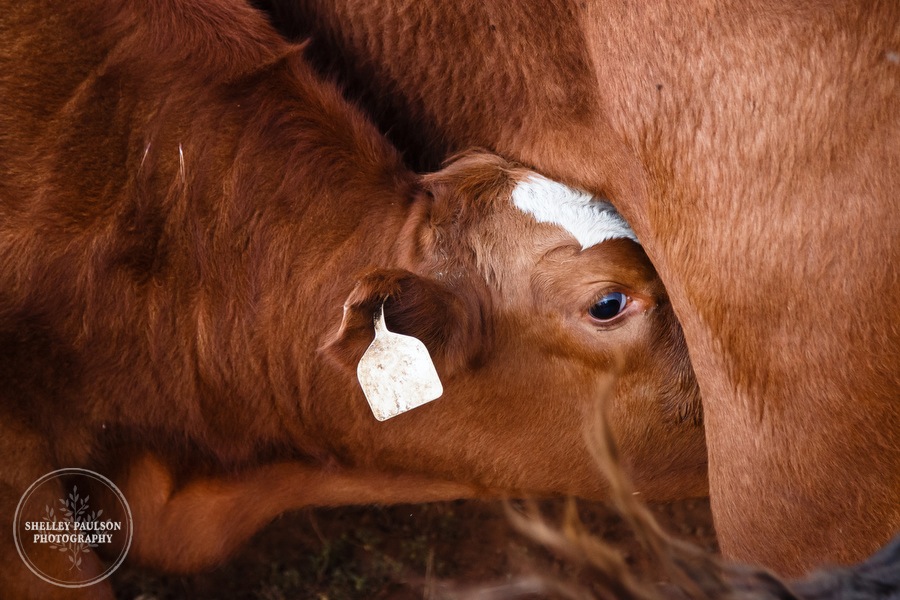 We stopped every hour or so to let the calves find their momma's and get a drink.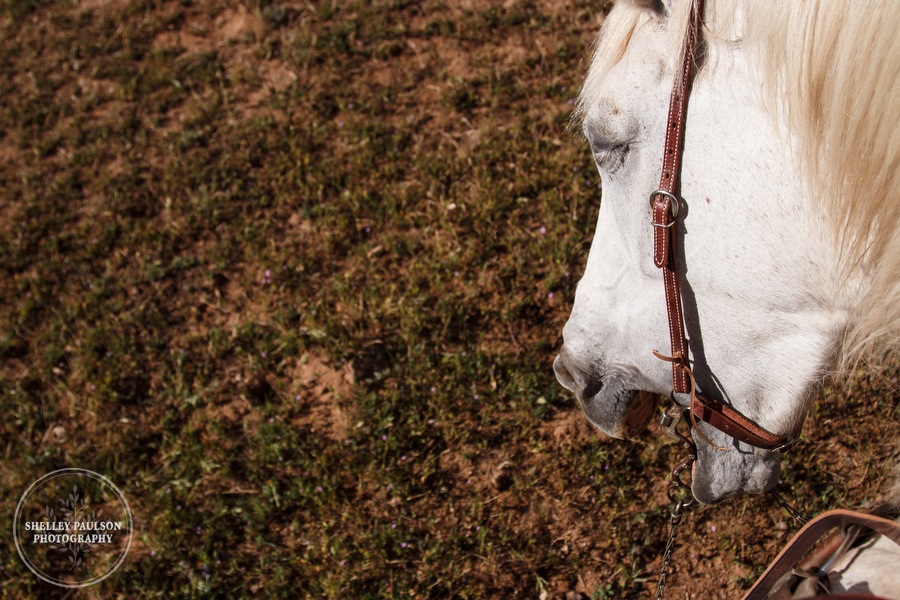 My sweet horse Jules was so tired by the end of day 2 (as were many of us!). I switched to a horse named Shep for day 3.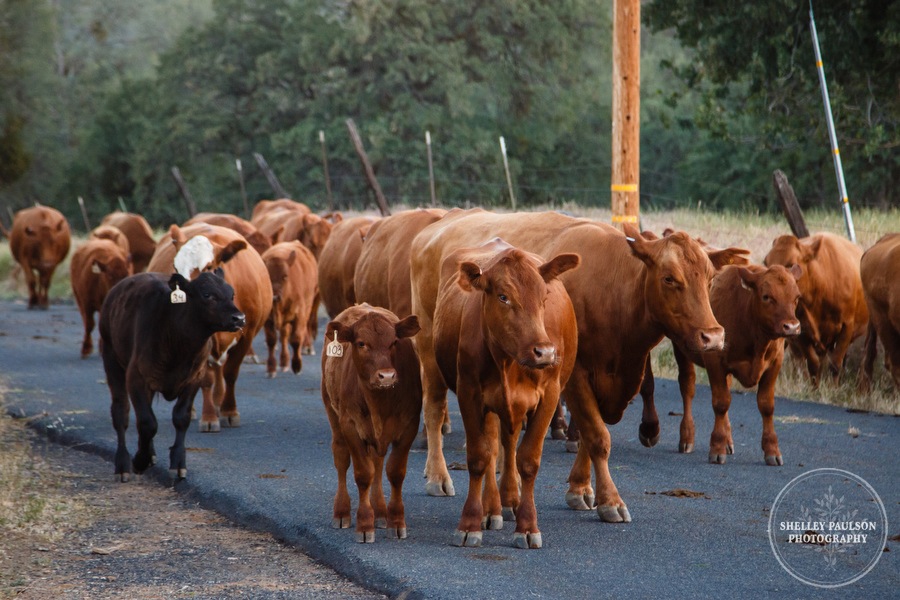 Good morning cows!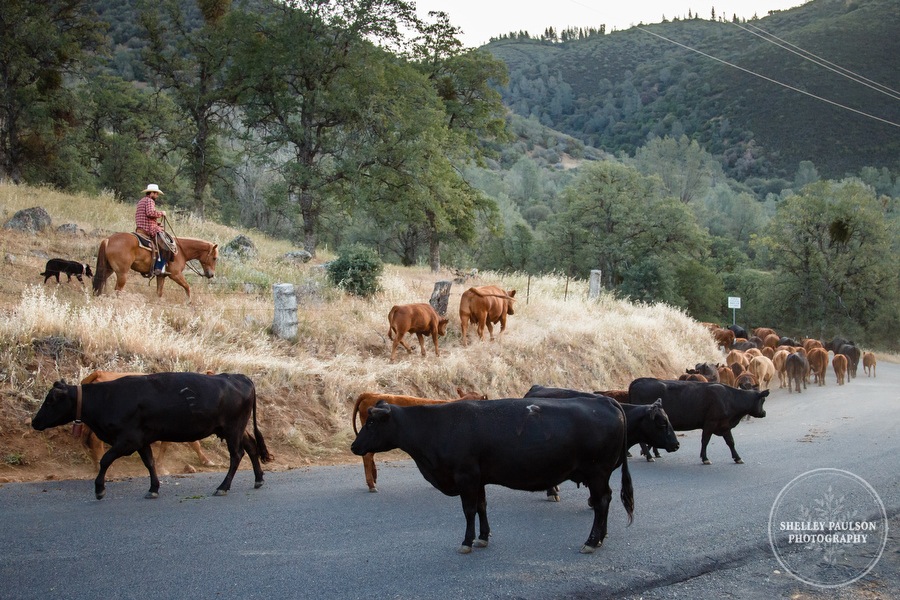 Note how some of the cows are going the wrong way. Sometimes it was a little maddening, but you have to let some slip by if you are moving them from the middle of the group, or you end up with a big gap and the cattle don't have anyone to follow.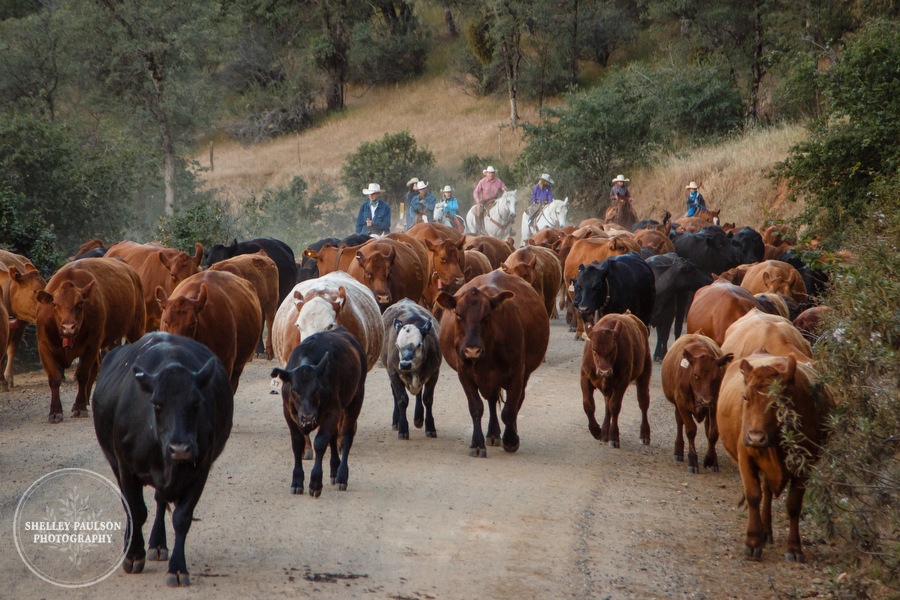 We had a nice big group of riders for the last day. We rode about 7 hours straight and at the end, my hips were sore!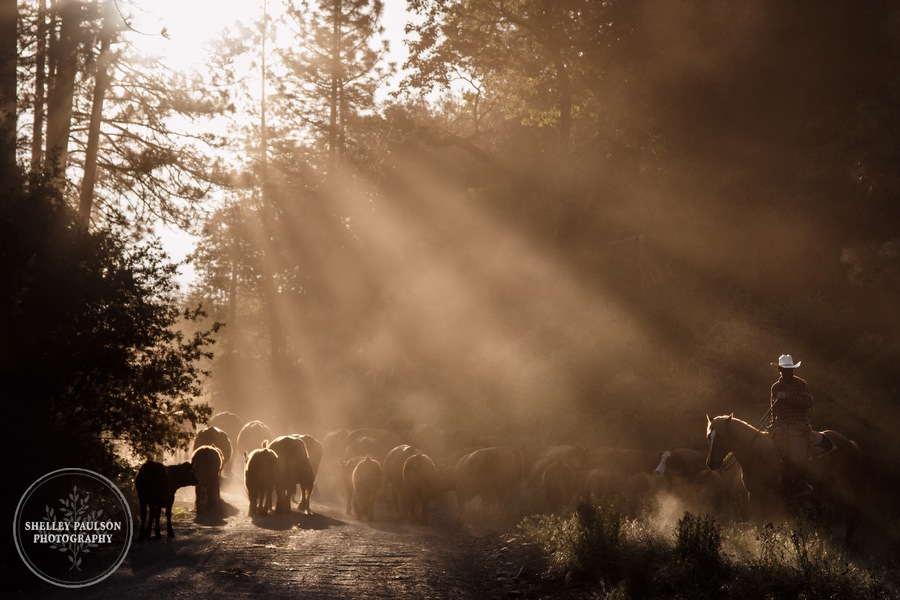 That light though…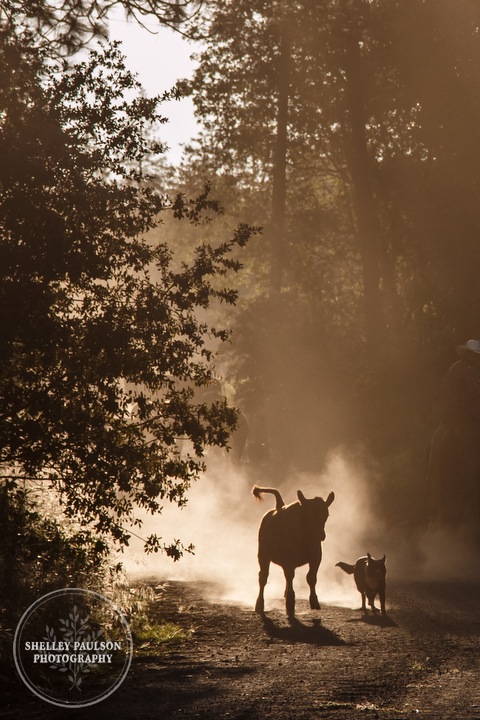 The cowboys bring along cattle dogs that can move cows out of places they shouldn't be, and where horses can't go.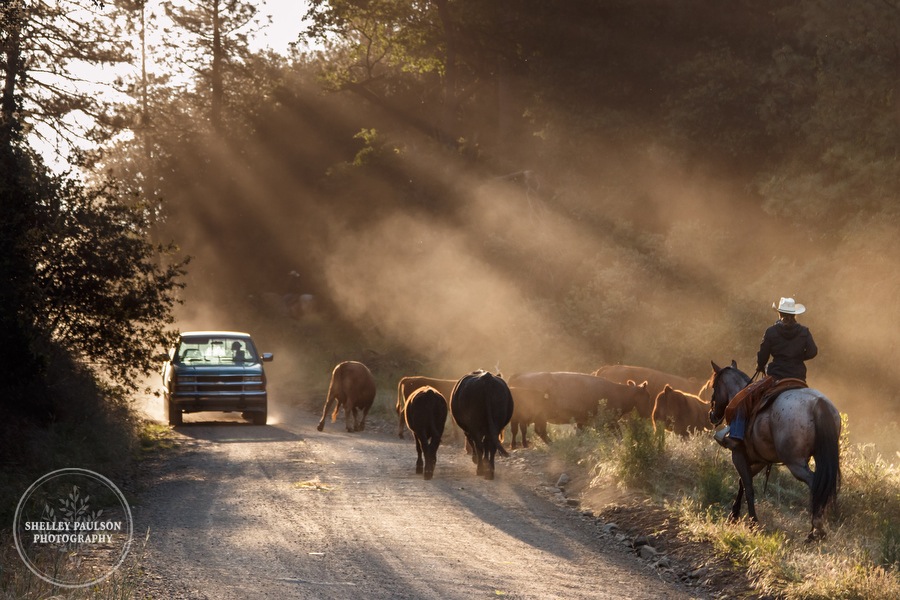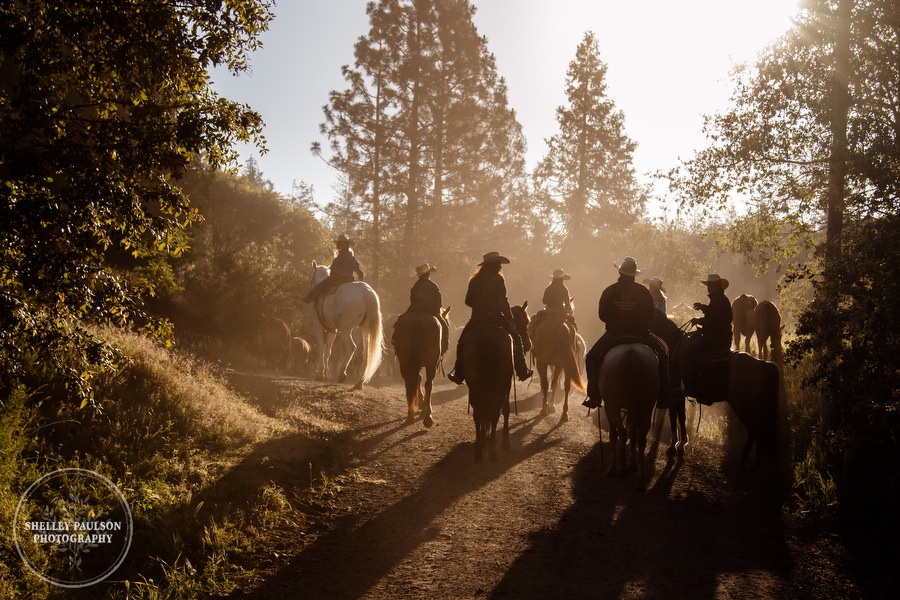 I could have shared 20 photos from this spot. The light was unbelievable.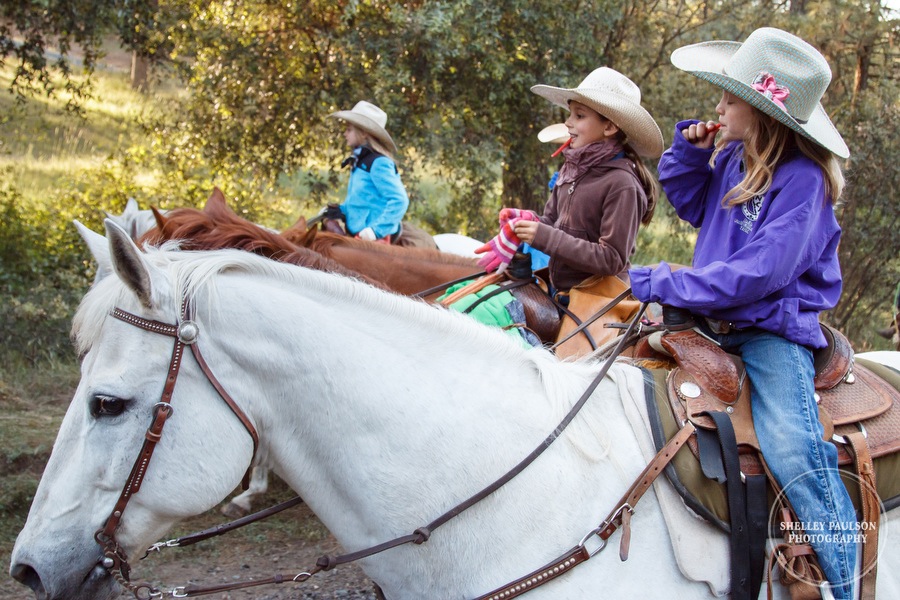 The last day, we had lots of kids riding with us, which was so fun! Red Vines for everyone!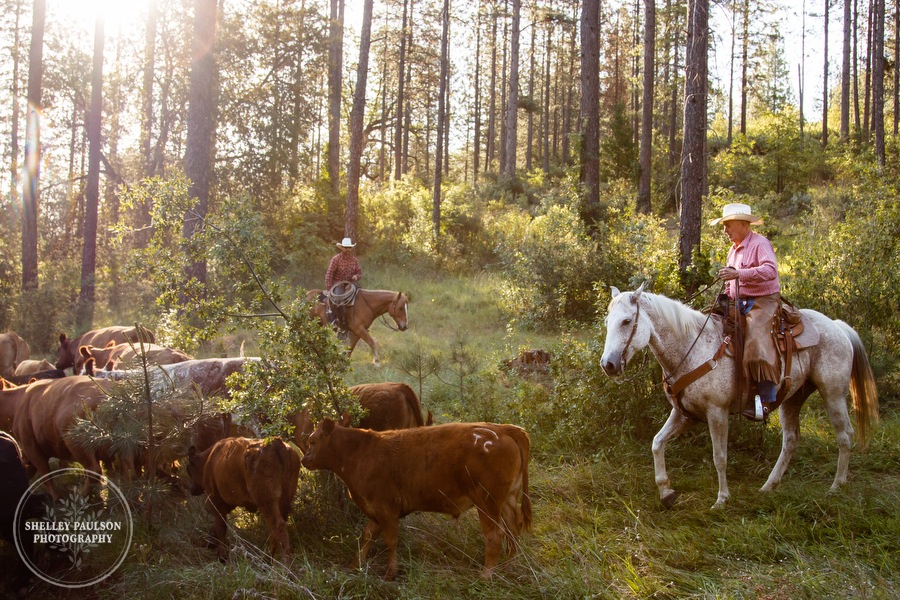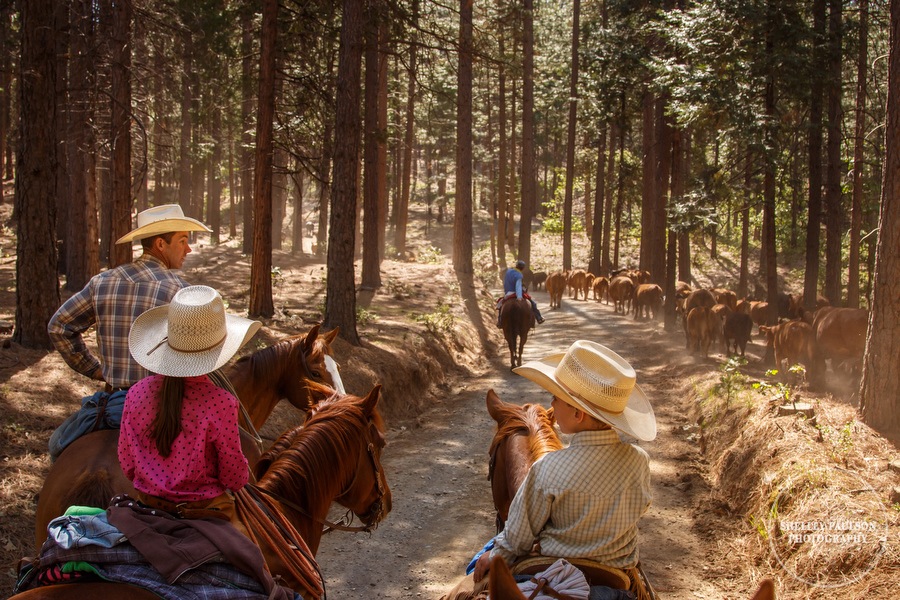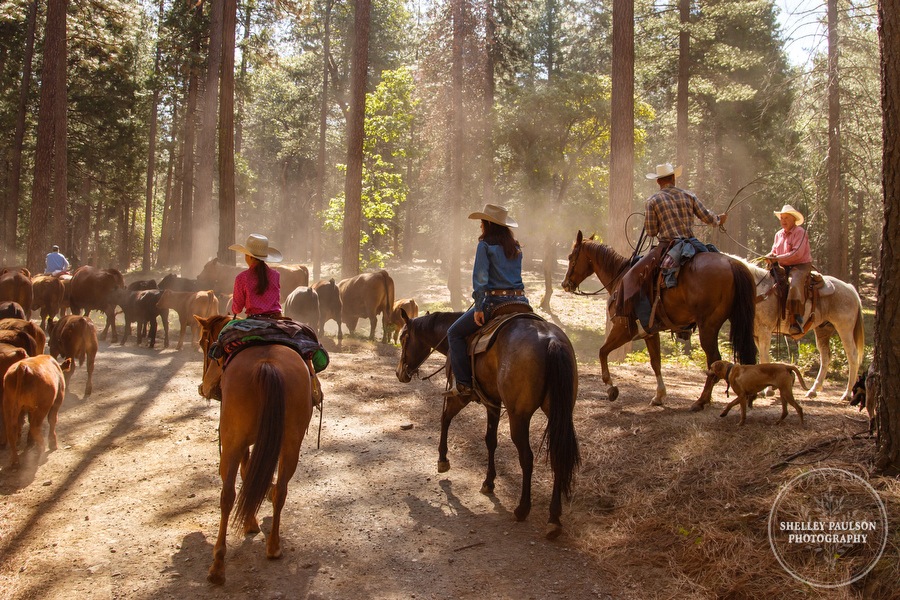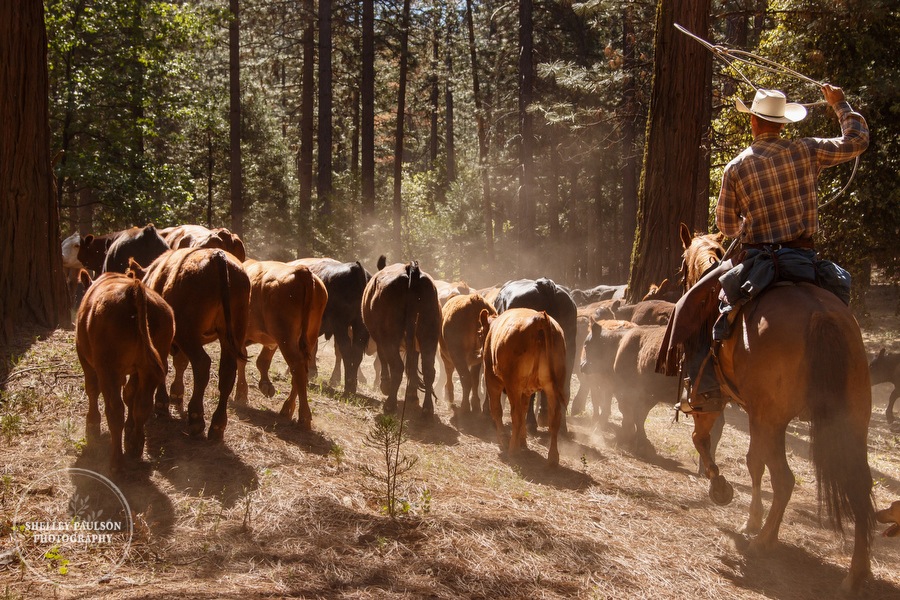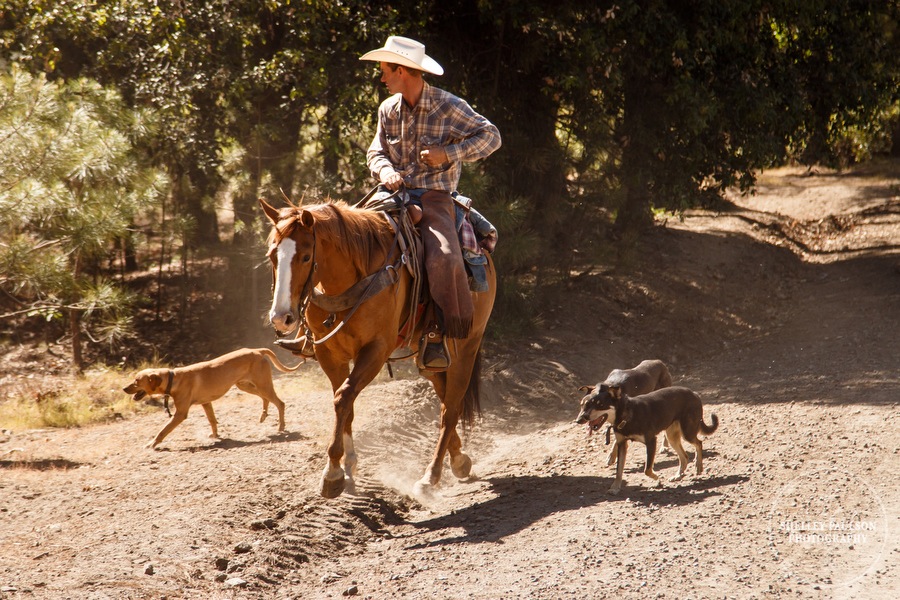 The dogs are deeply loyal and eager to jump in and help out.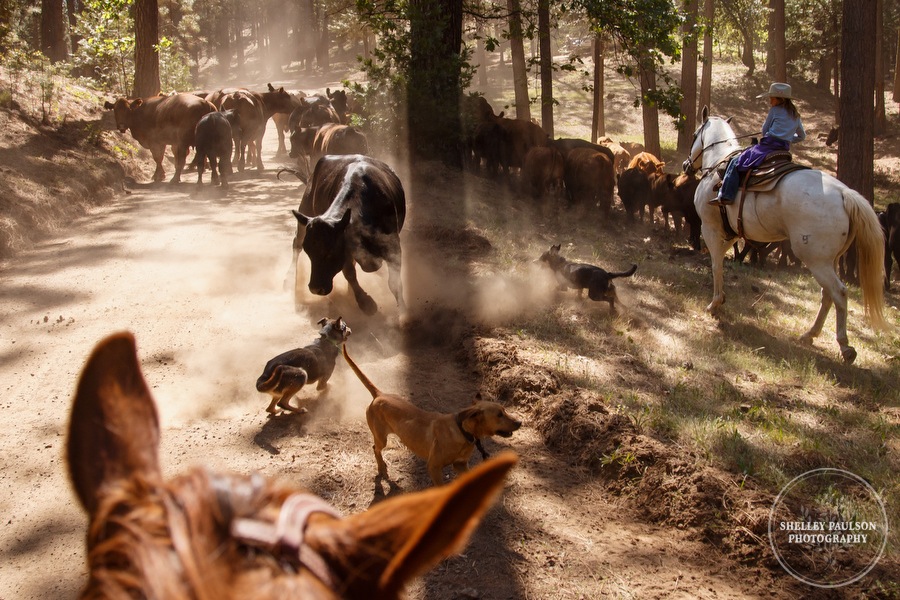 Shep isn't so sure about the ruckus going on in front of us.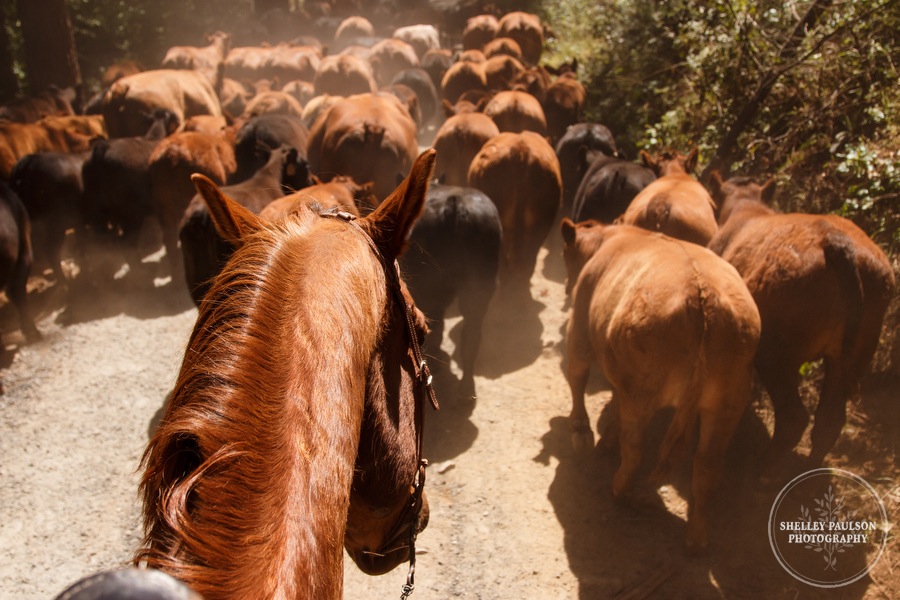 I loved getting so much time in the saddle in such a beautiful place.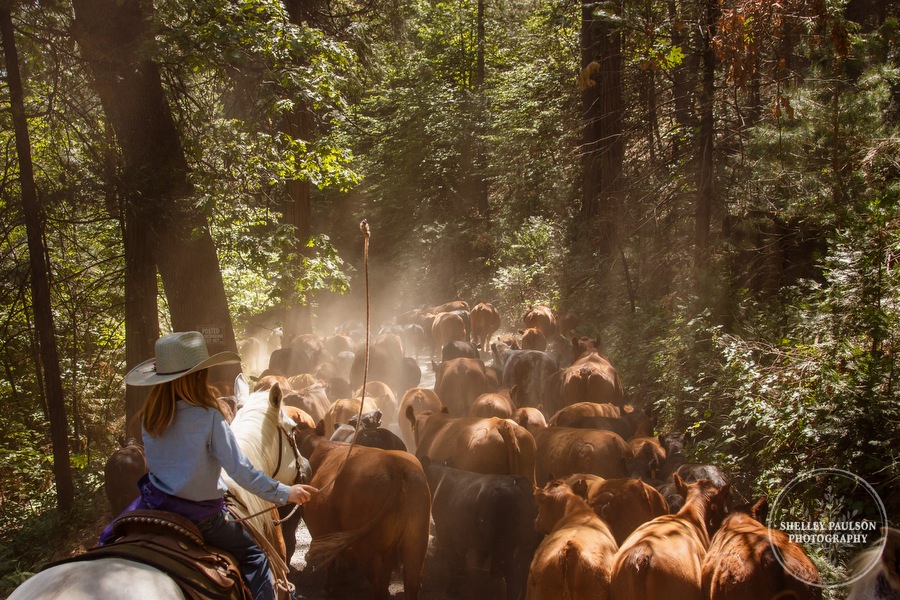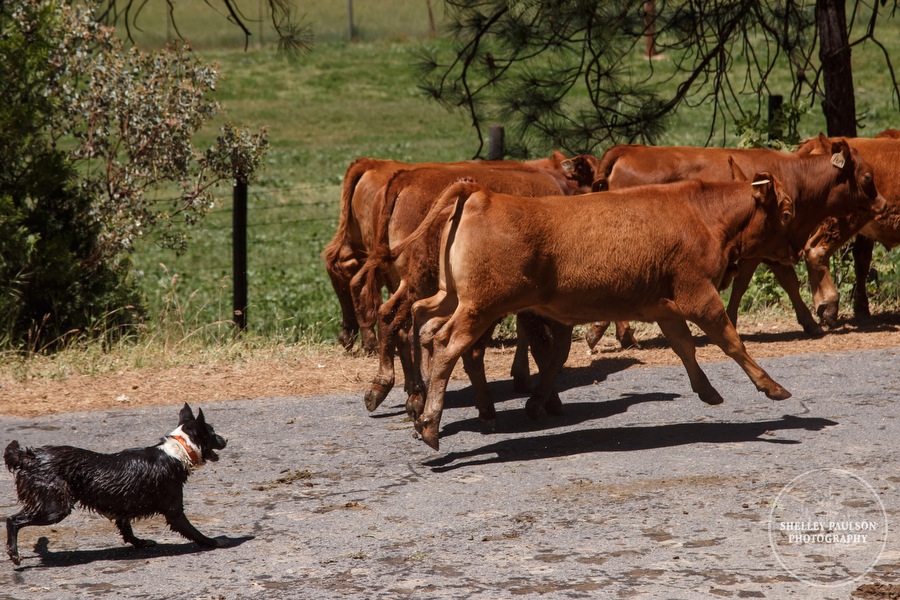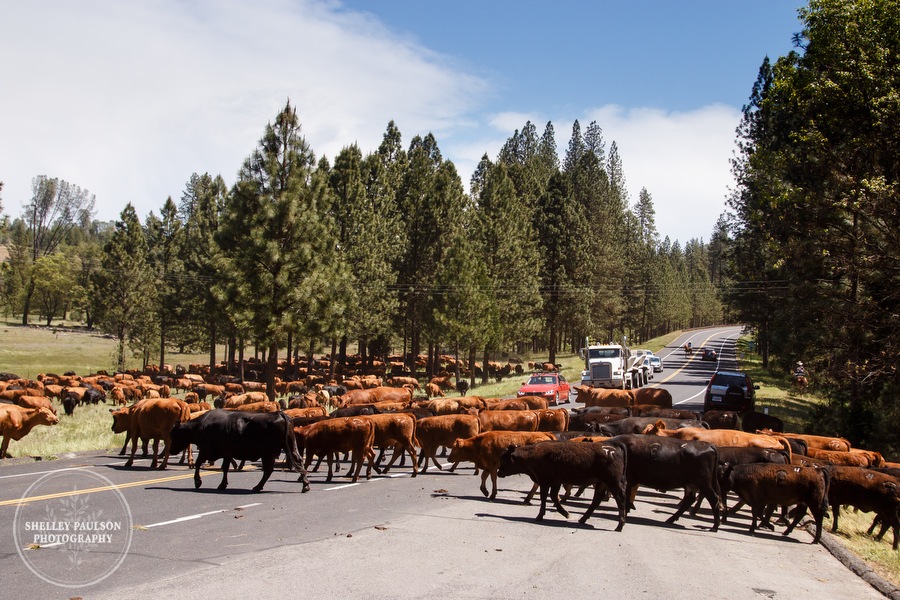 The last day, as we brought the cattle into their final destination, we crossed Hwy 120 near Groveland. It is a very busy road, and several cars of tourists stopped to take photos!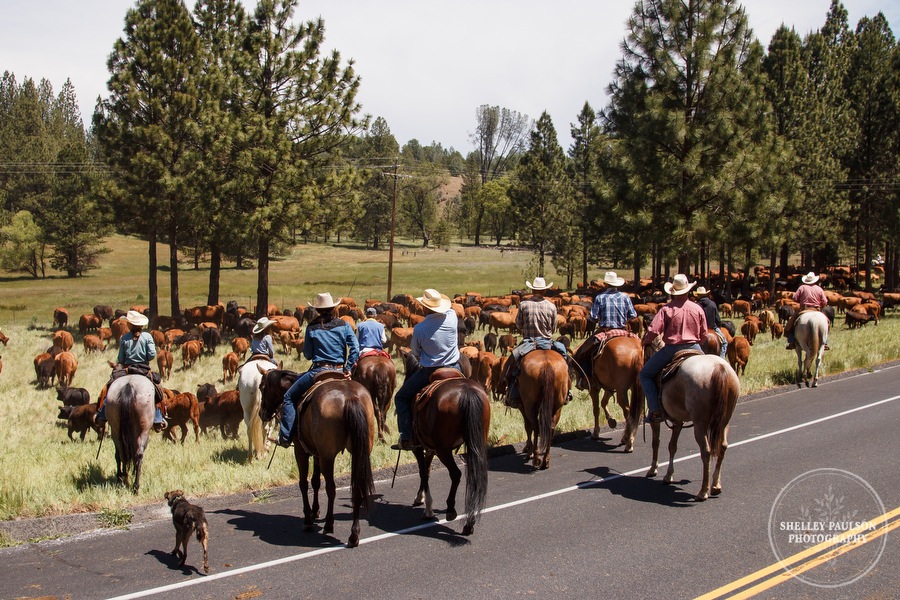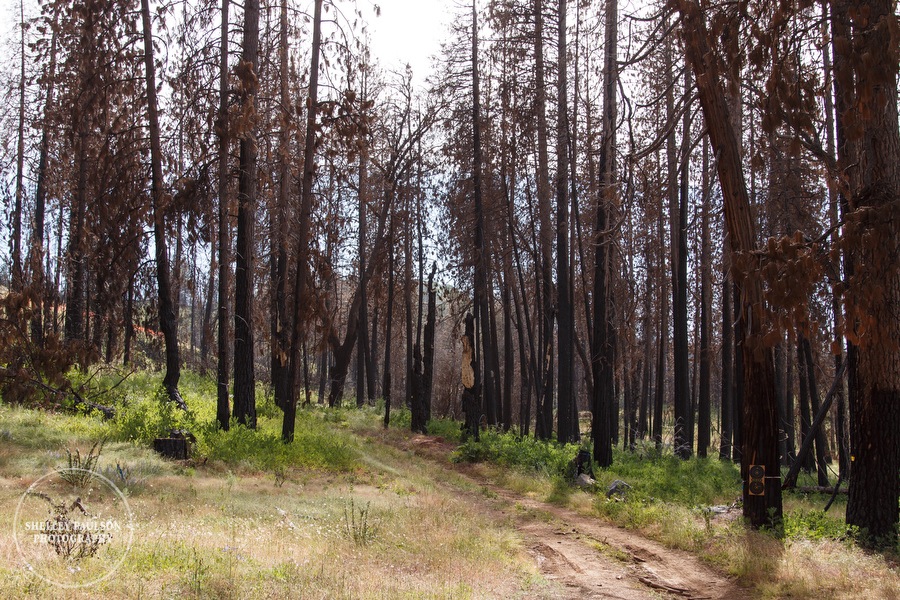 After lunch on the last day, we drove into the Rim Fire Burn area to leave some salt and minerals out for the cattle. It warmed my heart to see so much green foliage and even beautiful wildflowers blooming! This is what the cattle will graze on for the next few months. In late August, they will start gathering the cattle from various parts of the forest and by October, they will bring them back down to the valley.