My husband Tracy and I spent a few days together visiting friends in Kansas City before attending a family reunion in Nebraska. Miller's original lab is located in Pittsburg, KS (they have another lab in Columbia, MO). Pittsburg is just a short 2 hour drive from Kansas City, so I asked if we could get a tour. I'm so glad we did.
I don't think it's any secret that I LOVE the Miller's family of labs for printing my photos. The family includes Miller's Lab (for larger studios – lots and lots of great products to choose from), MpixPro (for smaller studios like mine – just the most popular products) and Mpix.com (for anyone – professional and amateur – who wants professional quality prints). Last year, I was featured in a national ad campaign for Mpix. You can see the ad and read more about it in this blog entry: I'm Featured in an Mpix.com Print Ad!
For those photographers reading this, I will tell you that there are two main reasons I love Millers. First, of all the photo labs I've used, I find their printing to be the most accurate to my workflow. Their skin tones are lovely and their prints retain a great deal of detail from shadow to highlight. Secondly, their customer service is second to none. I could tell you many stories of how they have gone the extra mile for myself and my clients. Just know, they will do everything they can to ensure that you are happy with the products you order from them.
I have an active imagination, and I had this picture in my mind that my photo lab was a big, cold, sterile factory with lots of automation and not that many people. I absolutely could not have been more wrong. Honestly, I have no idea where my perception came from, because I have had the privilege of getting to know many of the great people who work for Miller's in my time helping out at trade shows, and without exception they are warm, caring people that I truly enjoy spending time with. And not only do they care about their customers, but Miller's is very involved in their small community. They support the local schools and community organizations, and are one of the largest employers in the area.
What we found was a family, and a staff that takes great pride in their work, and great pride in making sure that people's photos print beautifully. The woman above on the right is Nola. She was our fantastic tour guide. She did such a great job of not only guiding us through the lab, but sharing her passion for great photo printing, and her personal love for this company.
Note: Right after our tour, we stopped in Joplin, MO to see the tornado damage. I'll share a few photos from that at the end.
I have a lot of narration below mixed in with the images. So let's go.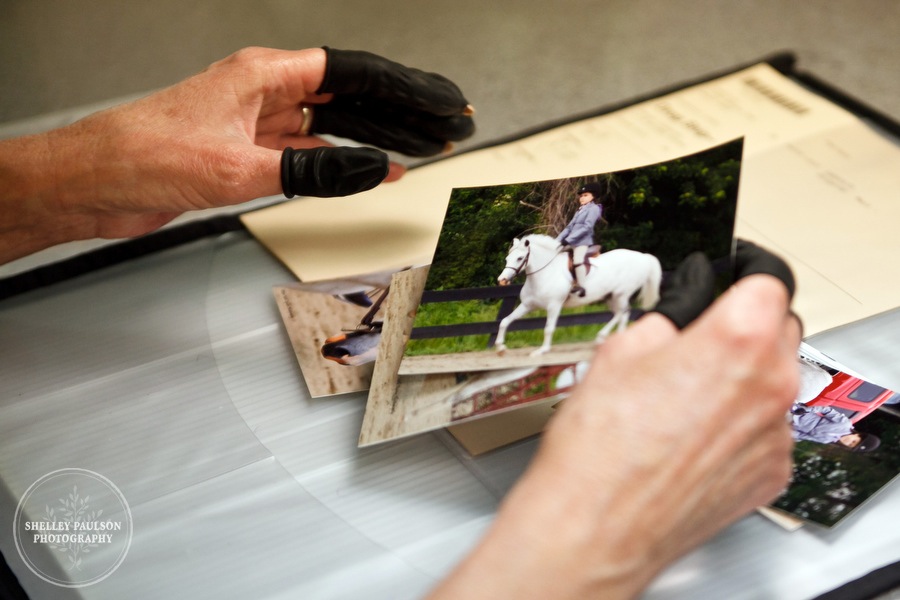 The first thing we saw when we started our tour was people looking carefully through each and every print to make sure they were trimmed correctly and there were no print errors. This was no automated, robotic process. These were human beings who care that our prints look their best. I was just so impressed by this! How interesting that this person was inspecting horse photos. Do these belong to any of my blog readers? 🙂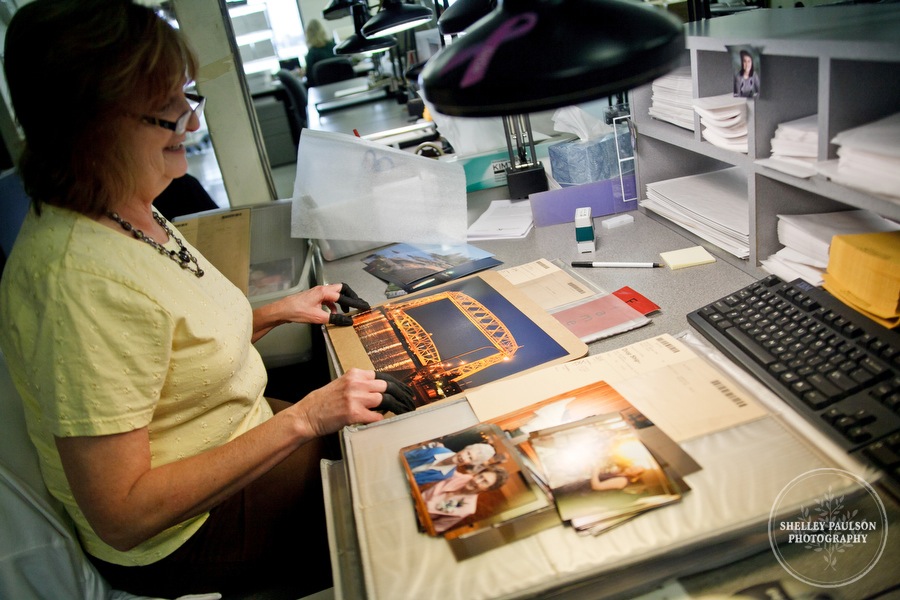 The next person was inspecting a photo of the lift bridge in Duluth! This tour was meant to be. 😉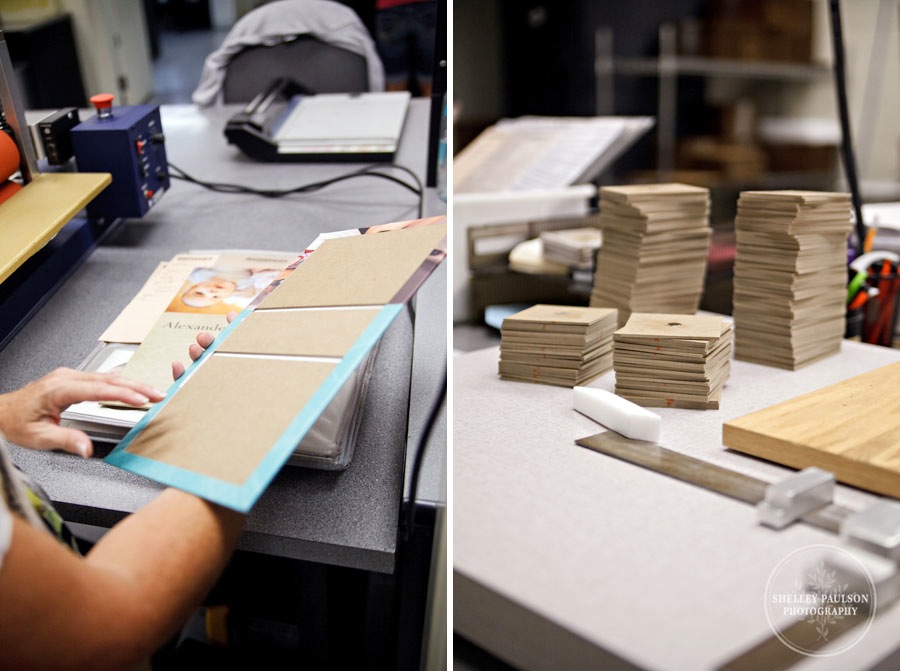 Image boxes and the makings of accordion books. All hand-assembled.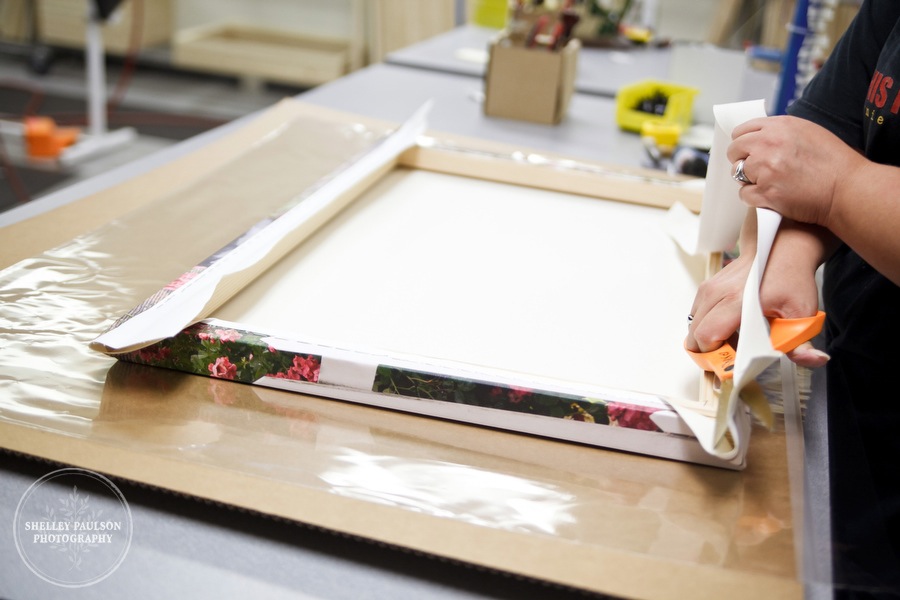 I think we spent the most time watching the process of gallery wrap construction. Miller's has a special process that allows their folds to lay very, very flat. This means the canvas lays nicely against the wall and has crisp edges.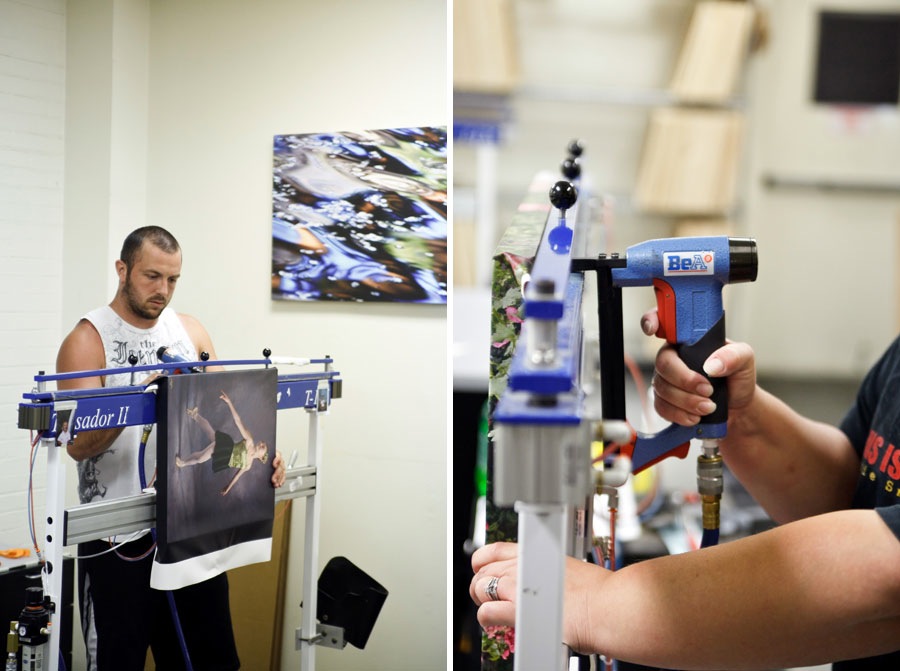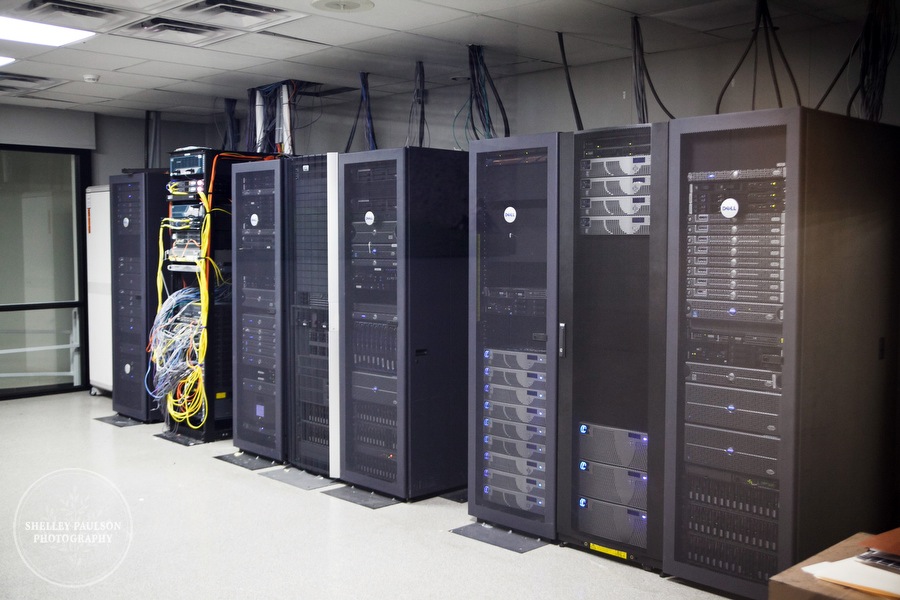 The server room where all the files live.
This is the room where all the photographic prints are made. This room is environmentally controlled for the highest quality prints. You can see a humidifying machine near the ceiling.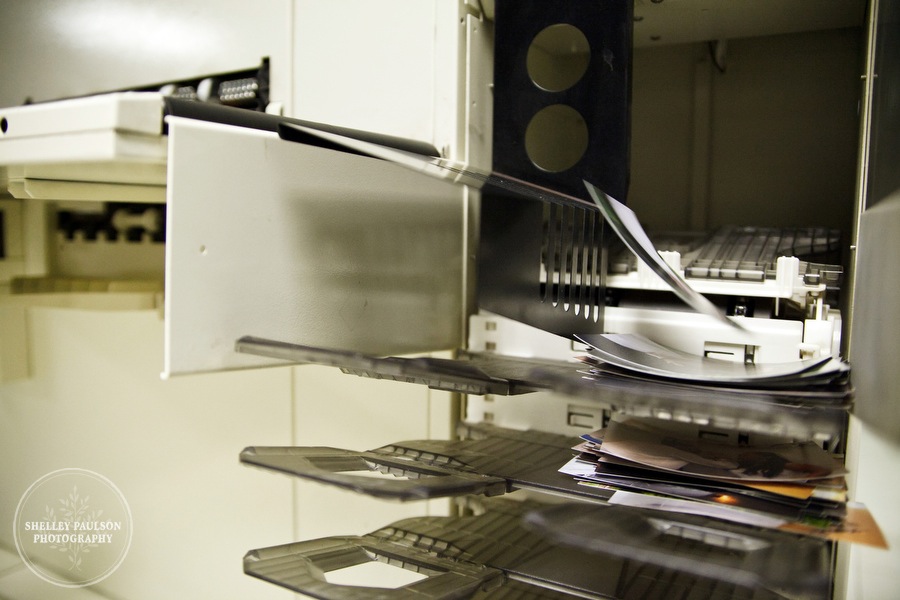 Small prints flying fast and furious out of the machines!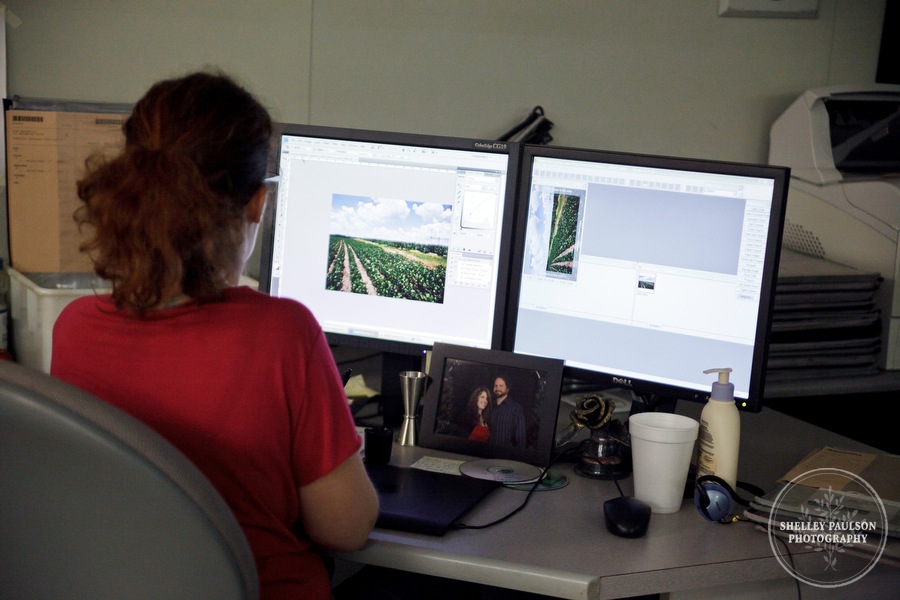 Miller's employees with a high level of training do all the color adjustments in the lab. It's not an automated process (like happens at chain stores like Target or Walmart), it's a real person on a calibrated system, making sure photos print their best.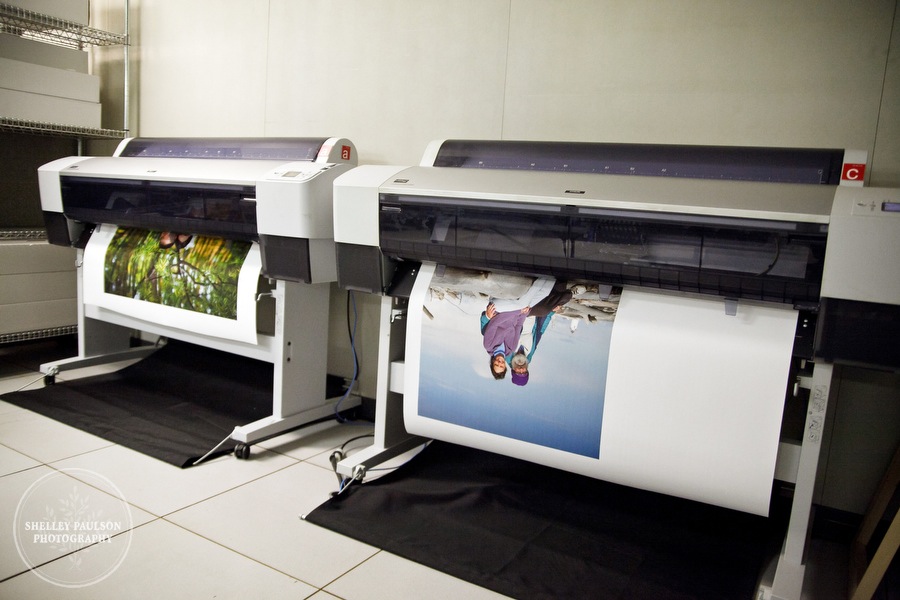 The large format prints were beautiful! I think I need some. 🙂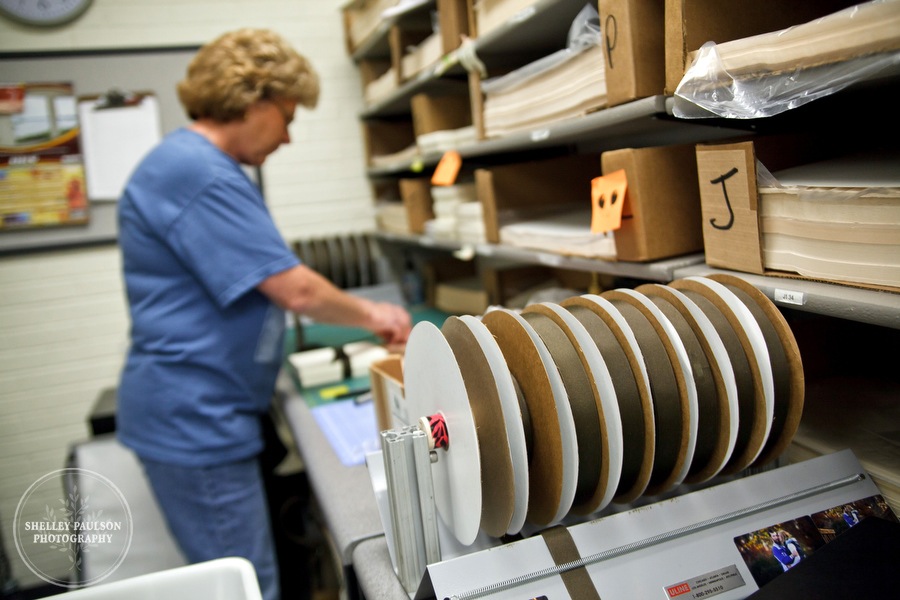 Ribbons for drop-shipping boxes. Yep, tied by hand. So amazing.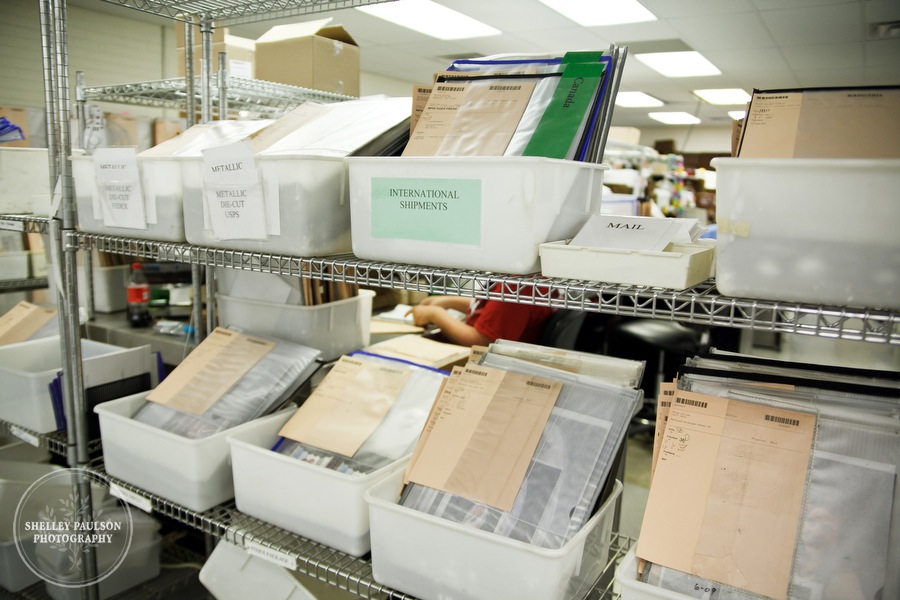 Orders getting ready to ship. Most of the time when I order prints by noon, I have them at my doorstep in Minnesota the next day!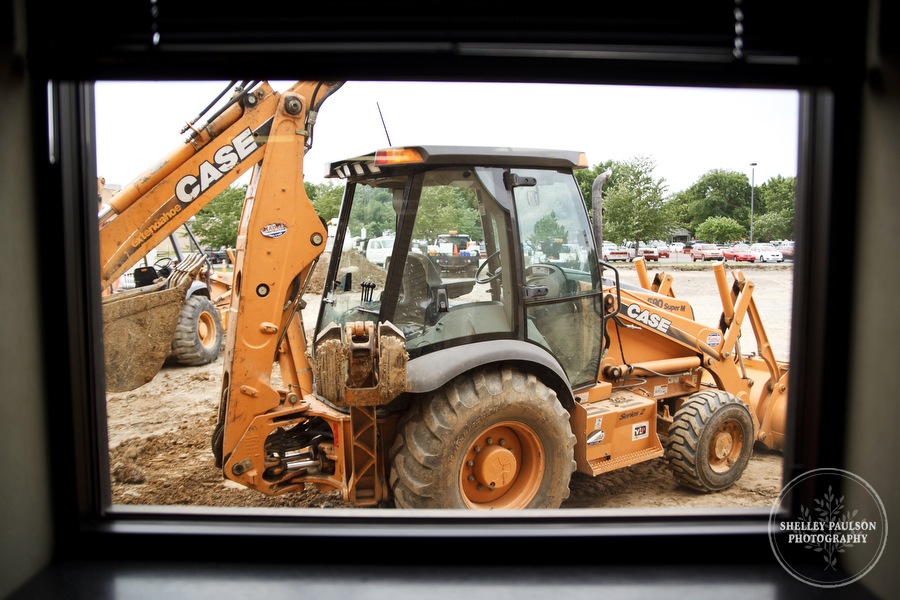 Millers is growing! Construction is underway for an expansion to their building.
After the tour, we had lunch with a few of my friends from Miller's. The conversation eventually wandered to the tornado that hit Joplin, MO, as it is only about 30 minutes from Pittsburg, KS.
On May 22nd, 2011, and EF-5 multiple-vortex tornado ripped through Joplin, killing 162 people and leveling a large portion of the town. I remember that night, I was in North Carolina, staying with my dear friends Beka and Brandon Fancher. Brandon's family lives in Joplin, and Beka and Brandon lived there just before moving to North Carolina. Experiencing this terrifying act of nature from their perspective was not something I'll forget. Thankfully, Brandon's family were unharmed, but they were not far from the tornado when it hit.
I am not the kind of person to run to a disaster and see it, but John and Joe encouraged us to go. They said it's something you just have to see. I had been a little apprehensive about it, because my friend Alyssa from Kansas City had been making trips to Joplin since the week after the tornado hit, helping with cleaning and offering prayer help to the victims. She had shared how hard it had been on her heart. But something told me to go.
I've always had a love/hate feeling with storms. I DVR the show "Storm Chasers" and can't wait for each new episode. I have this dream of doing one of those storm chaser tours, and capturing raw nature on my camera. However, nothing really could have prepared me for what we saw as we rounded the corner onto the main road that ran along the damage path.
I wept.
I had never in my life seen anything quite so devastating. And the reality of how many people lost their lives in this place struck me in my gut. I was speechless. I couldn't take photos. I just had to take it in. Now mind you, at this point it had been 6 weeks and cleanup was 30% complete. I simply can't imagine what Joplin looked like hours after the tornado. I had no concept of what this area looked like before until I saw this split screen video the week after our visit to Joplin. I was speechless again.
Eventually, I got my heart gathered back up, started to breathe again, and took some photos. Now mind you, I was shooting out a moving car window with an inexpensive zoom lens so these are not my most amazing photos. We wanted to just stay in the flow of traffic and do nothing to hinder the cleanup and rebuilding efforts that were in full swing. I just thought it might be interesting to share what we saw that day.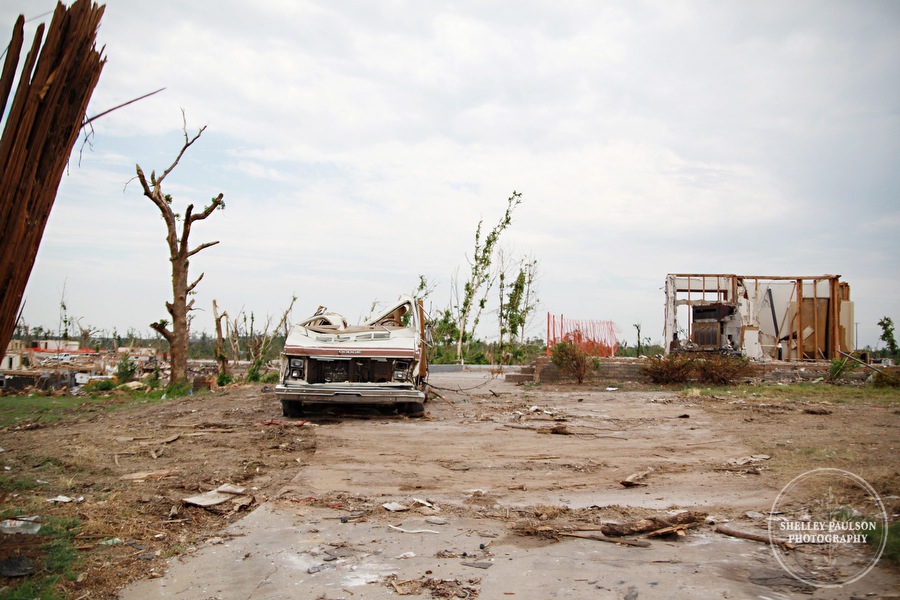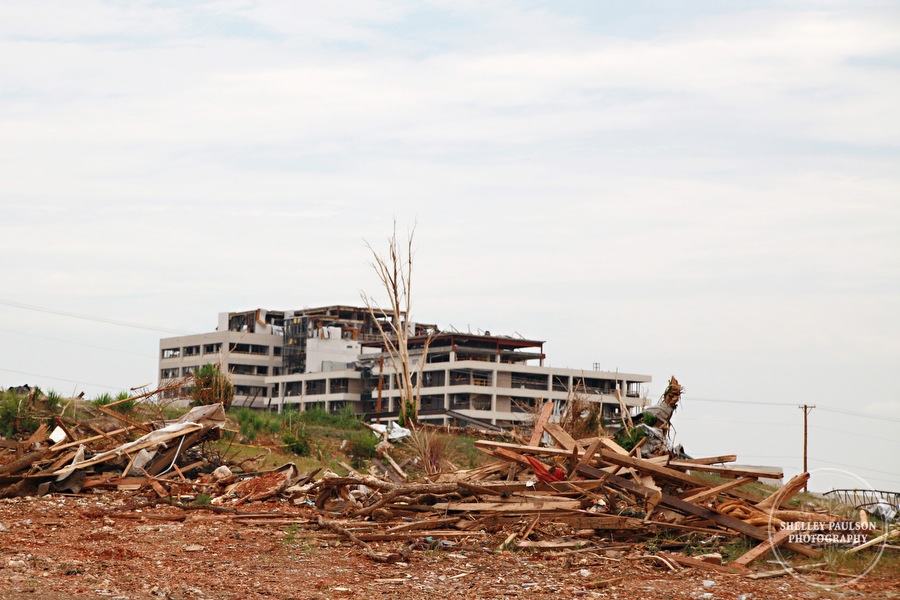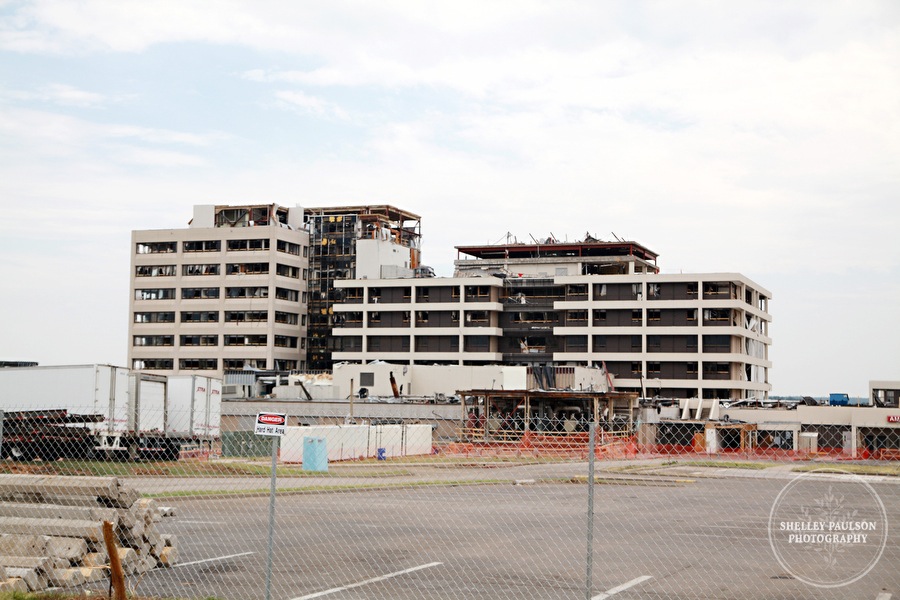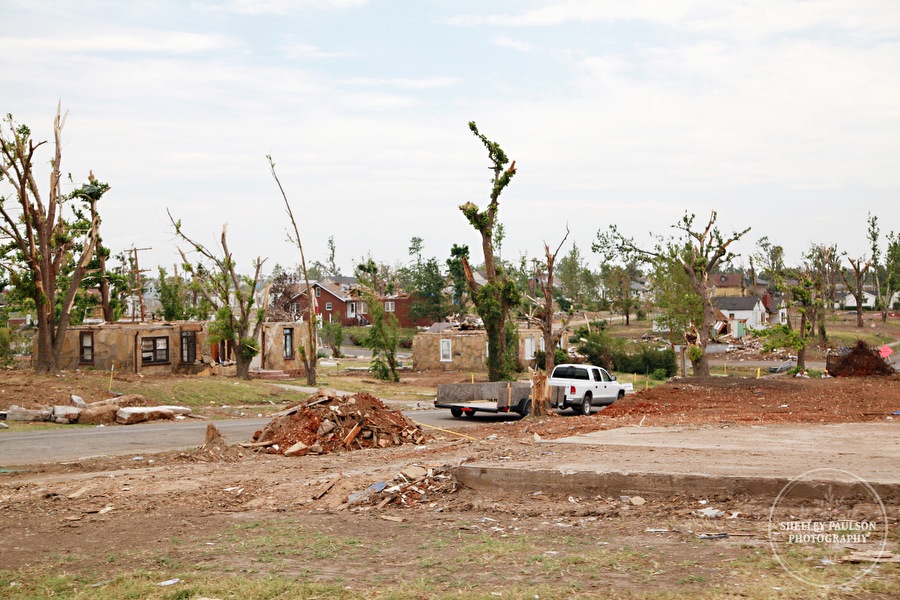 Something that I was so moved by was the fact that the trees, which had been stripped, even of their bark in some cases, were growing leaves.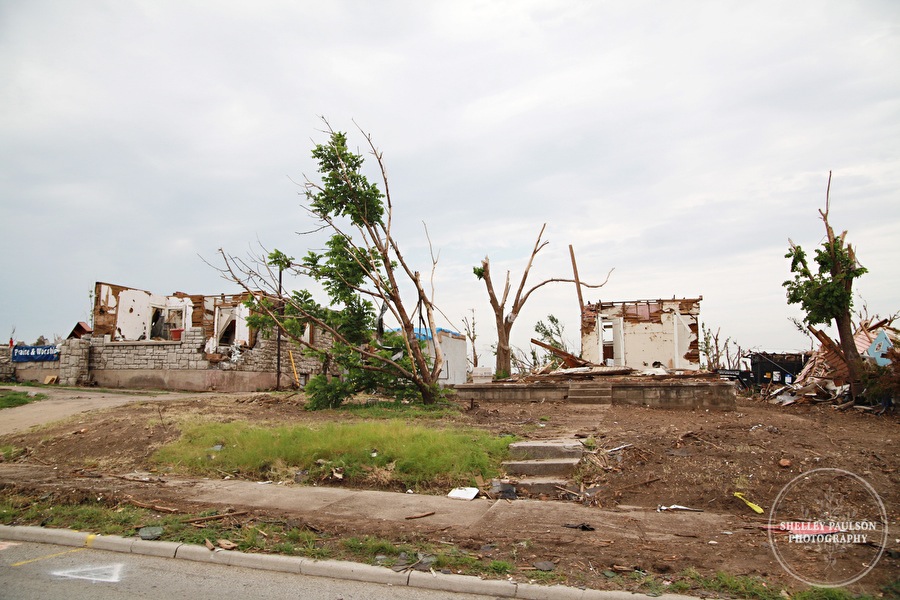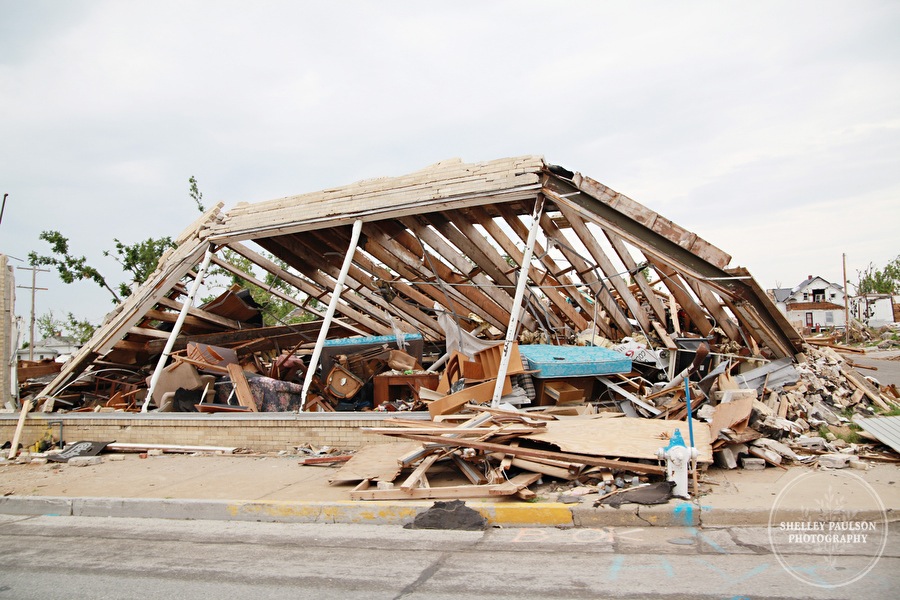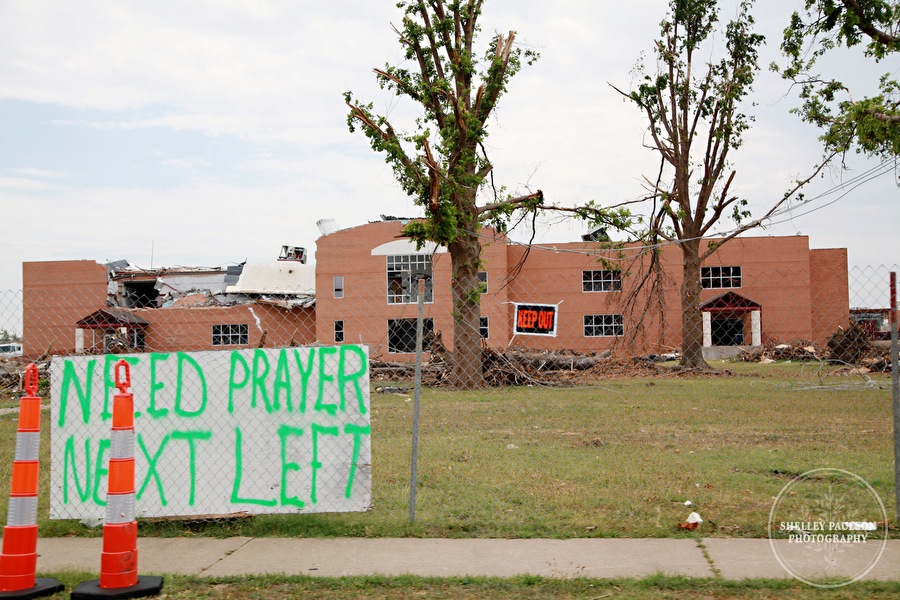 The high school. So amazing that they had this all ready for school to be held in it this fall.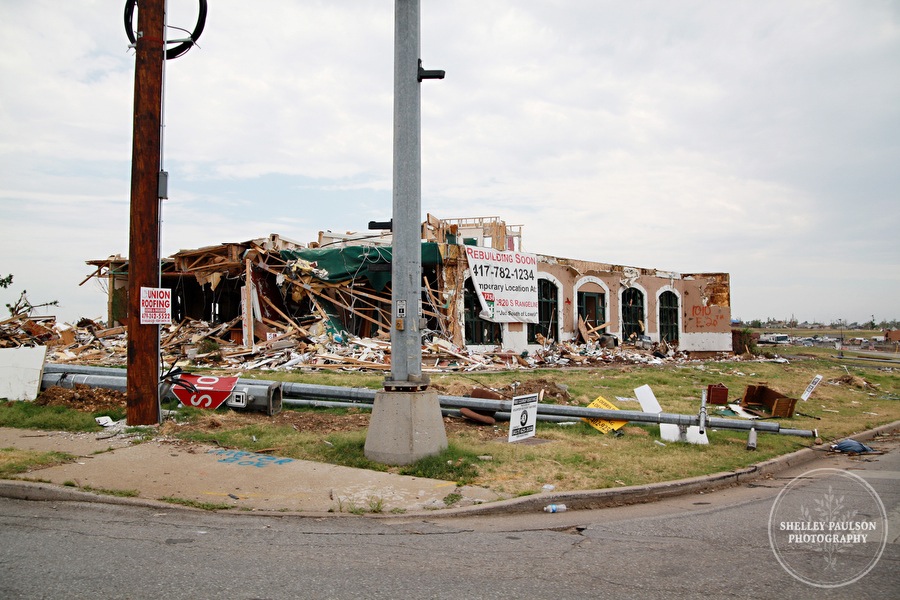 Not all of Joplin was destroyed, so many businesses moved temporarily to another location in town.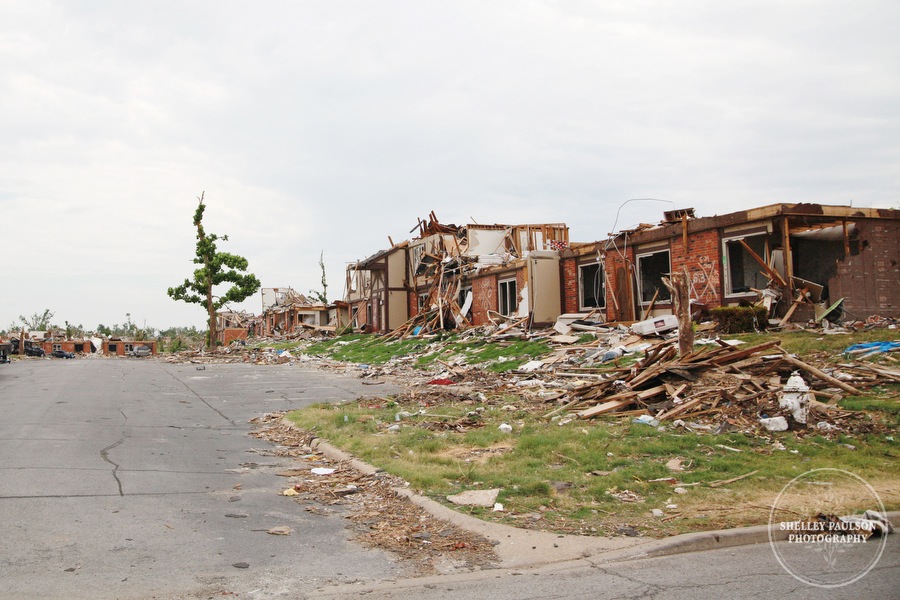 I'm pretty sure these were two story apartments.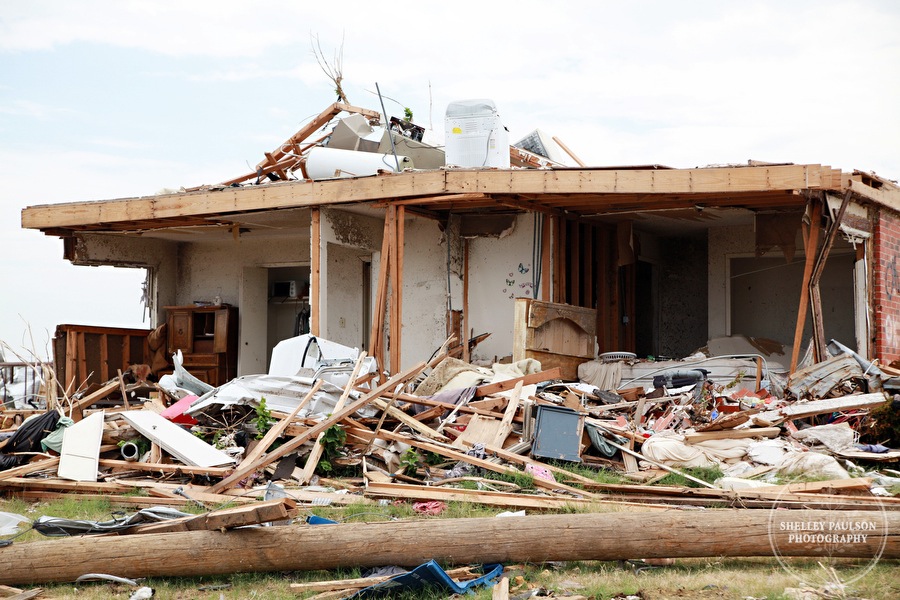 We found it hard to take it all in visually. Every block would have just piles and piles of random household objects.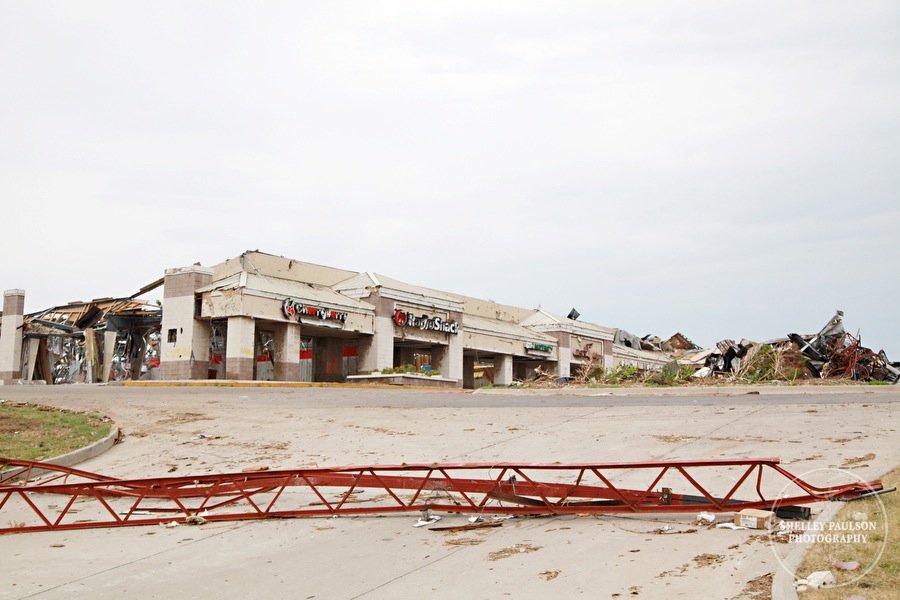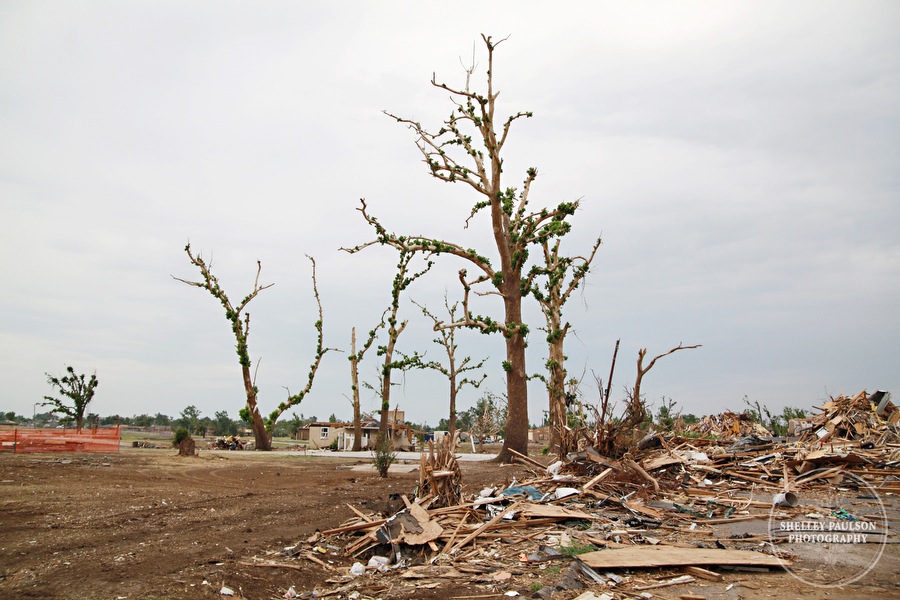 I like this one because it shows the before and after of a cleanup area, and the leaves growing back on the trees. There is hope and a bright future for Joplin, MO!