Yesterday was a CRAZY day! I woke up and went through my morning routine like usual. I put my hair up in a pony tail, dressed in "I don't have to go anywhere today" clothes and sat at my desk to start getting caught up on photo editing. Then I saw my friend's status on Facebook, that she was headed to the media preview for Cavalia. I had been tossing e-mails back and forth with Jennifer Willey, the local contact for Cavalia PR about the event, but hadn't landed on making plans to be there. My schedule has been very full lately, and it fell to the back burner. I sent her a quick e-mail to see if I could still be involved in the event, and she encouraged me to come down.
I hesitated. I'm not sure why. My thoughts drifted…I'm behind on my work. It's a long drive. Is this my kind of thing to shoot? My very responsible head was telling me to stay home, but my heart was screaming, ARE YOU KIDDING ME? GOGOGOGOGOGOGOOOOOO!!!
So at the very last possible minute for me to get up from my desk, get ready, get in the car and get to the venue, I did it. I almost didn't back out of the driveway, but my heart kept chanting – GO, GO, GO. You may think at this point I'm being overly dramatic, but seriously, this really happened this way! In spite of getting behind slow drivers on 2 lane highways, I got there just in time. I was shaking and nervous. I calmed down a bit when I saw some friendly faces and sat next to my friend Sandra. Whew! I made it. I was in. With my camera. Oh my word, I really get to photograph this!
The media preview was a 45 minute introduction to Cavalia, not the whole show. Normand Latourelle, the creator of Cavalia got up before it started and shared his vision and how Cavalia came to be. For those of you unfamiliar with this show, it is like Cirque de Soleil, but with horses as the main theme. Latourelle was one of the original creators of Cirque, and when he introduced just one horse to a Cirque show, it stole the whole scene! After that, the wheels were set in motion to create an entire show with horses.
The lights went down and the preview started. I was still shaking. Taking deep breaths to calm down. Sharp photos are hard with shaking hands. Within 5 minutes of shooting my heart out, I realized my cheeks were wet with tears. This was one of the most beautiful things I have witnessed. Dancers, acrobats, horses and live musicians, creating beauty that I've only experienced in my dreams. I turned to my friend Sandra and told her I was crying. Telling her that made wet cheeks turn to full on sobs. I love horses so much, it's almost embarrassing at times! I recomposed myself, and went back to capturing this beauty with my camera. I was in my element, enjoying every single minute of it.
The show was exciting, heartwarming, breathtaking, funny, and most of all, a feast for the eyes. There aren't a lot of tickets left, but if you can get tickets and go, I can't recommend this enough. Today, I'm going to be finding a night to attend. I want to see the whole show with just my eyes. I do love experiencing things with my camera, but there are times to put the camera down and just soak in the moments unfolding in front of you.
I posted some additional photos on my Facebook Business Page.
I did do a short interview with one of the performers, which I'll share near the end. I asked her a few questions, and I'll share with you the answers. 🙂
Cavalia Web Site – The show is going to Portland next, and then Montreal and Atlanta. If you love horses, give yourself a gift and go see this show!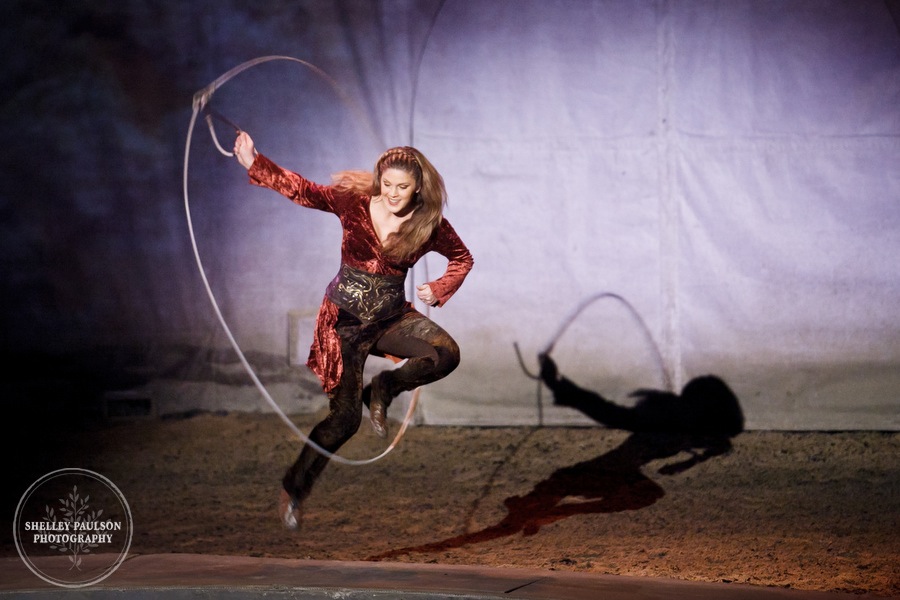 This girl had crazy good rope skills!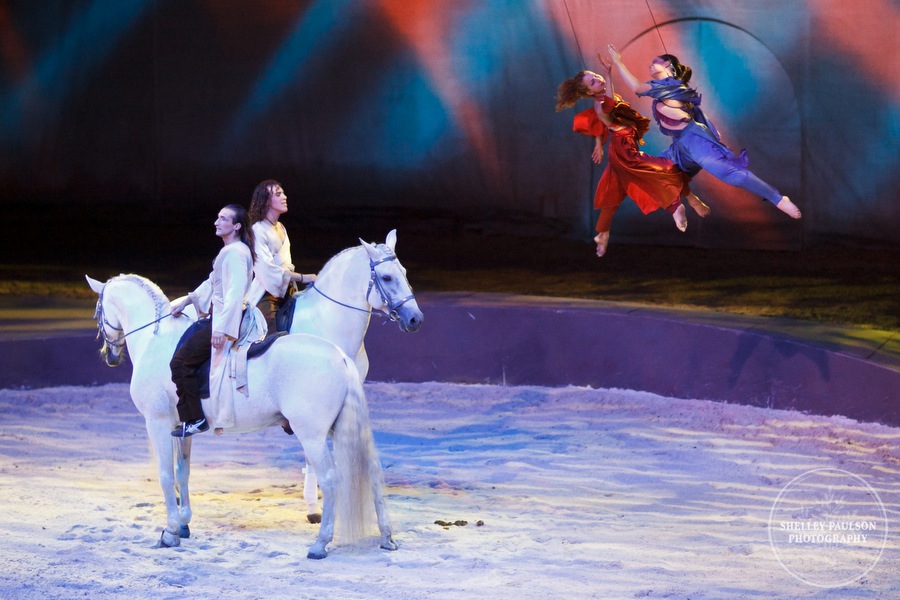 This was the part where I started to cry.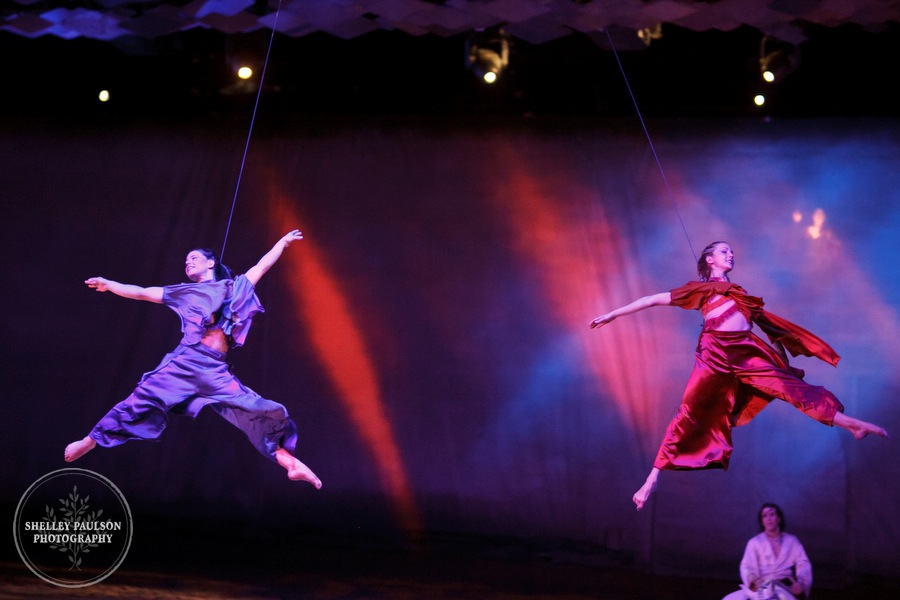 I've never been to a Cirque de Soleil performance, but it's been a dream of mine to go to one. The beauty just takes my breath away!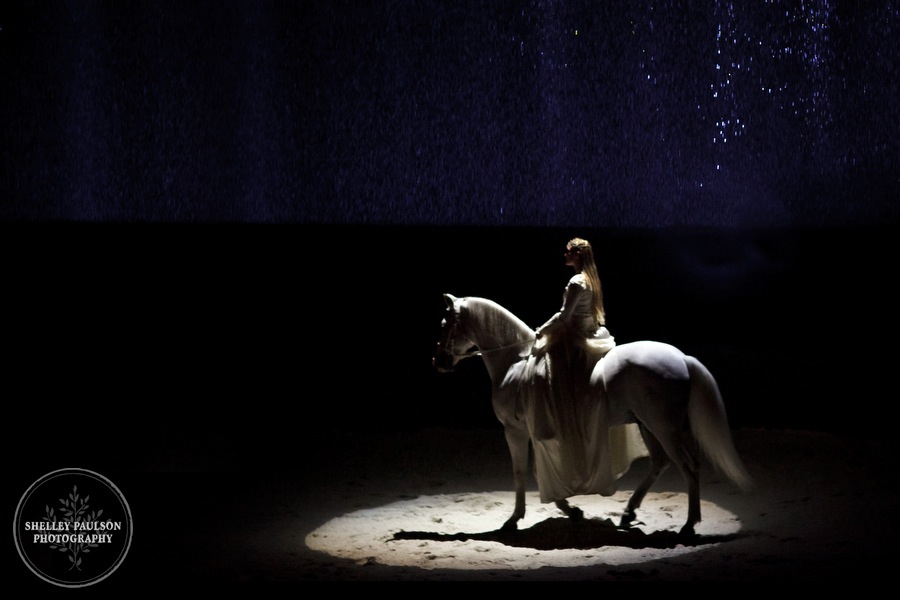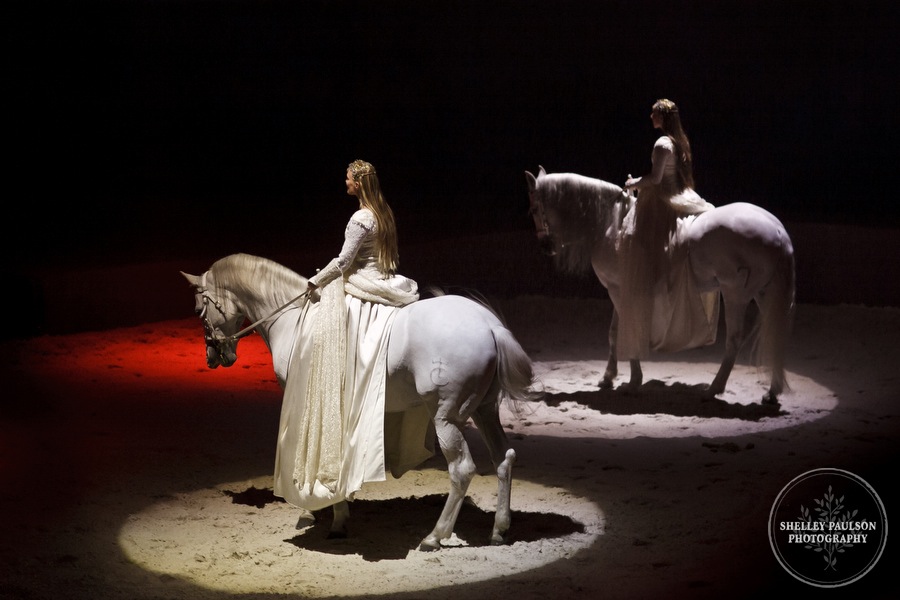 Not a mirror!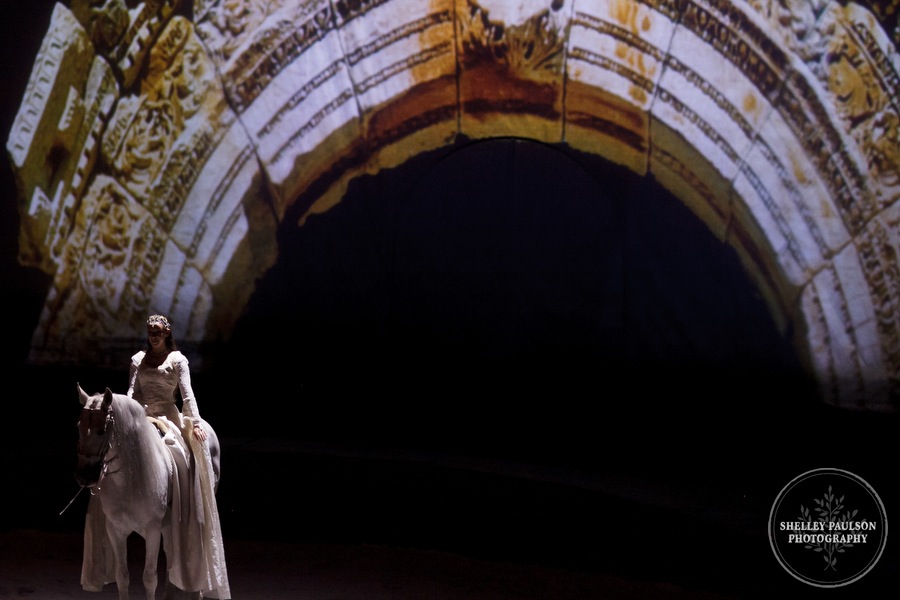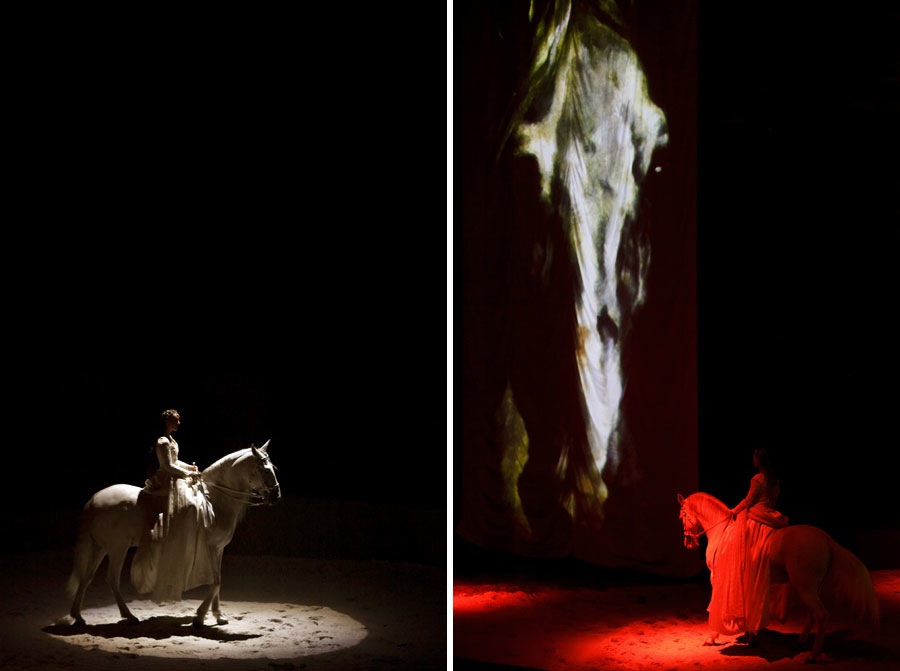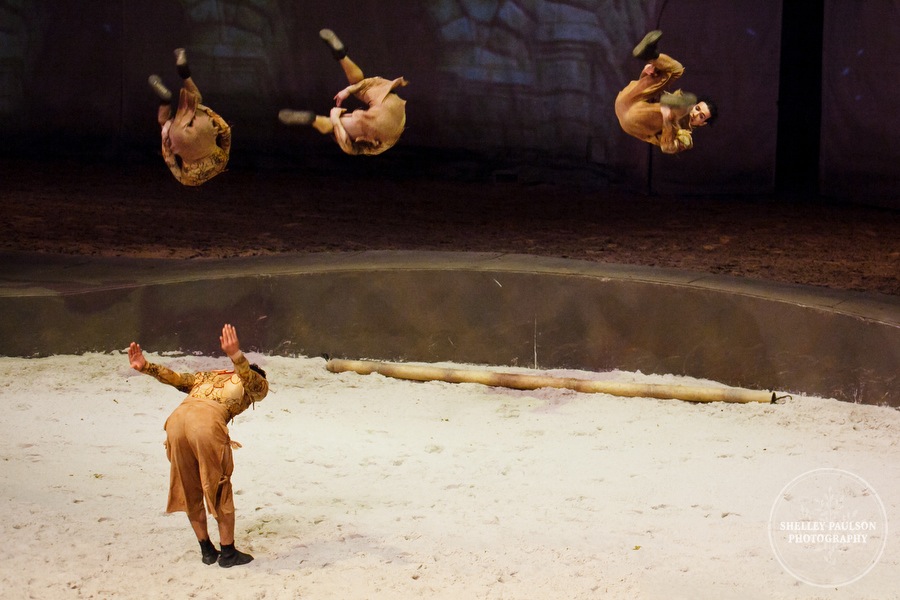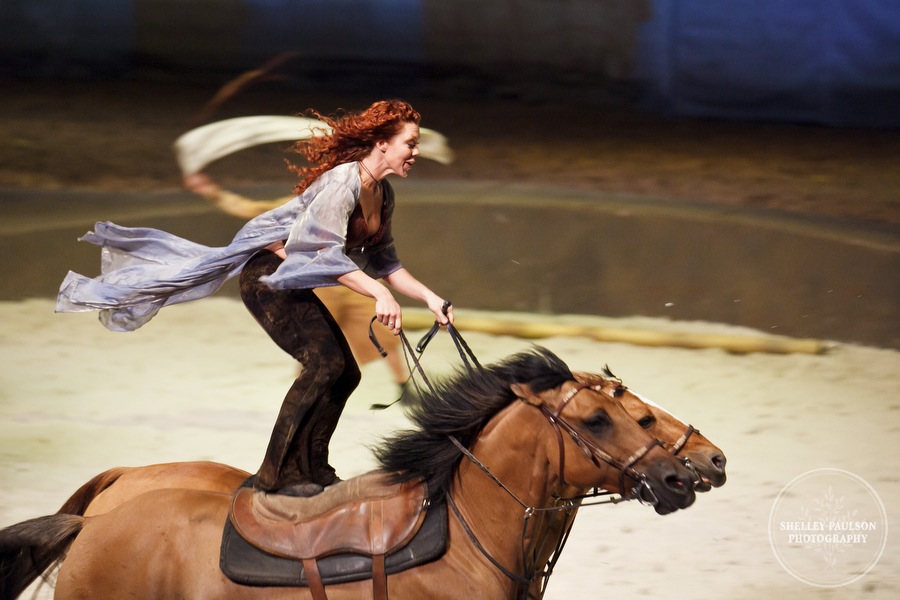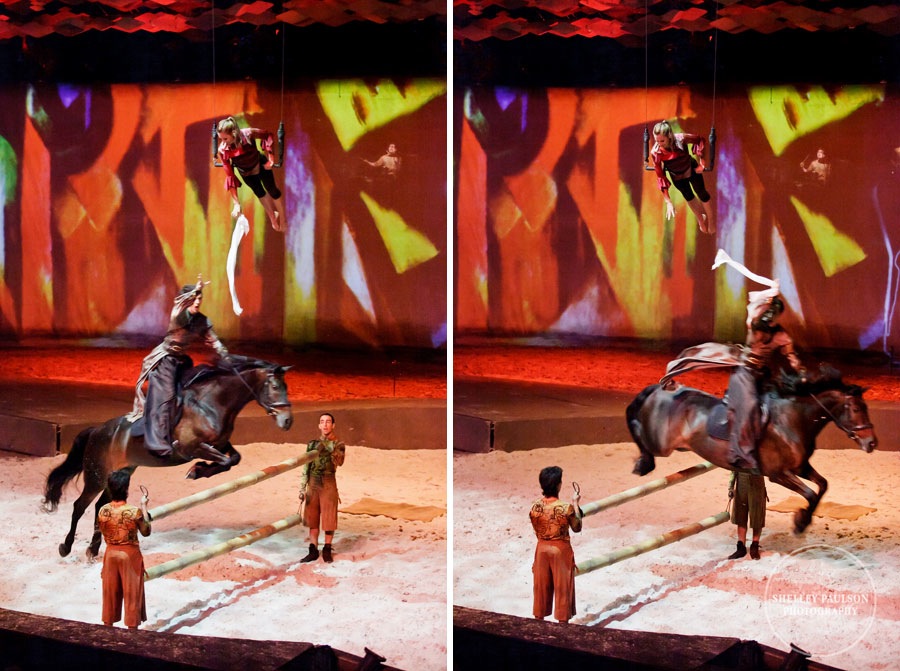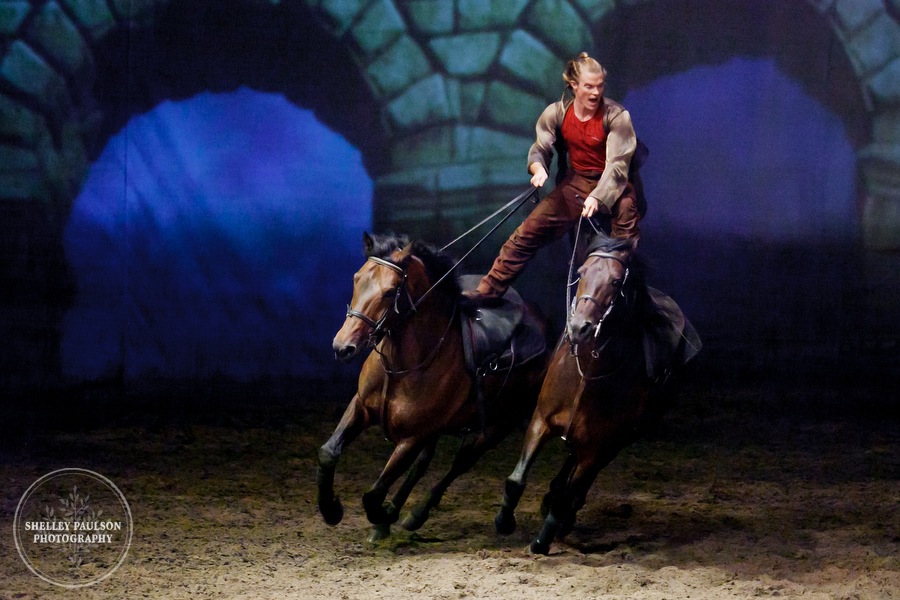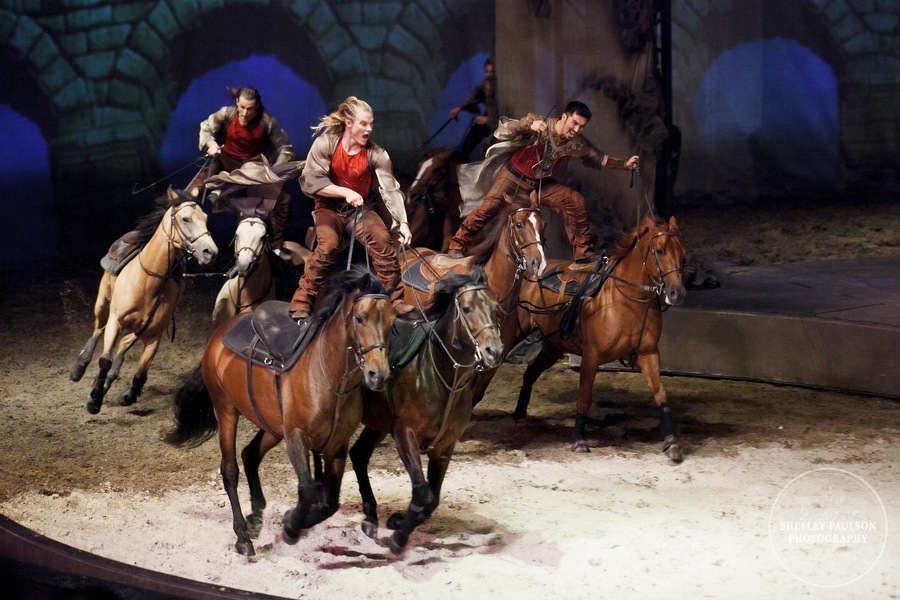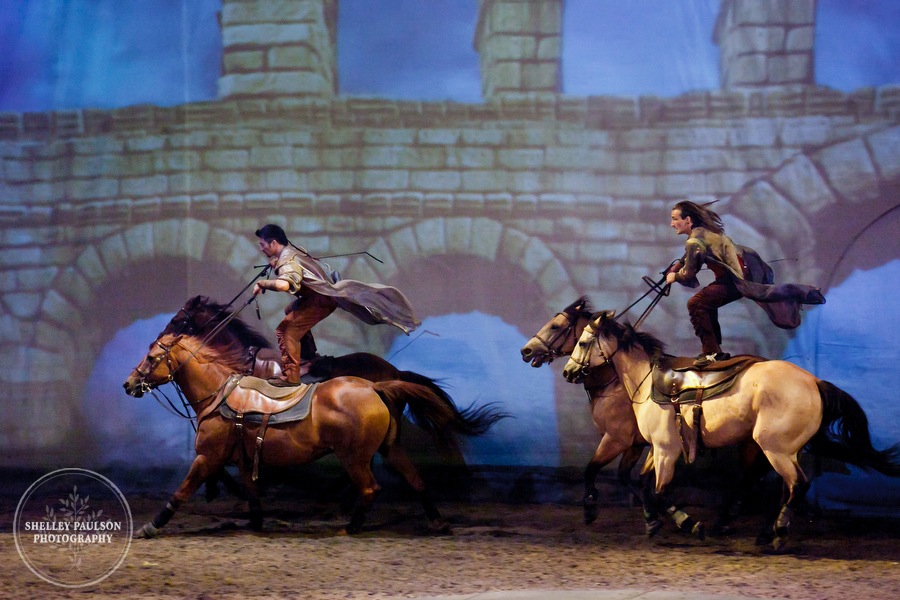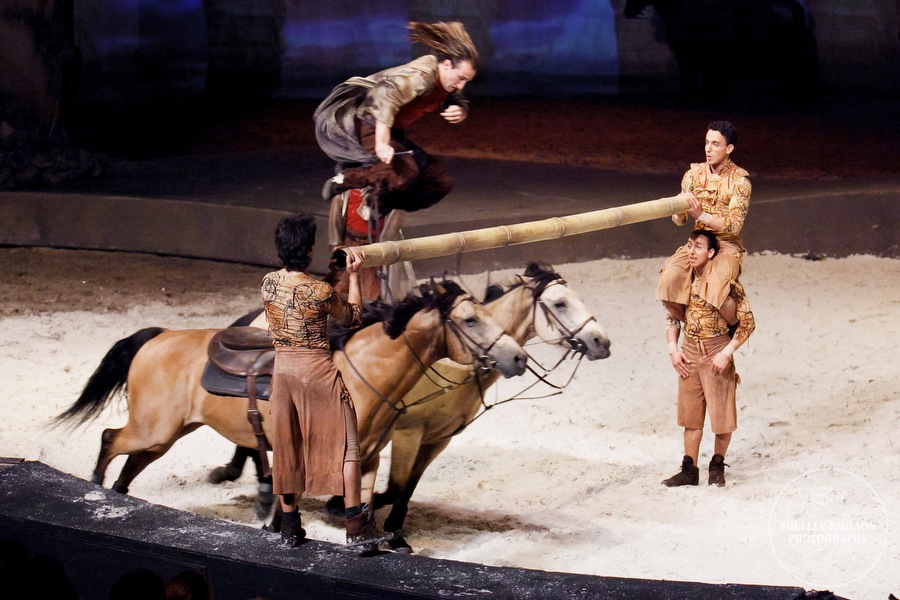 Just jumping over a pole off of two horse's backs, nbd…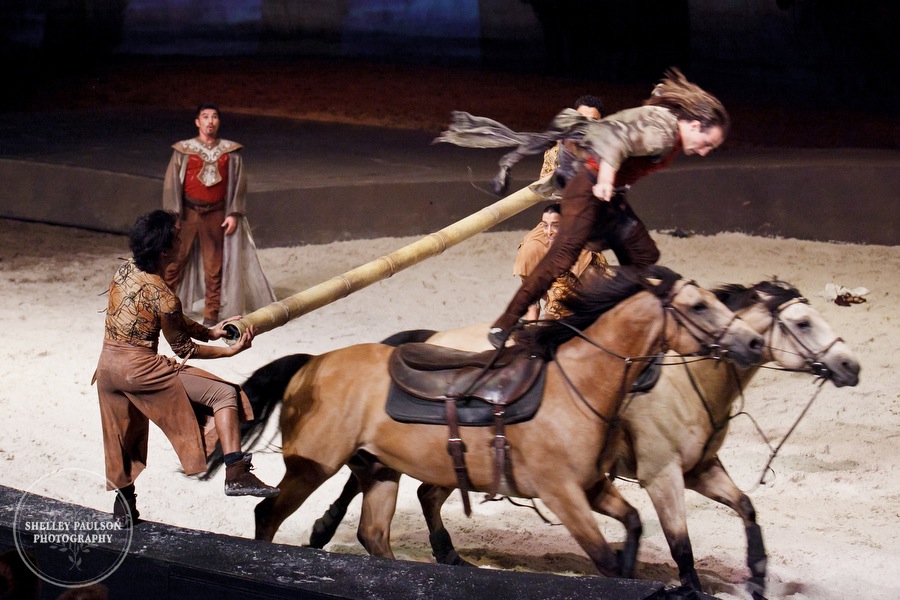 Oh yeah, and then landing back on the horses. Did I mention they were galloping?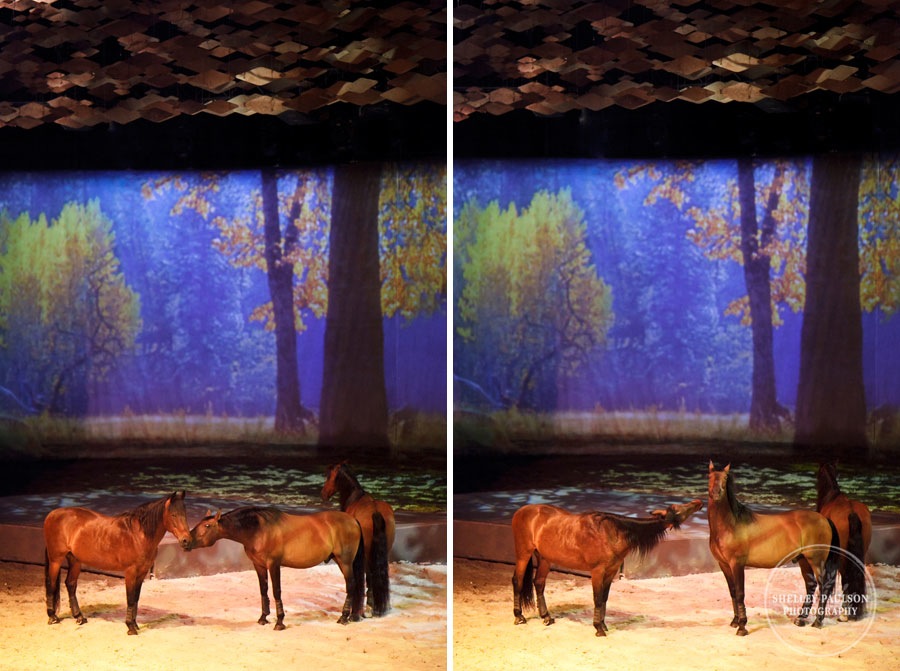 In one scene, the horses came out one by one. These two were playing with each other, it was so cute!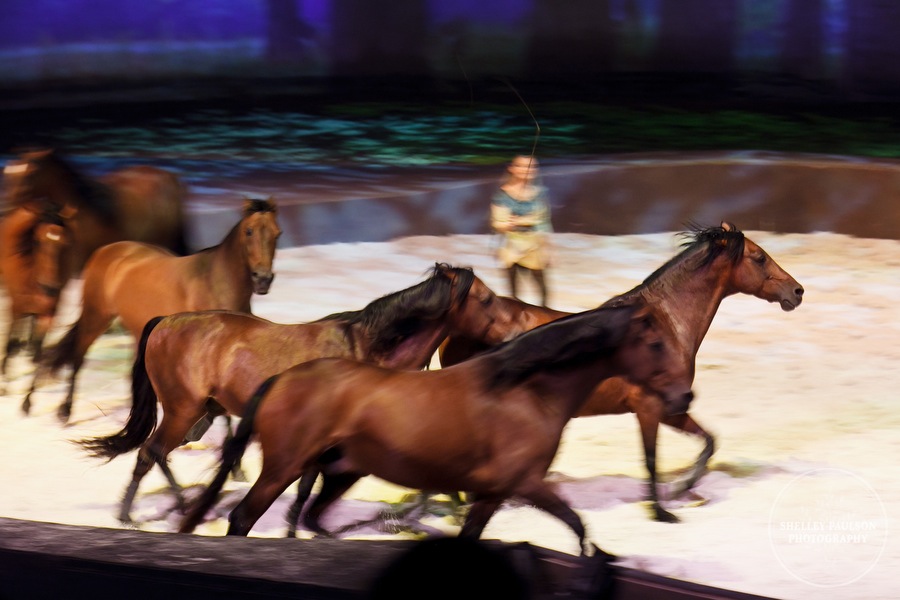 A woman came out and moved the horses in really difficult patterns. There was a lot of clapping from the horse-people in the crowd who KNOW how hard this is to do.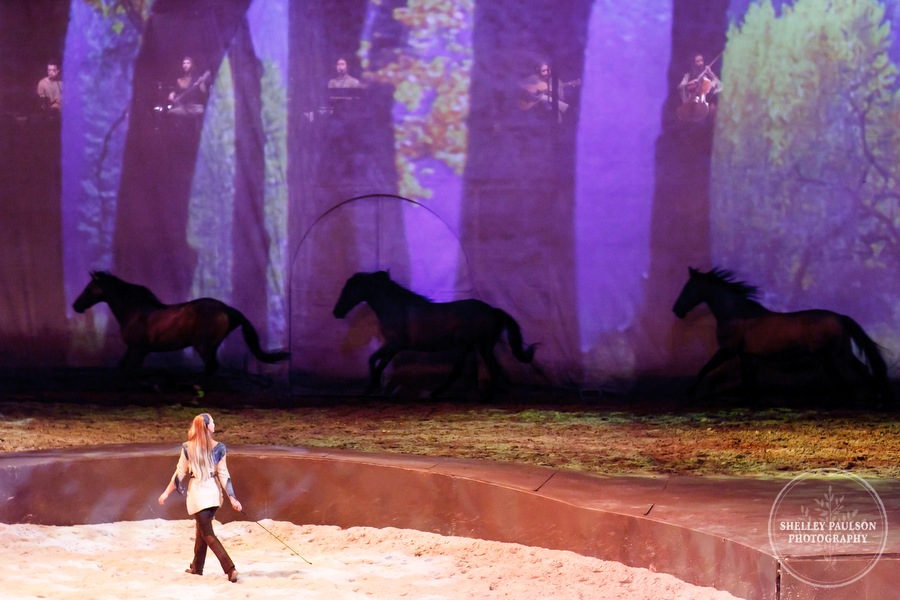 Do you see the musicians in the trees?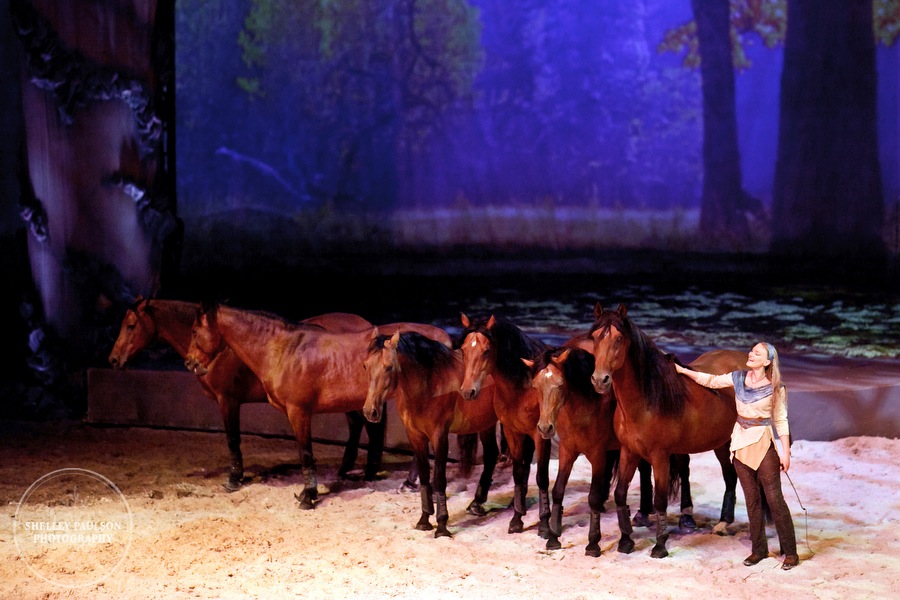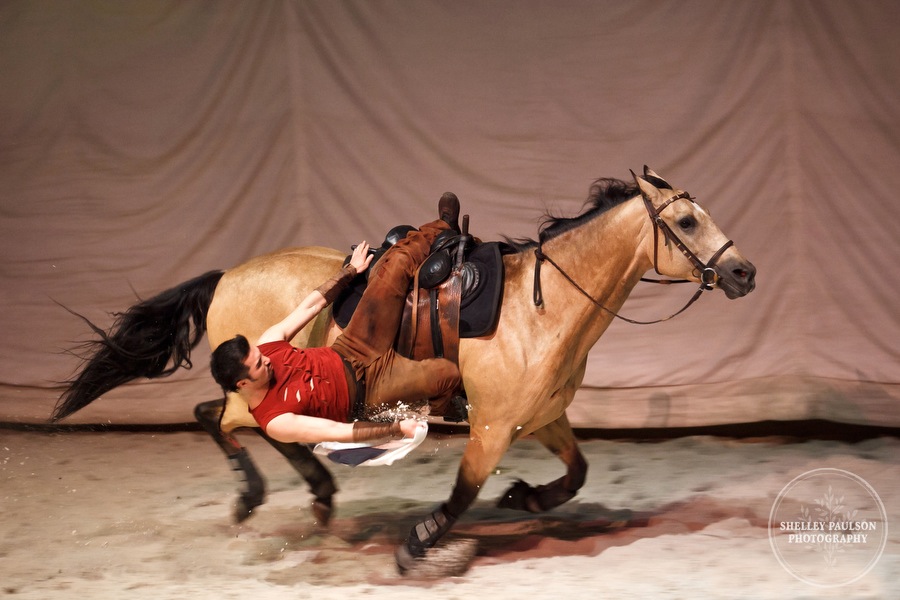 Both equine and human performers are amazing athletes. Amazing!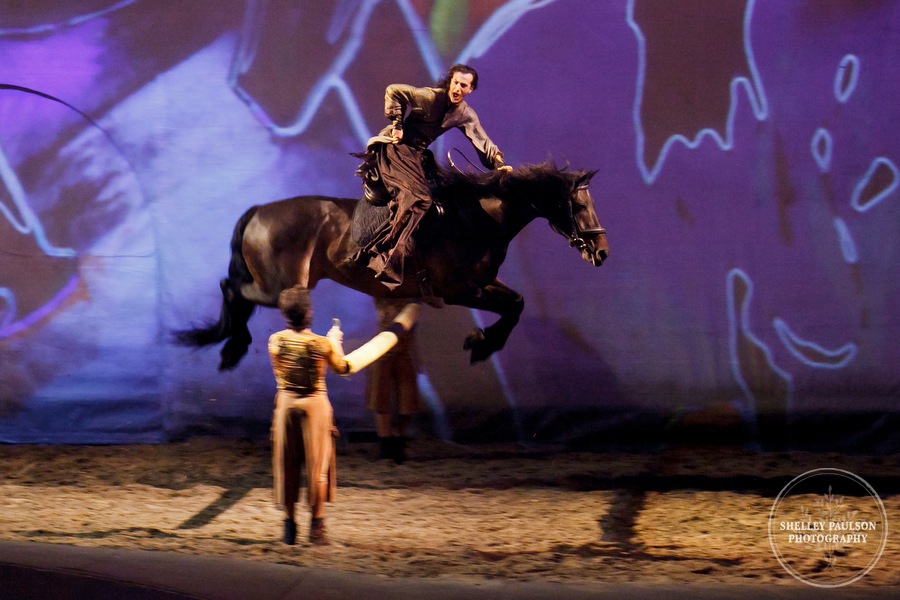 That's high!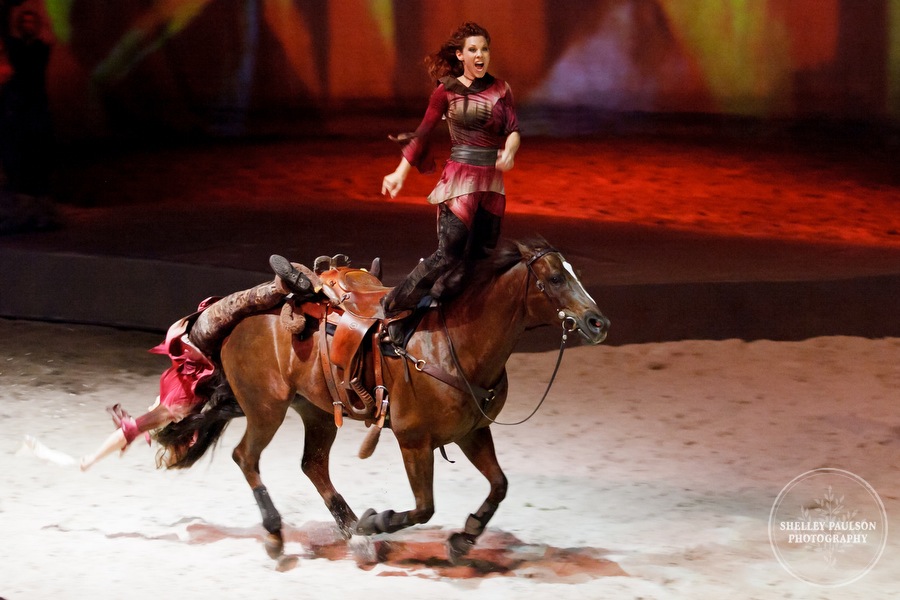 Don't miss the second rider!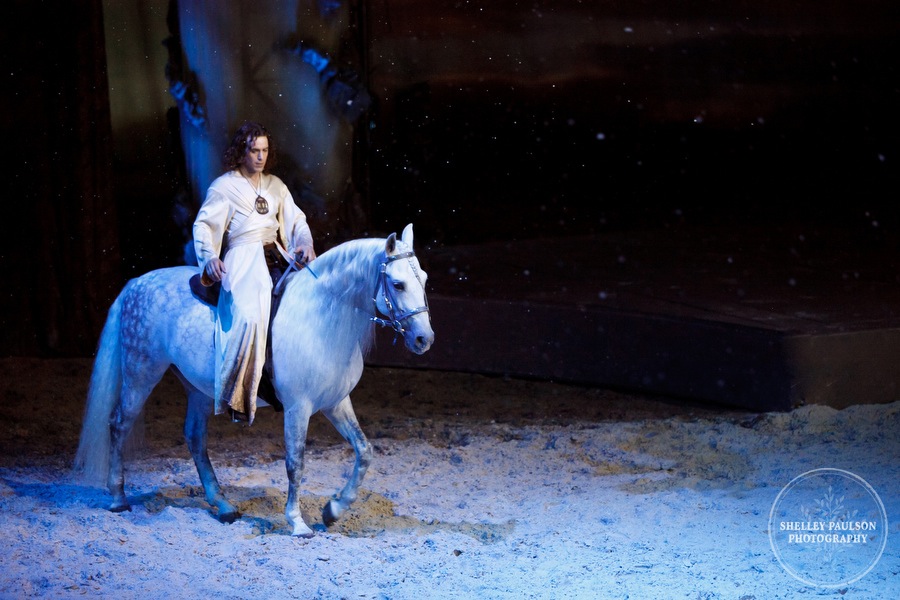 This was my favorite scene. I guess there's a reason I live in MN, I like snow. 😉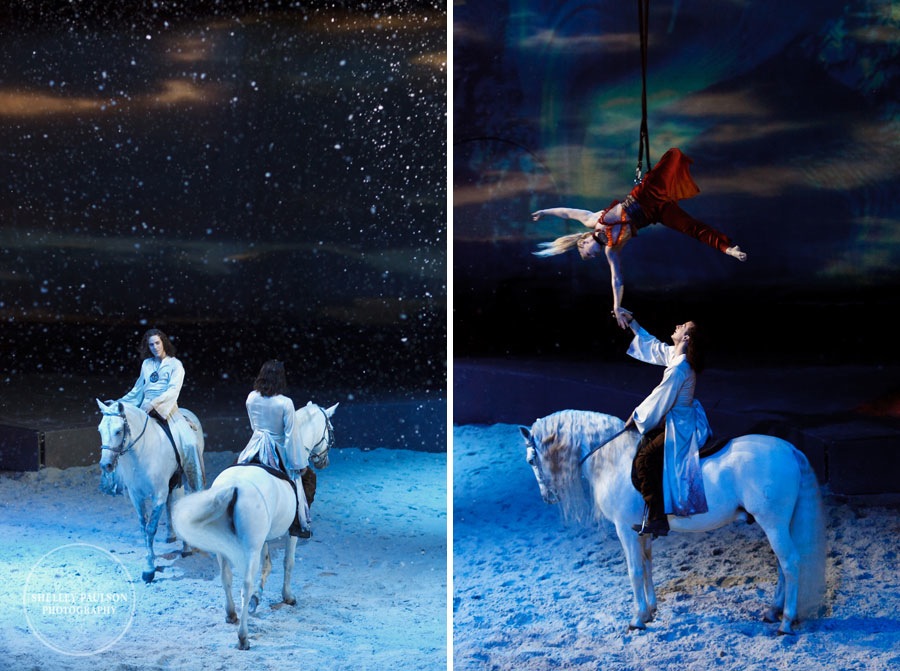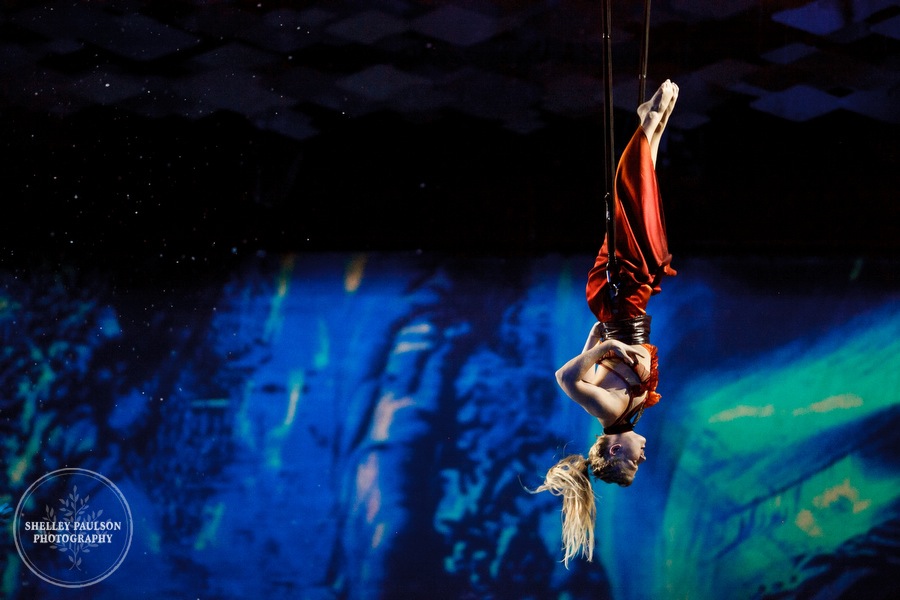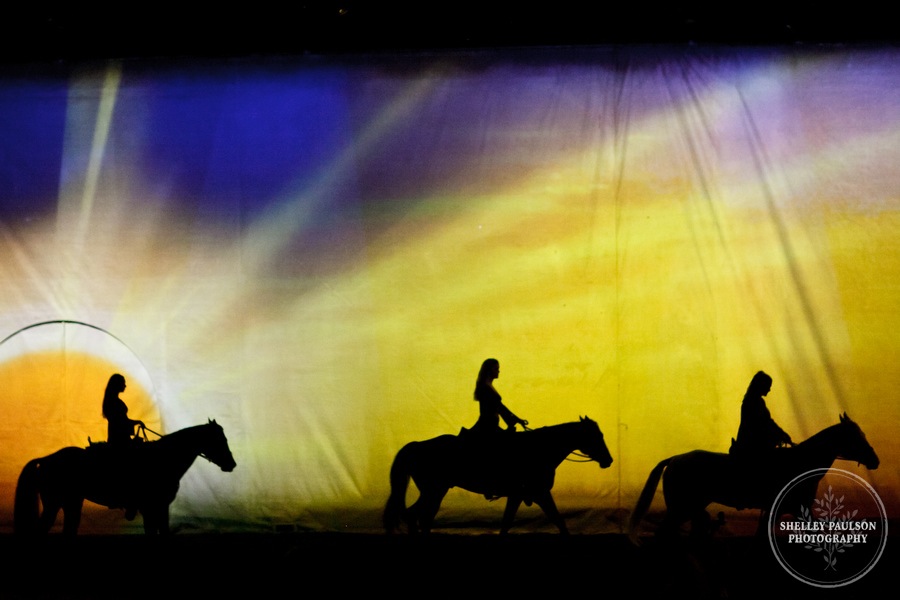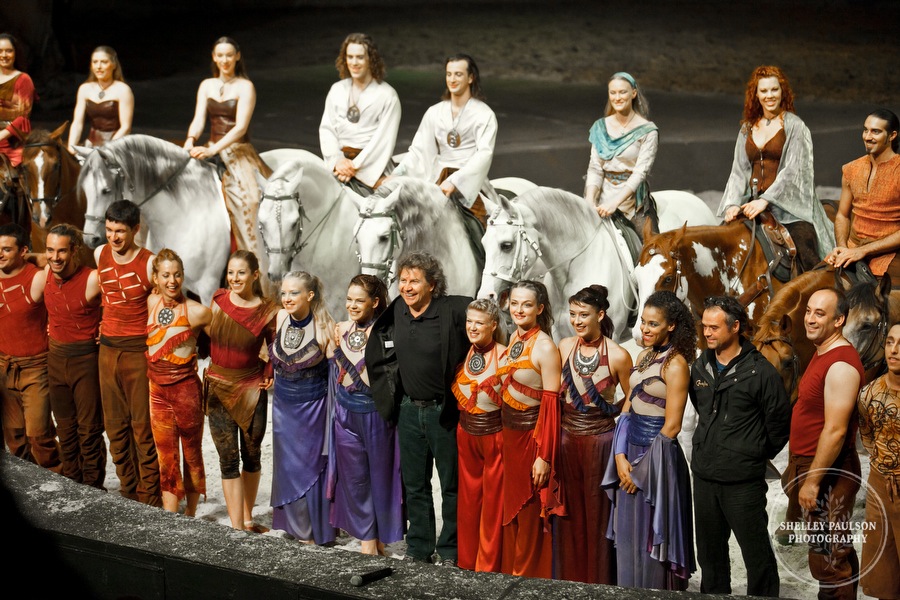 Taking a bow!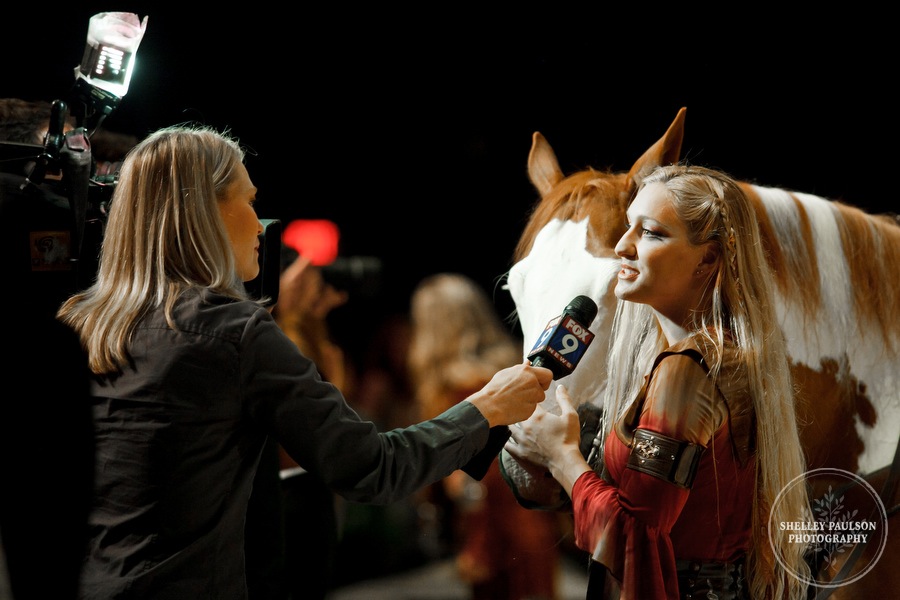 Afterwards, the performers stuck around and we could talk to them an asked questions. Here's MA Rosco from Channel 9, interviewing Katie and Cisco. It was fun to watch, and MA is so pretty!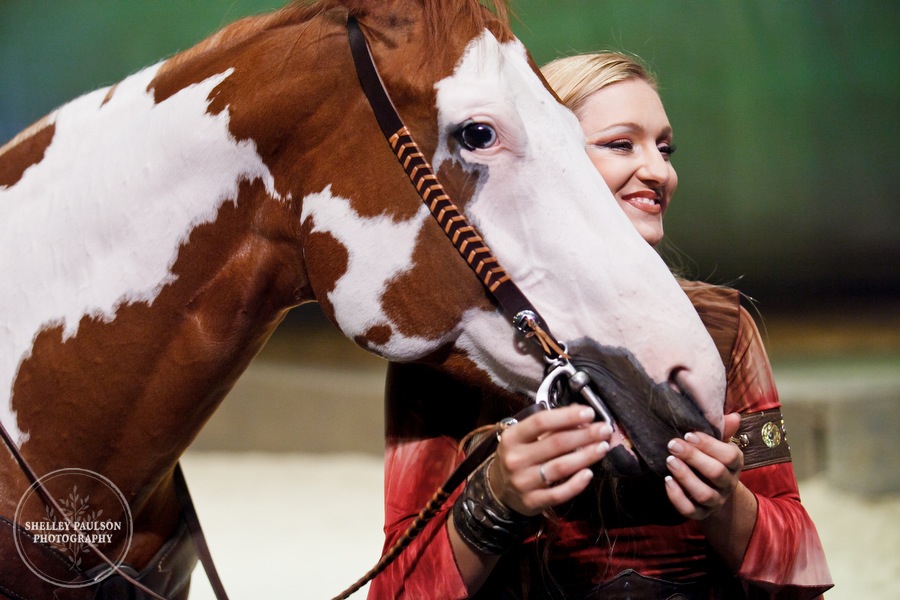 After MA was done, I was taking photos, and my friend Mahlon, her friend Chris, and I asked a few questions. I don't have the answer word for word, but I'll give you the gist.
First, I asked what kind of horses they look for, and she told me ones with very outgoing personalities. They should LOVE people and love attention. As she's saying this Cisco is rubbing his teeth on Chris' hand and just being goofy. I'm sure it doesn't hurt that these horses are also gorgeous, but personality seemed to be the most important thing. She told a story about how Cisco got out of his stall and headed right for the stage. He stood there like, "where are the people?" He's found his perfect job. 🙂
She also told how the horses get to go on vacation from time to time. They have a farm in Canada where the horses get to relax, get dirty and just be horses for awhile. One thing that really struck me about Cavalia was the love the staff and performers displayed for the horses. That makes this show even more appealing to me.
Then I asked if she had ever been hurt. She said "not seriously," but at the last city they were in, she did fall and hit her head on the edge of the stage. When I asked if the crowd gasped, she said, "Yes, and some screamed!" She said you just have to get up gracefully and exit when that happens.
After the interviews, I was able to go back to the barn where the horses were kept. I took a few more photos of Katie and Cisco. They were in good light and stuff. 😉