My friend Shirley McQuillan breeds and raises Warmblood horses at her place in Kentucky called "Touchstone Farm." This is not a huge operation with endless pastures of imported horses, but a modest all-American farm built on Shirley's love and passion for her horses. Her lifetime of experience with these animals has given her a gift for breeding very talented and sought after dressage and driving horses. Touchstone horses are known for their athleticism, great conformation, sound minds, and good souls.
One of Shirley's horses, Rhett, is rising to the top of his class in Dressage. He is competing at the highest levels with some of the best horses in the world. He has been named to the US High Performance Team and is an 2012 Olympic hopeful. Most dressage horses at this level are born and bred outside the USA. Rhett was born and bred in Kentucky, which makes it extra special that he is one of best competing today. If you look at his forehead, you will also see that his "star" is in the shape of the state of Texas. 🙂
The fact that he is US born and bred is what led us to use the American Flag as part of our session. We treated the flag with great respect during the session. If you could have been there, you would have felt a change in Rhett's demeanor when the flag was on his back. There was a quiet reverence that came over all those who were there, helping make this session a success.
I have shared a few photos from this session on my Facebook Business page and personal page, and the comments that has really struck me were those that talked about the obvious bond between Jim and Rhett. My friend Sandra commented: "I'm so impressed. I am equally impressed at how relaxed the horse is. Unusual for a horse trained at that level. Someone is doing something right." and another commenter, Amanda, wrote: "What I love about this photo is the RELATIONSHIP between this rider and horse! Playful and loving, not just a work relationship!" Yet another named Cathy wrote: "You can see then love between the two….." There were more comments like this, and I believe it is a testament to both Shirley and Jim Koford. Shirley cares well for her horses, and Jim is not just a trainer/rider, he is a true horse lover.
The first time I watched a video of these two competing, I cried. These two are destined for greatness. And in a lot of ways, I believe they've already found it. Here's a link to a video of them competing: http://www.youtube.com/watch?v=Ejgz4UAIhfU
I will be doing a fundraiser for this team, selling prints of the first image below. Watch for an announcement soon!
Edited to add: Someone mentioned that we should have clipped Rhett's whiskers, but there is a reason behind leaving them long (I asked if they could be clipped too). The answer they gave me was that Rhett needs them for "feel". The trainer Jim worked with in Germany recommends that the whiskers stay natural and that seems to be the norm in Europe.
Photographer's Notes: This session was done using only available light coming in the doors and windows. The sky was dark with rain, and this setting afforded us beautiful light on a less than ideal day for lighting portraits. I used my 5D mkII and 70-200 2.8 lens (except the ones of just Jim alone, I used my 85L for those). I have some photos in this Sneak Peek album on Facebook that include the camera settings for the photos.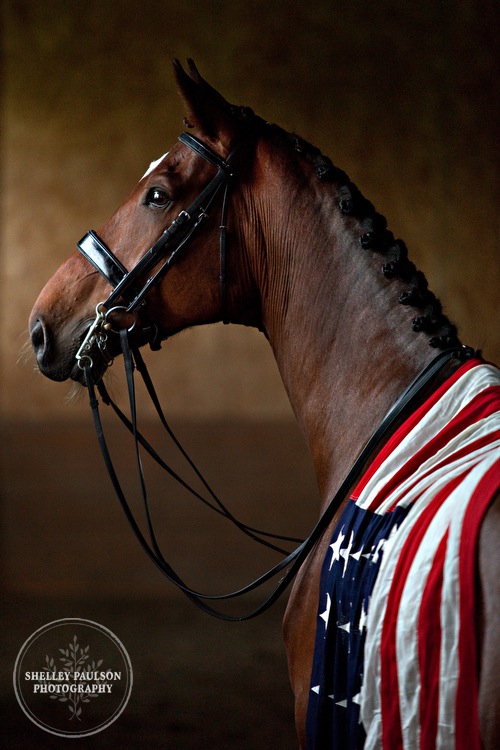 One of my favorite equine images to date. I love his expression, the light, the flag, and all that it stands for with this beautiful, regal horse.