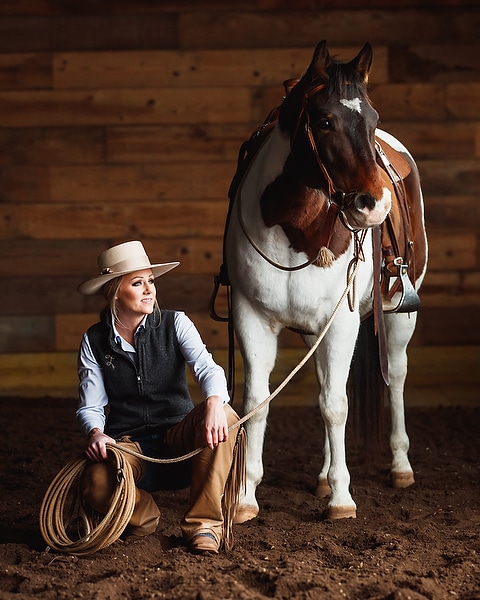 Create a genuine connection with your equestrian audience with custom brand photography.
Do you ever feel frustrated because you don't have enough content for marketing, social media, or your website?
Your brand is much more than your logo. It's the way people feel when they engage with your equestrian business. It's the experience you create for your ideal customers that starts the moment they visit your website or meet you on social media.
The images you choose to represent your equestrian small business are an extension of your brand. 
When we work together for your custom branding session, you'll get a library of beautifully crafted custom content that showcases your story, reflects the heart of your equestrian brand, and invites your ideal customer into to connect with you.
It's time to upgrade from generic stock and DIY photos.
When you're trying to convey the heart of your business through generic stock and DIY photos, they come up short. Not to mention your competitor could be using the same images as you!
Horse photos in most massive stock libraries were taken by people who don't understand the subtle details that appeal to horse lovers. The expression of the horse, movement of the horse and rider, tack being used—these are all important details that matter to your clients. My lifetime of experience with horses enables me to intentionally capture those details correctly and beautifully in your business branding session.
If you want your website, social media, and marketing materials to reflect the heart of YOUR brand, you need a custom photo session with someone who knows horses and can create images just for you.
Are you ready to ditch the massive stock libraries or DIY photos and tell your brand story with a custom image library?
"Before working with Shelley, the photos on my website didn't provide the excellent experience I aim to give my clients. Shelley listened to how I hoped to use the images and then, with her photography skills and horse experience, she delivered images that were beyond my expectations. Now, I feel like my website and marketing materials truly represent me, my personality, and the quality of my brand!"
Is a business branding Session right for you?
If you're an equestrian small business who wants the images on your website, social media and marketing materials to create an instant connection with your ideal customers, then a custom branding session is for you.
Examples of equestrian businesses who use custom branding images include:
Veterinarian/Chiropractor

Bodyworker

Farrier
Horse Trainer/Instructor
Breeder
Boarding Facility
Custom Tack Maker

Equestrian Artist/Photographer

Therapeutic Riding Facility

Saddle Maker or Fitter

Author

Business/Life Coach

Equestrian Apparel Designer

Jewelry Maker
Don't love being in front of the camera? That's okay! It's my job to make sure you feel comfortable while showcasing your services and skills—all while capturing beautiful photos of the horses that are the center and purpose of your business.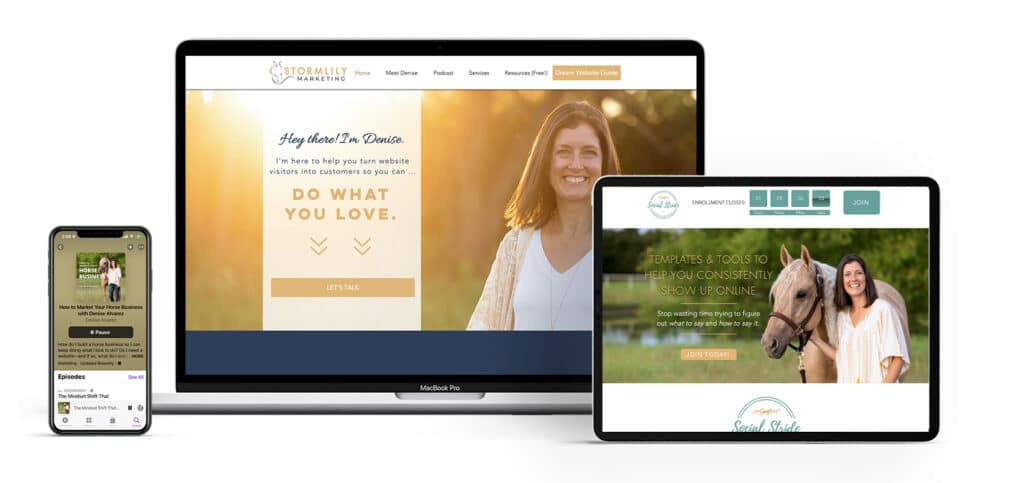 Use Your Brand Images to Tell Your Story
With your custom library of premium–quality images, your digital and print marketing materials will connect with your customers in a way that's true to you and your brand. Some of the ways my equestrian clients use their images include:
Website 
Social Media
Business/Course Launch
Rebranding
Tradeshow Visuals
Flyers
Online Sales Page
Email Marketing
Direct Mail
Promotional Products
"Working with Shelley has always been a great experience. Her knowledge of the horse and her ability to capture beautiful images has been greatly appreciated at Buffalo Equine. Her talents are both respected and admired in the equine and veterinary industries. We have asked Shelley to use her photography and videography skills for our veterinary practice on numerous occasions."
how a branding session works
From the first call to final delivery, I customize your branding session experience for you and your business.
For each session, I come to you so we can create images of you, your team, and the horses you serve in a way that's natural for you and authentic for your brand.  Our session will be guided by your brand goals and how you plan to use your images. 
Together, let's create a curated collection of lifestyle, documentary, and portrait images that capture the heart of your business
For small businesses and personal brands
3 packages available with varying length and number of files
1-hour discovery call
2-4-hour photo session

Edited images with digital and printing rights

Video clips for social media and website use
Starting at $1650
For brands needing fresh content all year round
1-hour discovery call 

Quarterly sessions

20% discount on sessions & add-ons

Edited images with digital and printing rights 

Video clips for social media and website use
Starting at $5280 (yearly)
For product-based businesses
Products shipped direct to Studio
Product alone (can include models for an additional fee)

Edited images with digital and printing rights 

Priced by the photo
Minimum purchase of 10 photos
Starting at $1250