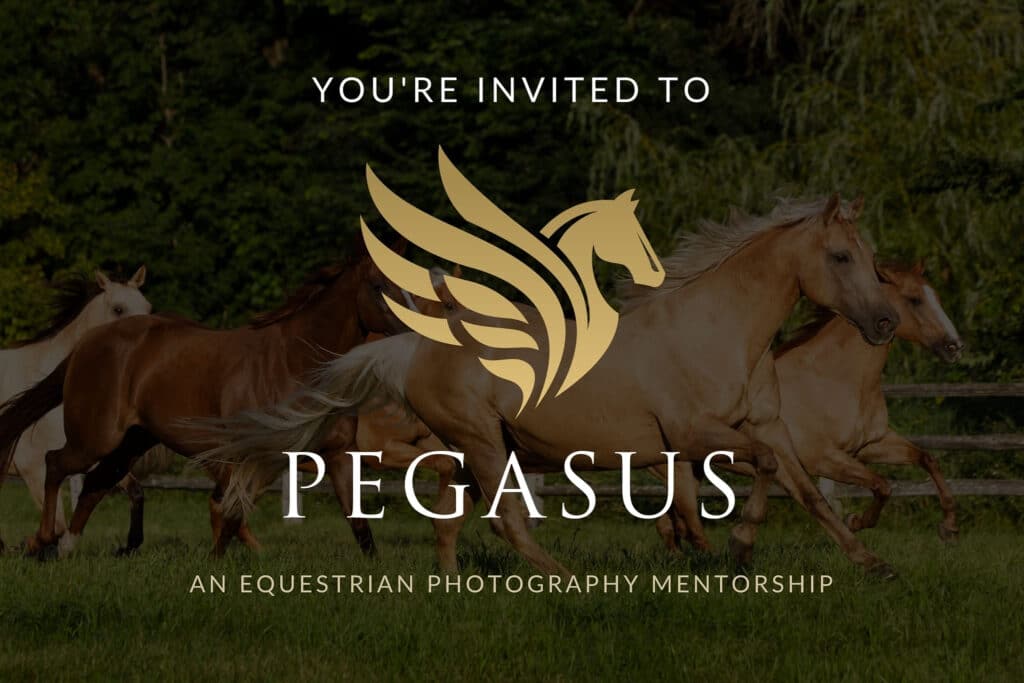 Are you an equestrian photographer struggling to love your business as much as you love photography?
Are you looking to learn advanced photography skills so you can set yourself apart from everyone else?
I'm inviting you to apply for Pegasus, the most intimate of my mentorship programs. This is a 6-month advanced mentorship experience for equestrian photographers wanting to grow their business and learn high-level photography skills.
You can be one of only 6 students to take part in my 2022 program and get access to online course content, private and group mentor sessions, and an all-inclusive retreat!
As a mentor, I take what I've learned in my 18 years of building a thriving full-time equestrian photography career and share that with you—not so that you can do what I've done. Instead, I want to give you a framework—including workflows, pricing, client experience, and more—and then help you define what a successful business looks like for you and make a plan for how to get there.
During the Pegasus Mentorship, I'll personally help you figure out how to design a business that authentically reflects your heart, values, and goals. This customized approach is what makes Pegasus different than other equestrian photography mentorships.
If that sounds like something you need, I'd love for you to be a part of this year's Pegasus Mentorship!
Visit https://www.shelleypaulsoneducation.com/pages/pegasus to learn more and apply to be one of only 6 students in the 2022 class!
Feel free to email me if you have questions! [email protected]