I met Anya the summer after we moved to our farm. She is the daughter of my neighbor's pastor, and when my neighbor learned she has an interest in horses and photography, she thought we might enjoy connecting. After an afternoon coffee date, we all came back to the farm so she could meet my horses. That was four years ago and in that time, she's become Maggie Sue's primary rider and we've developed a friendship that extends beyond age and a common love for horses.
When Anya's summer job became unavailable to her because of the pandemic, we took a leap of faith and asked if she would want to work for us for the summer. She said yes and today is her first official day! I'm very excited to have someone to assist on all of my portrait sessions, be my right-hand gal for my upcoming Pegasus Mentorship retreat, and help wrangle things here in the office as well.
Unofficially, she's been doing some modeling for me around the farm. If you read my earlier Tech Tip Tuesday post, you will have seen that I was using off-camera flash for these images. This session was part practice, part instruction as I used the experience to teach a lesson on off-camera flash to my mentorship students.
We have this giant crabapple tree that fully bloomed this year (after not blooming at all last year) and I really wanted some equestrian portraits with the tree as my backdrop. Who better than my dear friend with my heart horse, whom she has also come to love?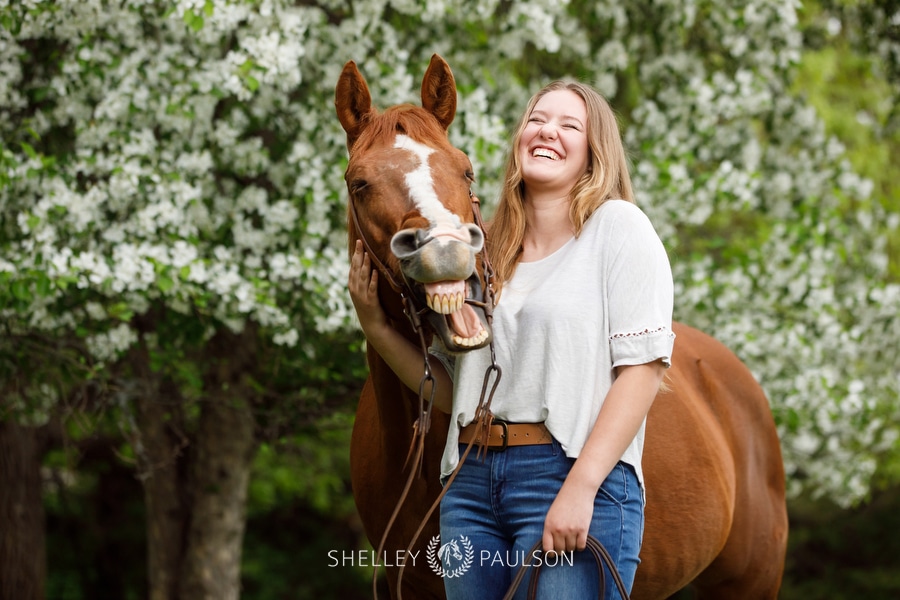 If you want to know a little bit about Anya, this is her favorite image from the whole session. 😆