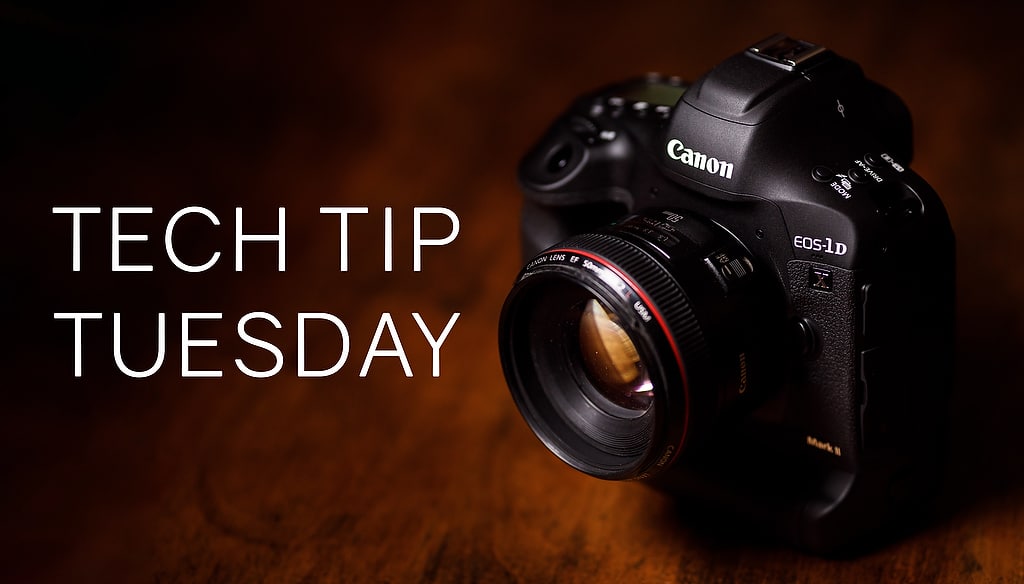 On social media, I have started a photography teaching series called "Tech Tip Tuesday" and I realized that posting them to this blog would also be a useful place to share these tips and keep them all in one place for new followers to discover. While I may not be able to post a tip every Tuesday, I'll be doing it as often as possible.
I've already shared several tips, so I'll put them all in this post, and then do separate posts from here on out.
The first I shared tip is about balancing off-camera flash with available light. This was a fun/practice shoot with my friend Andra and her daughter Alissa. I had planned to shoot this when we still had more light at the horizon, but time got away from us and on their ranch in central California, the sun goes down fast! By the time we got set up, there was just barely enough light to pull this image off.
The first step in adding flash is to decide how much ambient light you want to have in the background. To do this, you turn off your flash and take photos until you have a good background exposure. Then, you add the flash. I use my flashes in manual mode and usually start at 1/16, just to pick a number (I know I could use a meter, but this is what works for me). Then I adjust the power up or down until I have the light balance I want.
I don't have the flash setting recorded, but I'm guessing it was 1/64 or lower because the background was very dim. If I added too much light I would either lose the background or overexpose my subject.
Canon 1Dx Mk II
Lens (mm): 70-200 at 100
ISO: 1600
Aperture: 3.5
Shutter: 1/160
The flash modifier I used: https://amzn.to/36ZzwGw
The second tip I shared was about handling sun flare. When shooting into the sun I handle flare in one of two ways. I either find some shade for my lens (Voilà! Sun flare is gone!) or I expose for the flare.
When sun flare is coming into your lens, it's bringing a lot of light with it! So in order to not blow out every detail in your photo, you need to drop your ISO, raise your shutter speed or aperture, or any combination of these things until you get a proper exposure.
Let me add that this creates a certain dreamy look, but it certainly wouldn't be my first choice in lighting a portrait. Make sure you use all kinds of light when doing portraits of people or pets!
For the image below, the sun was just at the horizon and already becoming softer, so I didn't have to go to extremes with my settings.
Canon 1Dx Mk II
Lens (mm): 70-200 at 170
ISO: 200
Aperture: 3.2
Shutter: 1/1000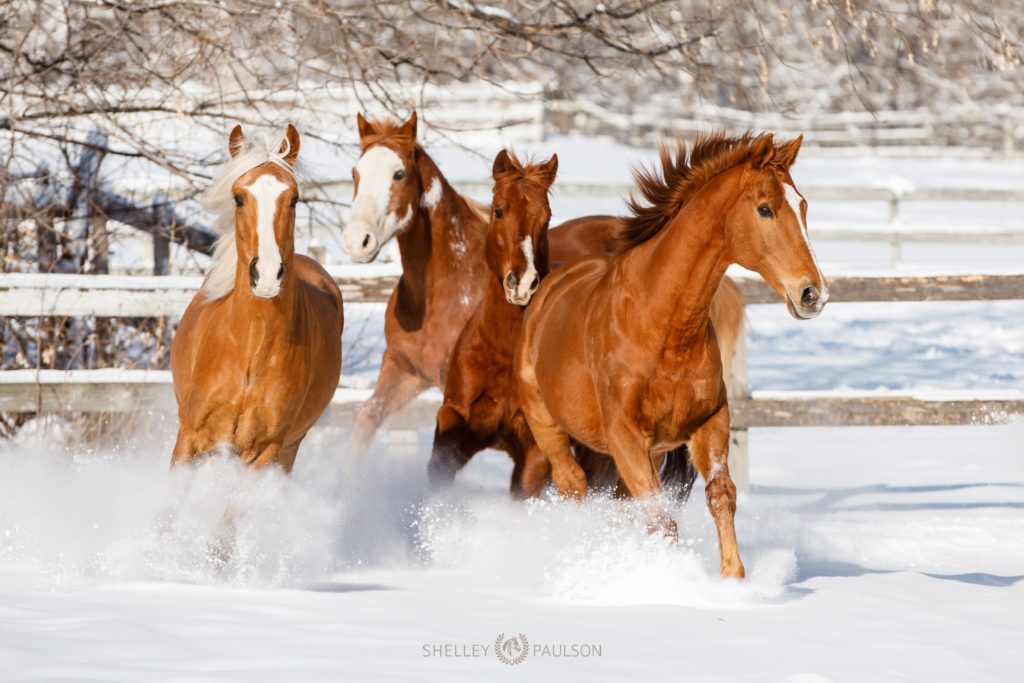 The third tip is for photographers who live in places where they must endure long, cold, snowy winters. ☃️
In snowy scenes, especially on sunny days, the camera will meter the brightness of the snow and give you an underexposed image. You can solve this one of two ways. Use exposure compensation and dial it up a few clicks, or shoot in manual, checking the image on the back of your camera to be sure you are getting the exposure you want (which is what I do).
Canon 5D Mk IV
Lens (mm): 200
ISO: 160
Aperture: 4.5
Shutter: 1/2500
The fourth tip was about taking action photos indoors.
I'll start by saying, indoor action is probably one of the most difficult types of photography to do well. Even though a space may seem well-lit, if it's indoors, I can assure you it's going to be more challenging than taking action photos outside.
The main thing to keep in mind is that noise is not as much your enemy as is blurriness. If your shutter speed is not high enough to freeze the action, your photos will be blurry and there is no fix for that. If you have to go to a very high ISO to get a sufficient shutter speed, you will have noise, but there is a lot you can do in post-processing to minimize noise. When I have to choose between the two, I always choose high ISO.
When I photographed a riding clinic recently in a "well-lit" arena with daylight coming through the windows, I was still surprised how high my ISO settings had to be, especially with my go-to zoom lens – Canon 70-200 2.8 IS L II. I mostly worked at 2.8 with that lens, which is a bit risky with action because I can more easily miss focus. Photos with that lens were almost all at ISO 6400, f2.8, 1/1000th.
But part of the time, I used my 35mm 1.4 lens. In hindsight, I actually wish I had used more prime/fast lenses like this at the clinic, as the 35mm afforded me much cleaner files because my ISO could be brought down to 2500. I did use aperture settings between 1.6 and 1.8, and managed to get a fairly large amount of images in focus!
Canon 1Dx Mk II
Lens (mm): 35
ISO: 2500
Aperture: 1.6
Shutter: 1/1000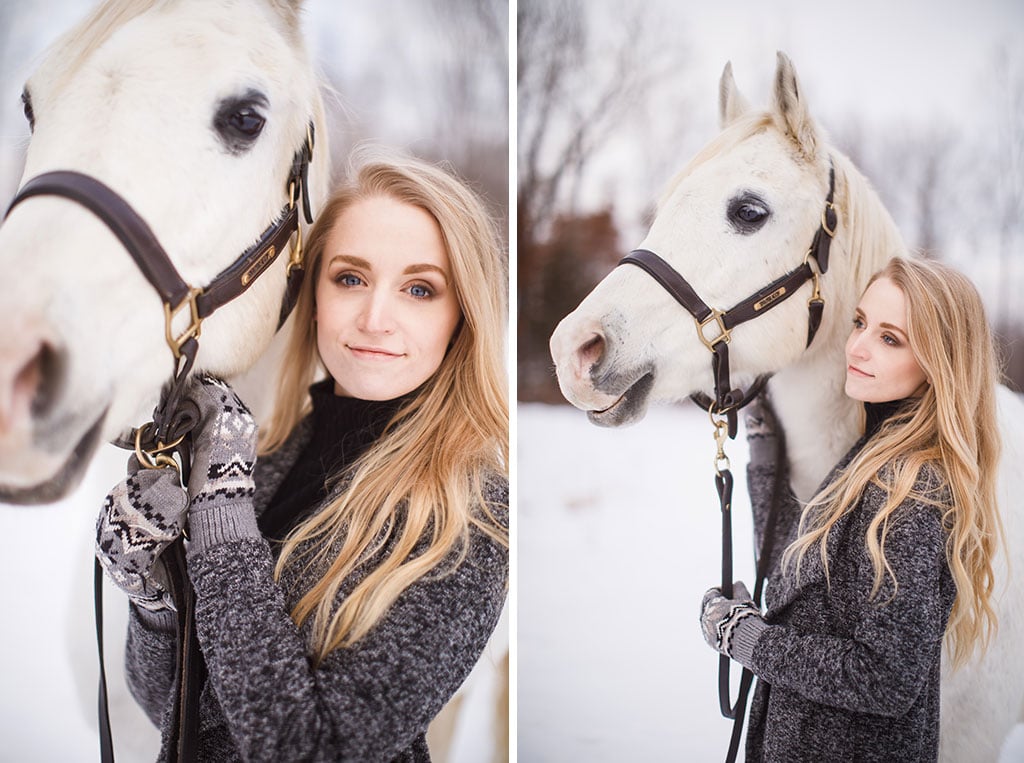 The most recent tip was about focus.
It is human nature to first look at the eyes in a photo and whenever those eyes are human, those are the first eyes we look at. This is why (with some creative exceptions, of course) I always make sure the person's eyes are in focus.
In the case of a more formal portrait, I'll make sure both the person and horse's eyes are in focus by using a high enough aperture setting to give me ample depth of field.
In the first photo, I was trying for something a little more creative so I chose f1.4 and I focused on Abby's eyes instead of her horse's eyes. Because their eyes are not on the same plane, the horse's eyes are slightly out of focus, bringing all the attention to Abby.
In the second photo, I shifted position and that put Abby and her horse's eyes on the same plane, so even though I was still at f1.4, both of their eyes are in focus, bringing full attention to both of them. I still set my focus on Abby's eyes because they are still going to be the most important eyes in the photo.
Both images:
Canon 5D Mk IV
Lens (mm): 50
ISO: 250
Aperture: 1.4
Shutter: 1/3200