In early February, I escaped Minnesota's extreme polar vortex and flew to the land of Palm Trees, sunshine, and some of the most talented horses in the world. If you haven't already heard about the Winter Equestrian Festival (WEF), it's a 3-month long hunter/jumper/dressage horse show that takes place in Wellington, Florida each year from January through March.
The city of Wellington is a haven for horse lovers. Everywhere you look you see stunning barns, fields filled with beautiful horses, and people riding to and from the show on horseback or in golf carts along designated paths running alongside the main roads.
I was there to take photos for Erica Hatfield, owner of Eye Candy Jumpers and Hatfield Sporthorse International. She and I just happened to meet last summer at a clinic being held at a local barn. It turns out, her Minnesota farm is just 15 minutes from where I live and I had no idea someone local to me owned a string of world-class jumper and dressage horses! After doing several photography projects together last fall, she invited me to spend a week at her farm in Wellington and photograph her horses and riders.
Erica partners with international show jumper Andy Kocher. I spent a lot of time documenting him in competition, but also capturing what goes on outside the competition arena. One of the things I enjoy most about working with Erica is that she's not necessarily interested just in the perfect jump moments, but loves the candid, unplanned, imperfect moments that have character and allow her to tell an interesting story on social media. This frees me to be creative and think outside the box!
On the dressage side, Erica sponsors Suzanne Wepplo, who rides and shows her string of talented dressage horses. I loved learning from her how to photograph these horses to show them at their best.
I'm going to be sharing images in mostly chronological order. Our first stop was to photograph Andy competing at the Palm Beach Masters, a show that runs alongside WEF for a few weeks during the season. That's where I first met Rudy, one of Andy's grooms. Rudy will melt your heart with his big smile and warm heart. His job is to care for the horses before and after the competition, and also keep them happy and healthy in their day to day life around the barn. What I loved most about watching him work with the horses was how he genuinely loves and cares about them. I think you'll see that in the photos as well. 😊
The next morning, Andy competed at WEF on Colton. I feel in love with this little horse and his big doe eyes! 😍
It's easy to capture Andy smiling – he's a fun guy with a great attitude!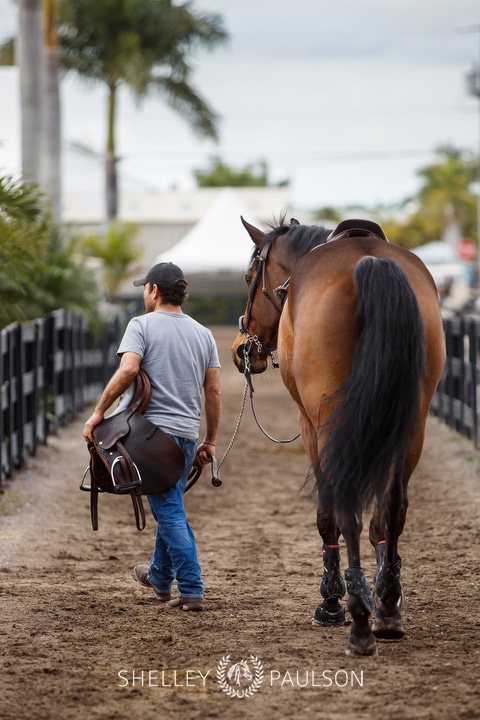 This photo of Rudy leading Chacanntus back to the trailer at the end of the show day is my favorite from the whole week!
As we were heading back to the trailer, I had to stop and take in this fun shower scene. 😂
Colton sticking his nose out the trailer window like a dog!
(And yes, I rode in a horse trailer! It was very smooth and all the roads around Wellington have a slow 30mph speed limit, so it was relatively safe. 😉)
Cuata thinks she's hilarious. Is this the equivalent of a human doing duck lips?
I love the symmetry of this scene.
I played a little game of hide and seek with Darius before taking this photo. I love the curious expression on his handsome face!
Florida wasn't ALL palm trees and sunshine while I was there. We also had a morning of palm trees and torrential rain. But each show ring has a covered viewing area and the rain made for some interesting texture.
Andy has a sweet relationship with the horses too. ❤️
Every Saturday, the main show arena at WEF hosts a special night of competition under the lights. Here's Rudy holding one of the horses in the warm-up area, where there's a jumbotron so competitors can watch the competition. It was pretty terrifying to some of the horses!
The next day, I spent some time photographing Suzanne and Erica's dressage horses. The farm she rented for the season made for such a gorgeous backdrop. Knowing I was heading back to winter shortly after this, I tried to soak it all in as much as possible.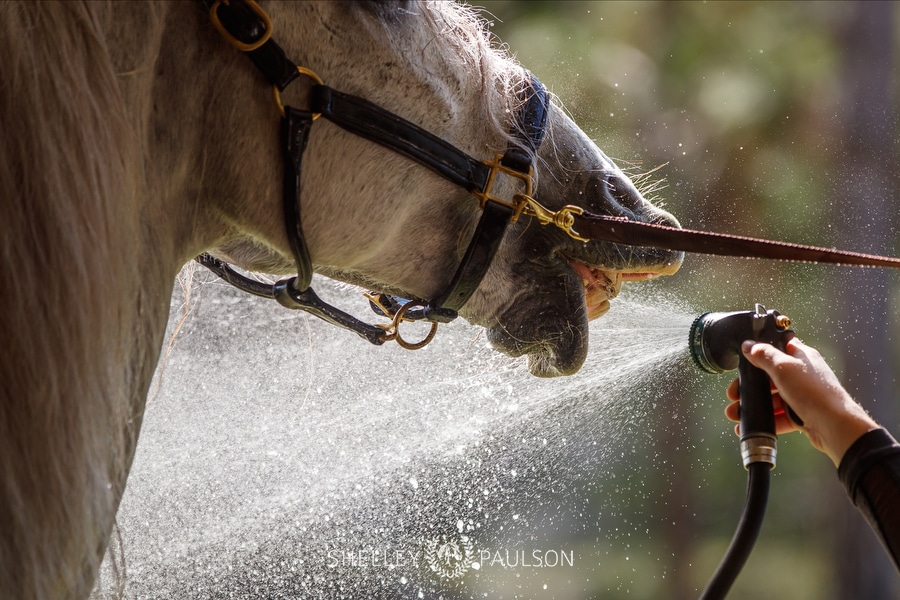 The last day, we were back to where we started at the Palm Beach Masters in the 1.35 Gold Championship Grand Prix. Andy rode Lucie and won reserve champion. They missed first place by maddening .01 seconds!
Just before my visit, Erica purchased Country Boy, a 10-year-old Oldenburg stallion. He was still in Quarantine, so we met Andy over there to get a few photos of him with this gorgeous, talented jumper!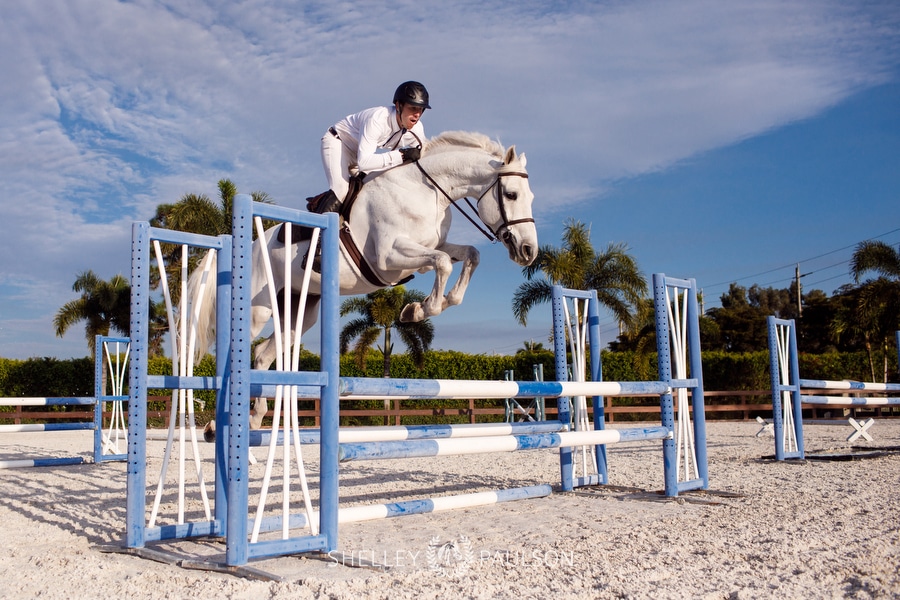 I'm excited to be heading back to Florida in a few weeks to work on a special project with Erica and photograph Andy at a competition in Miami!