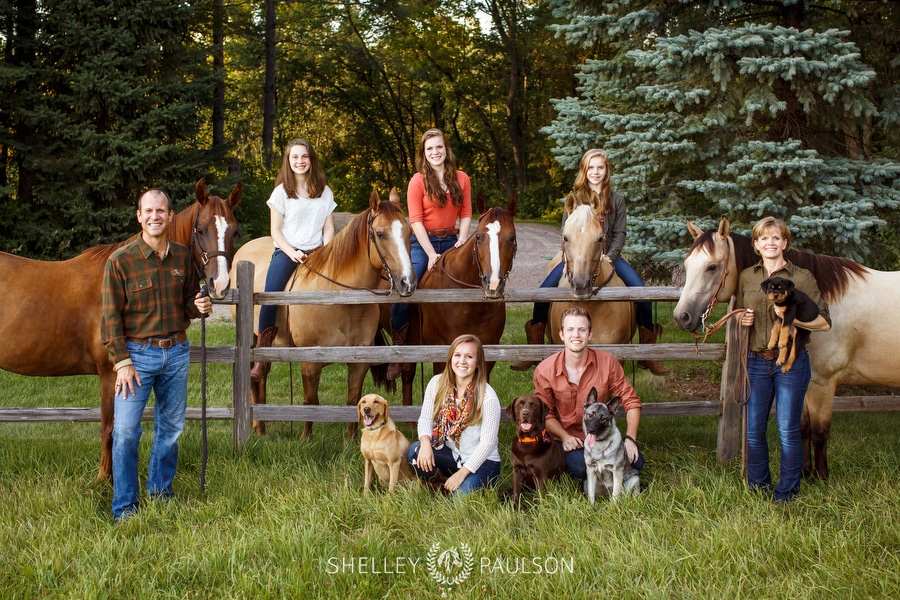 Gosh, I LOVE this family! This is our second year of doing photos and the more I get to know these lovely people, the more I adore them! They love to challenge me with a big group photo that involves LOTS of animals!
Images like this can be tricky for a couple of reasons. First, to get all the people looking at me, and not at their animal, which half the time is doing something they should be doing and needs to be directed. Second, and you can guess what it is pretty easily, I have very little control over whether or not the animals will stay where I put them or look at me. I should have had someone doing a behind the scenes video for this one, because I am sure I was making a huge fool of myself in order to get everyone's attention! Add to that, trying to make an interesting composition, and all the camera settings to keep in mind…well, I'm glad I have a lot of years of experience, and a fearless attitude backing me up!
When it all comes together and I can create a family portrait like this, it's worth the effort! In the interest of full disclosure, I did make multiple images and had to composite a few people and animals together for those images. My years of experience in Photoshop also come in handy sometimes!
Sometimes the whole sky just lights up and we collectively hold our breath that it will last long enough to make an image like this!
Just before the session, Kay got her dream dog – a beautiful Rottweiler puppy named Reyna. I loved being able to create a few images of this beautiful pup before ending the session!