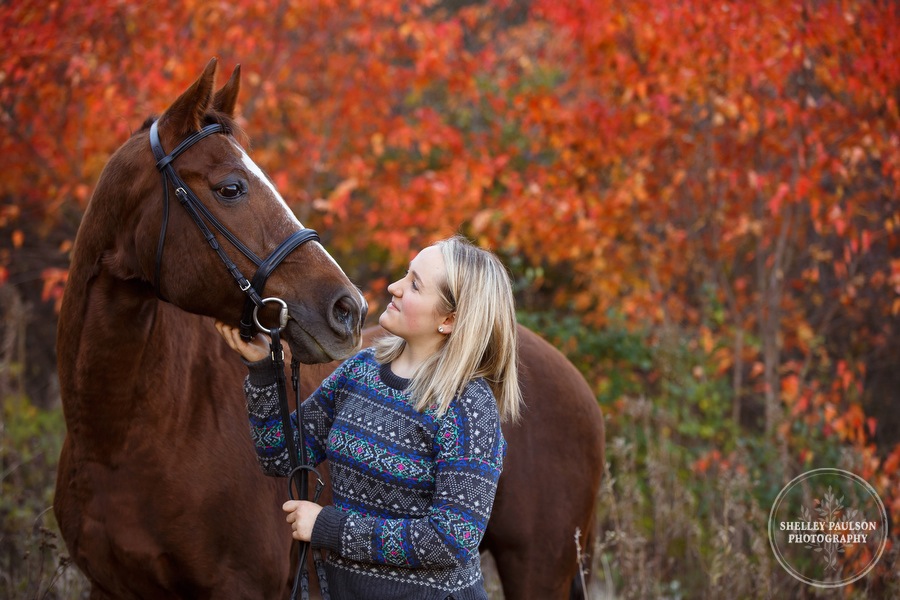 This is my last session to blog from 2014! I can't wait to catch you all up on this year's sessions, it's been a great summer so far! If you are interested in a session with autumn colors, I encourage you to book soon, as these dates are filling up.
Hannah's session was a trip down memory lane for me! When I first bought my quarter horse Maggie Sue, I boarded her at Triple S Ranch in Inver Grove Heights, Minnesota, where Hannah currently boards! It had been almost 20 years since I had left Triple S Ranch, and it was nice to see it in such great condition! The liver chestnut mare is Cassie. She's Hannah's quarter horse, about the same age as mine. They might have even been pasture mates at one time! The other horse is one that Hannah doesn't own, but cares for and rides, is Belle Pepper, she is a Blue Roan Nokota Sporthorse.
Hannah is a delightful, intelligent, confident young equestrian. To make the most of the fall color, we had to walk quite a distance from the barn, and though her horses were a bit nervous about being away from all their friends, she handled it calmly and never lost her smile. She has a truly gentle way with horses and I loved capturing that in these photographs.