If you missed it, here's part one of my Trip Out West. 🙂
I almost can't believe it, but this is my fourth year at the WPPI convention. I don't know that I ever would have gone, except that in the first year, I was asked to work in the MpixPro booth, and the third and fourth years I worked in the Zenfolio booth. The year in between brought me out to visit my parents and go for the learning aspect of the event. I learned a LOT that year, and if I go again, I need to make time to hear a few speakers.
WPPI has a three day trade show, and I work all three days, sharing with other photographers why I LOVE Zenfolio. One of the best parts for me is meeting people from all over the world and watching them have "A-ha!" moments while I show them ways Zenfolio can make their businesses more profitable. In a few instances, I really connected with the person I was talking with, we exchanged business cards, and I hope we stay in touch!
I am proud to be a member of the Zenfolio "family." I don't use that word lightly — these people are seriously a family! They are fun (see above image), laid back, and most of them are photographers, yet we rarely talk about photography. We just have a lot of fun and share a LOT of food and laughter. I will be visiting the Zenfolio office in May and can't wait to have some more fun. There's been mention of Karaoke… 😉
These events are all about learning and networking. If you've never been to one, I highly recommend looking at WPPI or ImagingUSA. They are both large conventions with classes and a trade show so you can touch and feel products and talk with vendors about their services. Sometimes networking and friendship-making break out spontaneously in hallways, elevators, and parties. You just never know when you'll make a new friend or renew an old friendship.
Before diving into photos, I want to share about some of the products and services I was really excited about when I walked through the trade show.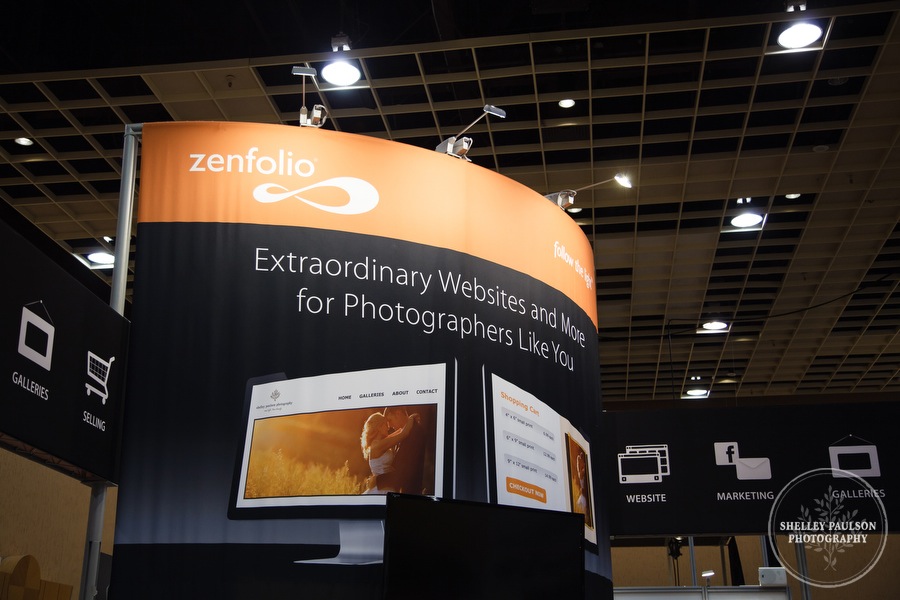 I knew Zenfolio had planned to use one of my images for their marketing, but I was pretty floored when I walked into the booth and saw them displayed LARGE!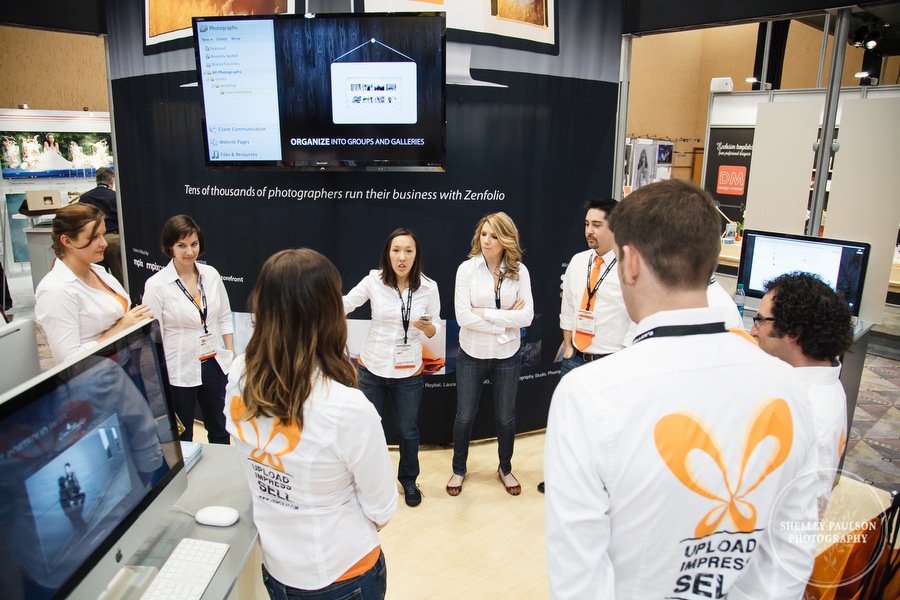 A little pre-trade show pep talk by Michelle.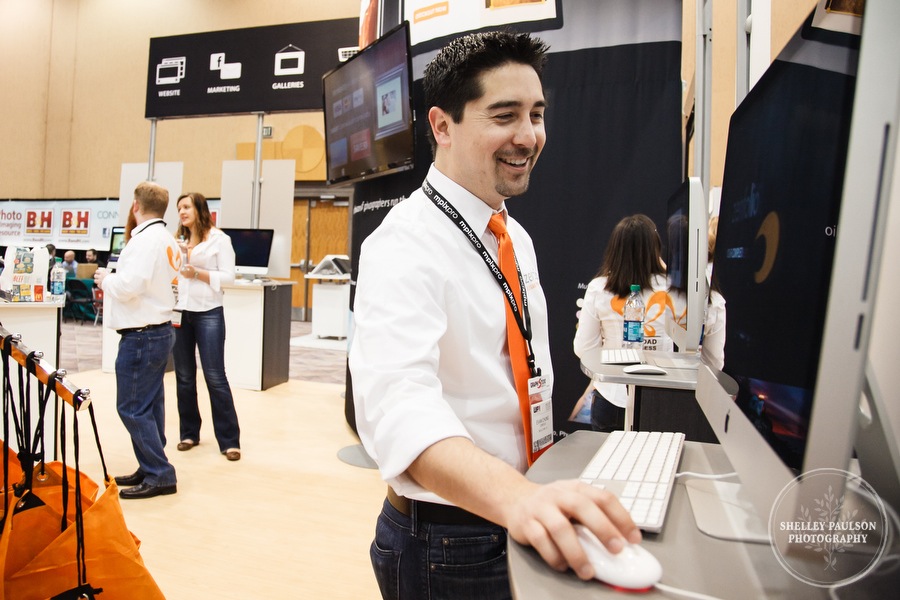 Evan making sure everything is ready to go. When the doors open, it's mass chaos!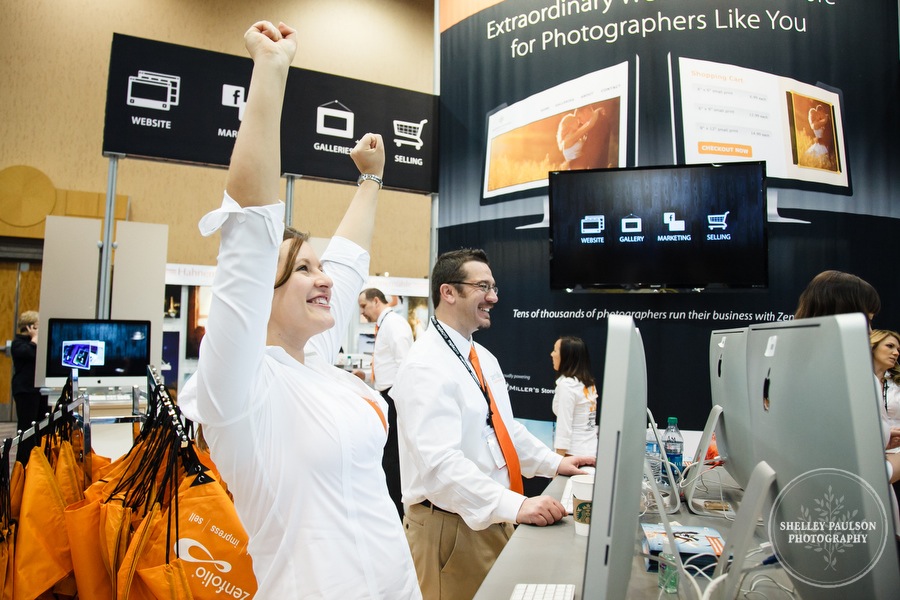 Nataly got the Wifi working – YES!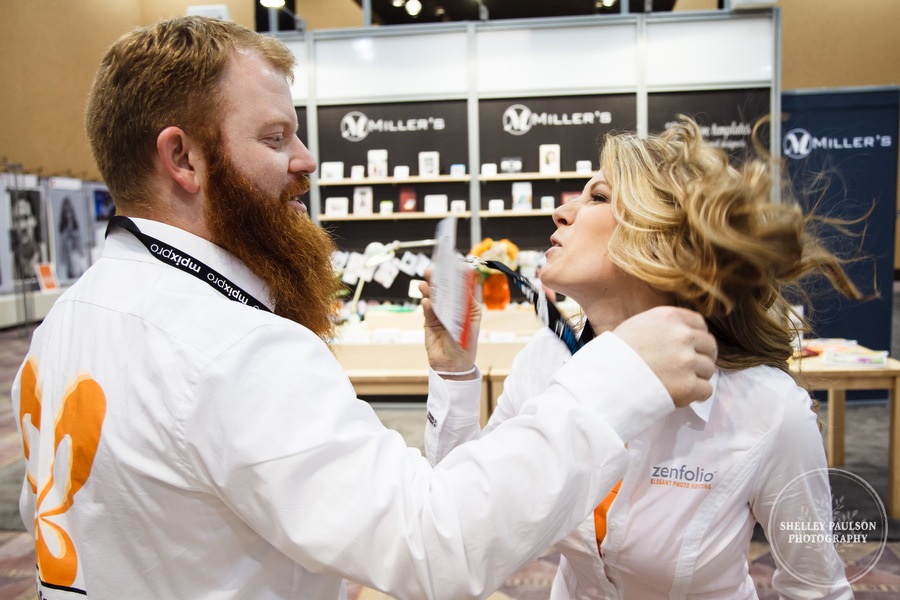 Such a serious bunch!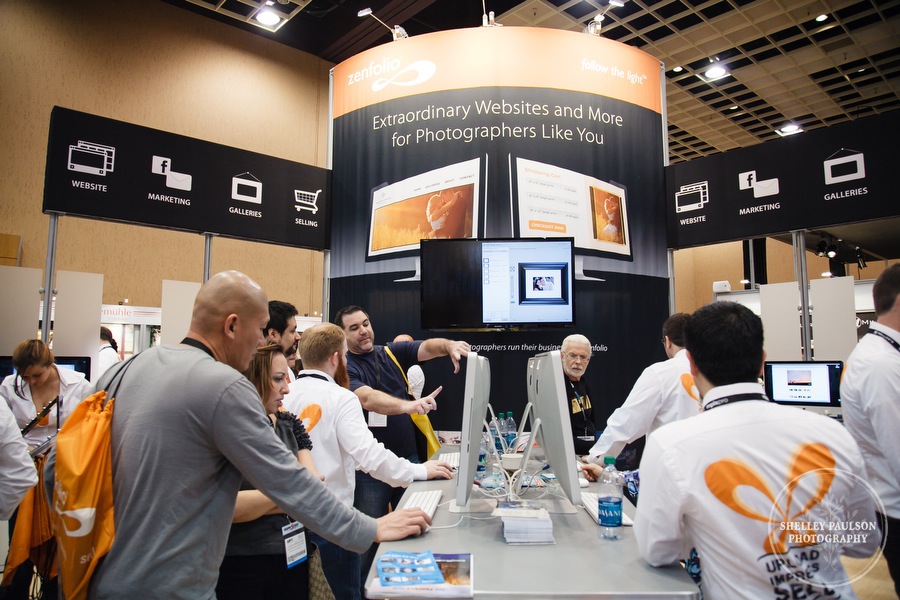 The doors opened and people streamed into the booth!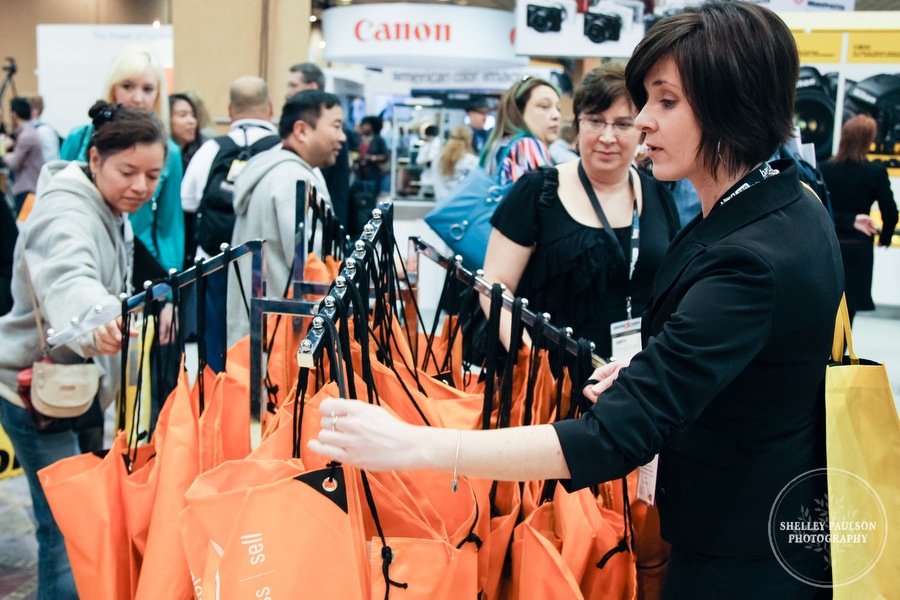 Zenfolio gave away free bags. I love free bags!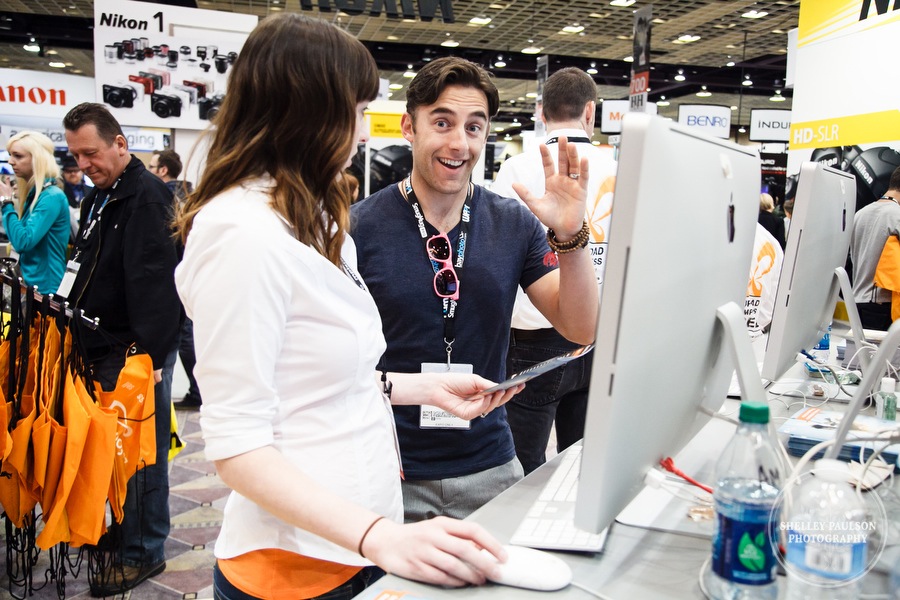 Ann Marie and a happy customer!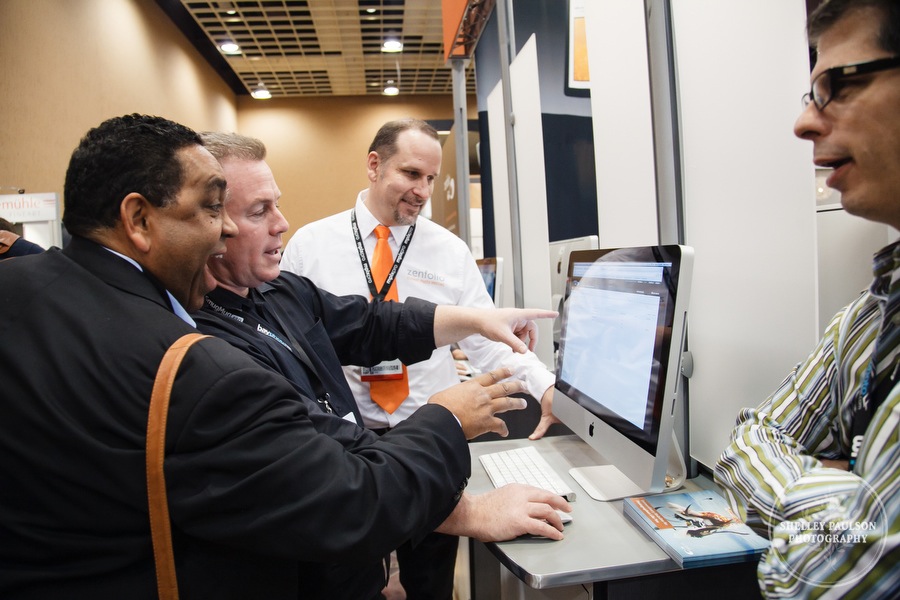 They may have been aware I was taking photos. 😉
I had to drop my real camera off with Canon for cleaning, so the rest of the photos are from my iPhone 4s.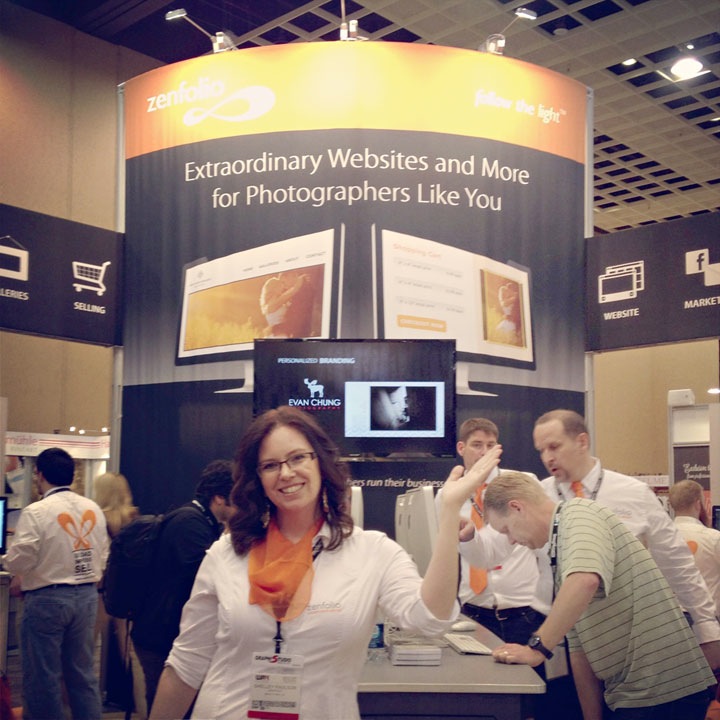 Here's me after the first day. Still smiling!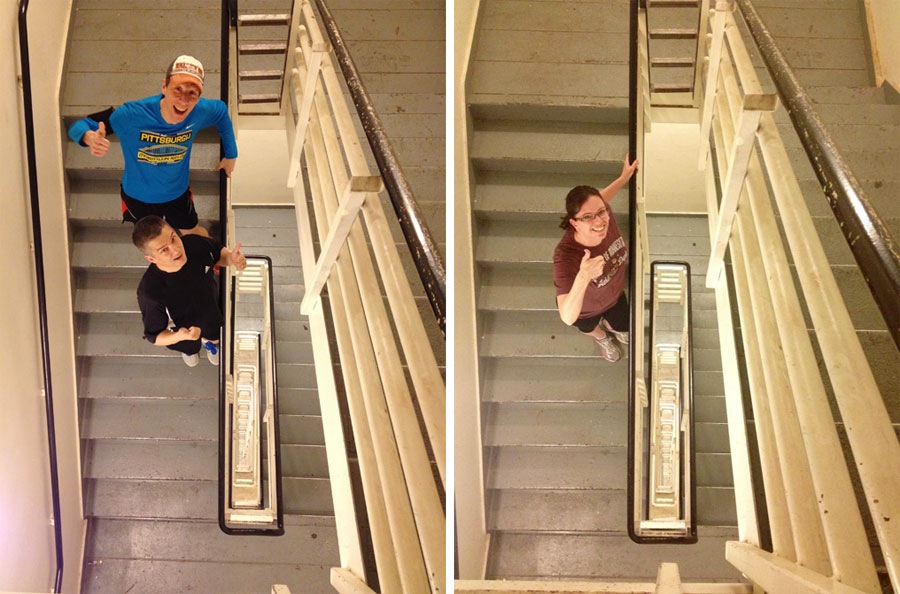 Before my trip, my fitness trainer challenged me to climb the stairs at the MGM. I do a lot of stair climbing at the gym, so I took him up on it! I recruited two friends: Joe Appel, a talented wedding photojournalist out of Pittsburgh, and Joe Milton, former amazing wedding photographer, and the founder and runner of the International Society of Wedding Photojournalists (ISPWP). We met early on the second day and climbed 31 floors in about 15 minutes (I wish we would have timed ourselves) and shared a big breakfast. This was one of the biggest highlights of my trip!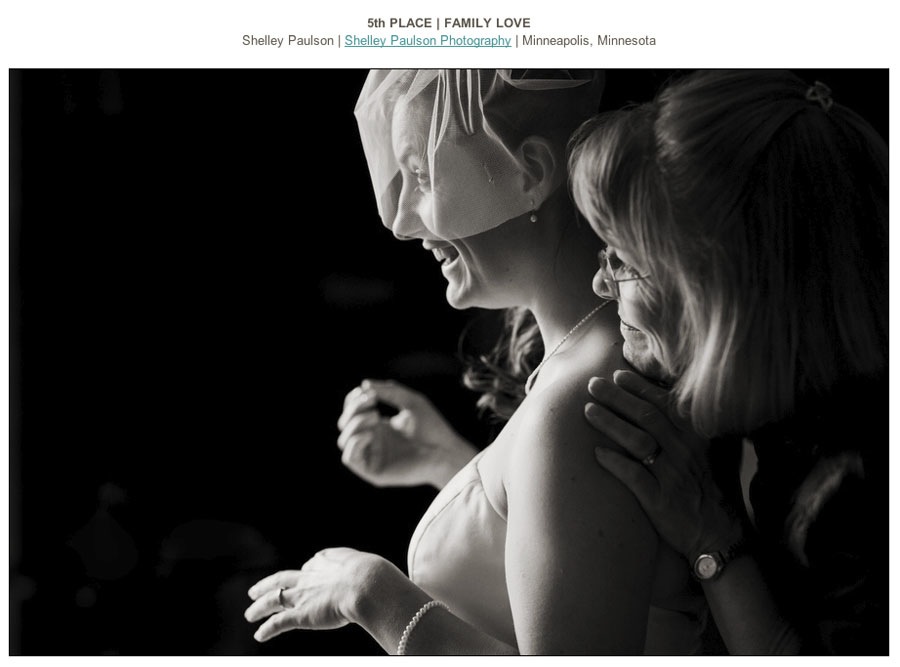 Speaking of the ISPWP, I found out while I was away, that I placed 5th in the Family Love category in the Winter 2012 contest with this image! I believe this is my highest placement in this contest so far.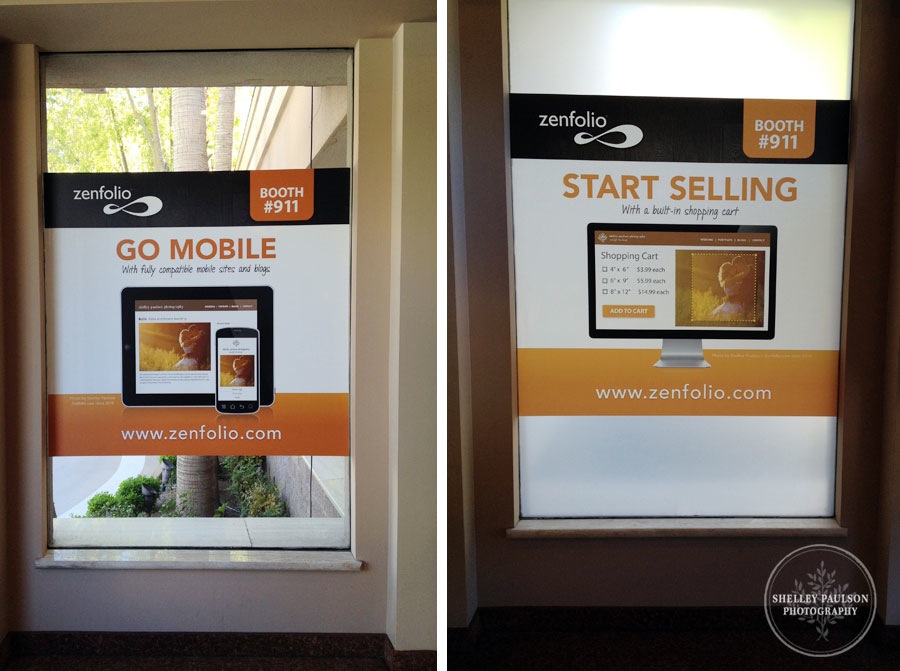 The long hallway to the convention center had window cling ads for various companies. It was fun to walk by and see my photo on these displays too!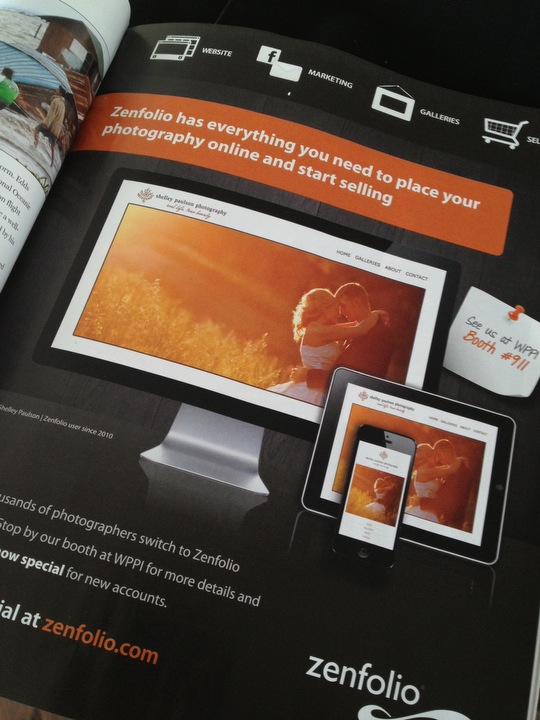 While at the convention, my friend texted me a photo of the Zenfolio ad in the latest issue of Professional Photographer. I was on joy overload!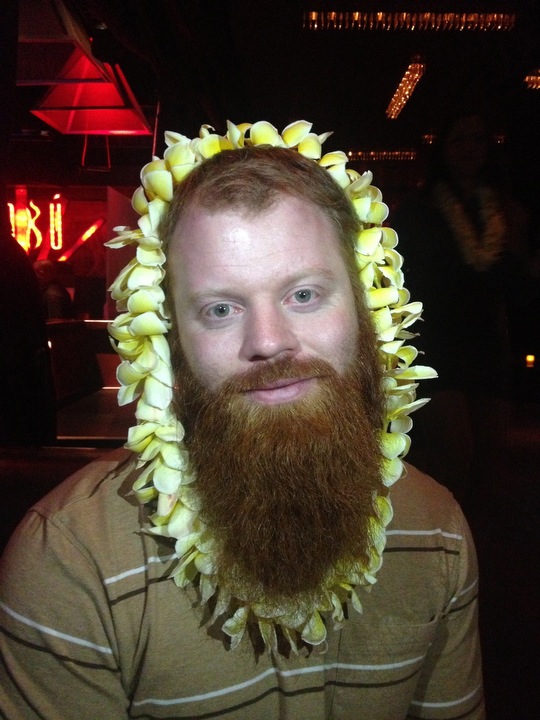 When I left the Plumeria Album Design party, Kate let me bring some fresh Plumeria Leis (overnighted from Hawaii!) to my Zenfolio friends. They were passed around all evening to people could take turns burying their nose in the unbelievable fragrance.
Of course we had to put on on Brian and his beard. 🙂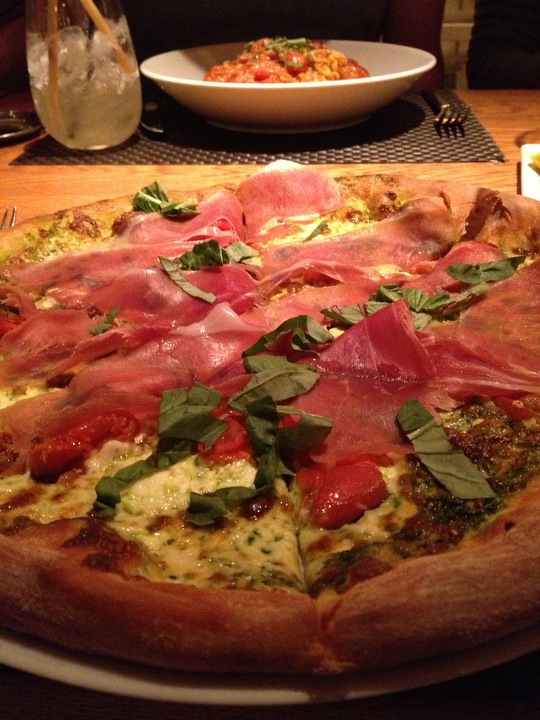 Did I mention we ate a lot! Oh dear, I am glad I wasn't tracking calories. 😉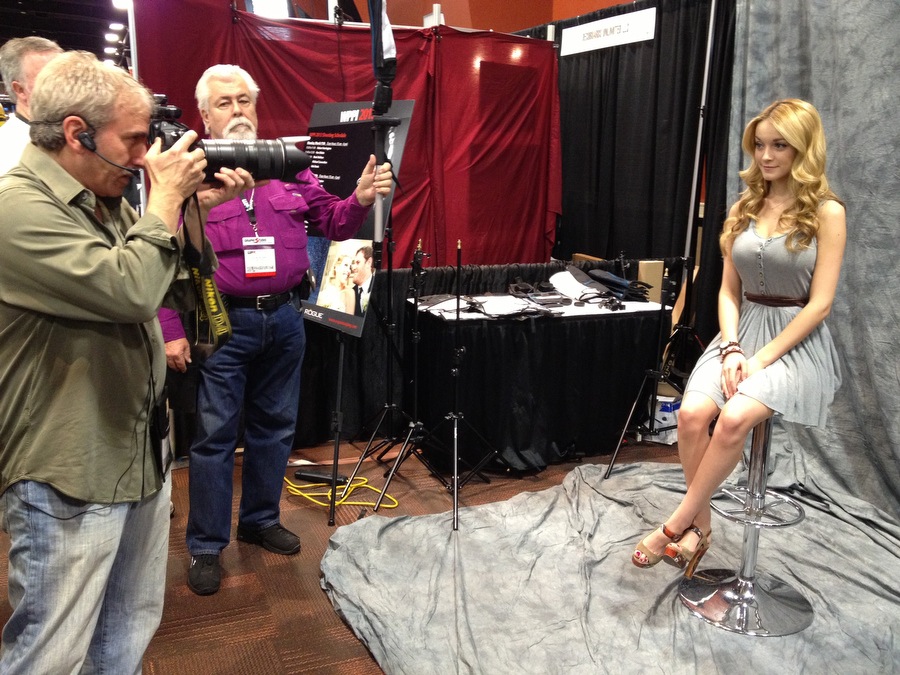 On the final day, I did get to spend the morning walking the trade show. I happened upon Cliff Mautner, whose online videos at Kelby Training have really instructed and inspired me over the years. He was demonstrating the Rogue Flashbender Diffusion Panel (see it on the flash on the stick, held by the guy in plum?). When I got there, it was just the model, Cliff, me and one other guy. I got to ask a lot of questions and he was gracious to answer each one. I learned a LOT in about 25 minutes! I'm still researching whether or not I will buy one, but my wheels are turning.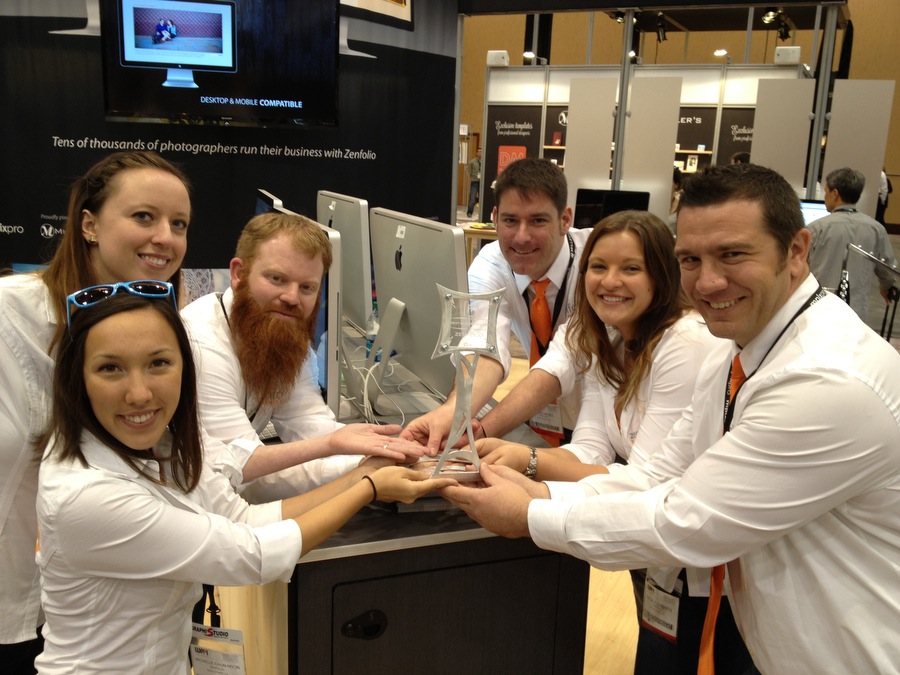 Here's the Zenfolio crew with their Framed award for "Best Website Builder." Well deserved!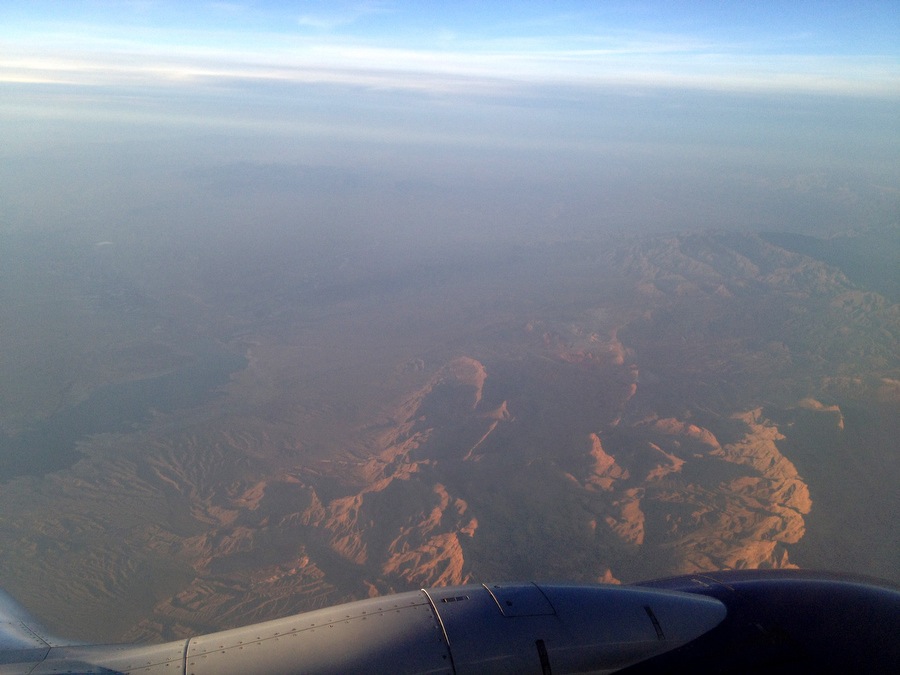 Goodbye Nevada!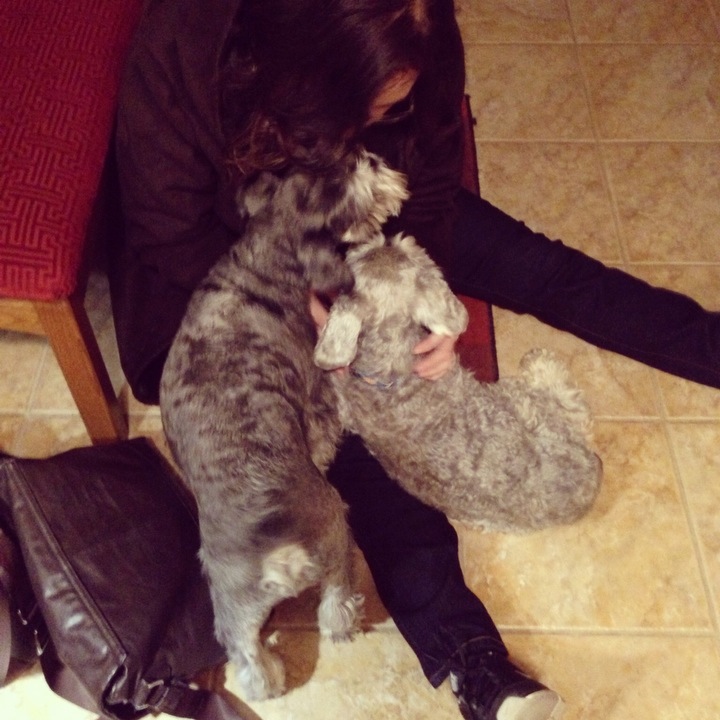 One of my favorite things about coming home – the wiggly, whimpery schnauzers showering me in kisses!